188 Views
The approach and landscape of digital marketing transformation are so swift that it's almost unthinkable what the future of digital marketing is and what type of opportunities digital marketing offers to us.
The last two years showed all of us how the digital world become an integral part of our everyday lives. From offline to online digitization mark an enormous impact on the landscape of digital marketing. 
There is an assumption about the future of digital marketing in India. It says that the quantity of dynamic Indian web clients will touch around 666 million in 2023. According to the report of Goldman Sachs, the advanced advertising profession scope in the Indian market will be valued at $160B by 2025, which is multiple times the current worth.
Nowadays keeping up the progressive approach and future-proof digital marketing strategy is more important than ever. 
Let's see what future trends of digital marketing need to be held by the companies to keep their image under the spotlight. We will be going to discuss the following points in this blog.
At a Glance – Digital Marketing
Growth of Digital Marketing

What is the future of digital marketing?

Careers in Digital Marketing

How do you keep up with digital marketing trends?

Final words on emerging trends of digital marketing
1. Growth of Digital Marketing
Despite the pandemic, the growth of digital marketing displays amazing growth in the last two years. 
Digital marketing is one of the progressive sectors, its growth is marked by around 700 million internet users by 2020. The numbers are projected to be over 970 million users by 2025. 
To understand it in a better way have a glance at the following graph.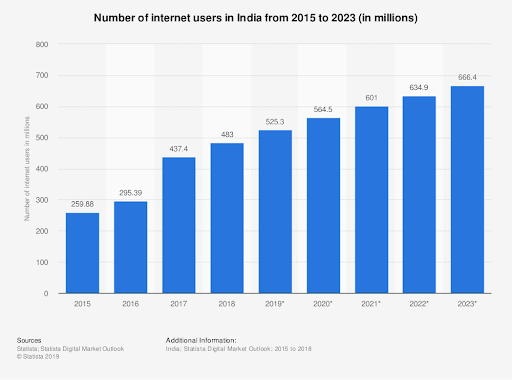 The above digital marketing growth statistics show how the market is going upward and how it is expected to expand in the next few years. 
Undoubtedly, the opportunity is huge and it depends on marketers how they going to use digital marketing to change everything. 
Let's dive into the future of digital marketing in India and globally.
2. What is the future of Digital Marketing?
Digital marketing is an industry that is changing constantly. Everyone is preferring digital marketing over everything else. The startups, SMBs, and enterprises all use digital marketing for their products and services to keep stay in the market. As this platform makes the business process effortless. The company saves money and time to promote the product by deploying the manpower to go physically into the market.
Digital marketing offers a huge range of powerful, economical, and contemporary mechanisms and mediums of marketing. These techniques make it different from other marketing processes. 
Though companies follow and go through digital marketing techniques and technologies. But the companies that keep new trends in mind and think beyond the box will stay on top.
Let's plunge into the future trends of digital marketing.
Voice Search Optimization
Every day around 55% of teenagers uses voice search according to the research results of Review42. These massive figures show that the future of voice search is going to be huge. 
There are a couple of reasons that depicts Voice Search is the new trend in the digital marketing services industry. 
First and foremost, is the increase in the adoption of smart speakers such as Alexa or Google Home. According to the report, 20% of households use smart speakers these days. The adoption of voice search speakers indicates the people's interest in voice search. 
Another reason for adopting voice search is Google claims that through voice search they have achieved 95% accuracy. Due to high accuracy voice search has jumped up.  
In addition, it is estimated that by 2022, half of all online shopping will be conducted through voice results. That means digital marketers will get a whopping $40 billion opportunity.
These growth factors indicate the rise of voice search. So, don't waste more time and make your website future-ready for voice search.
The growth of this trend is not going to stop. People enjoy this hands-free technology with ease to interact with their devices. There is an estimation that more than half of all search queries are powered by voice search.
AI-Powered Marketing and Support Technology
Artificial Intelligence is one of the trending technology in the future digital marketing industry. 
It is projected that the wave of AI will flow into every aspect of lives in the future. Even the changes have already begun, but we don't realize it. Around 60% of internet users have already used and interacted with AI chatbots. For solving queries across various apps and websites. 
AI is a complex algorithm that itself learns and looks at massive data. The data is all about a particular field or topic and acquires the best pattern for the work.  
There are several examples of AI that are already accomplishing activities that you never thought of in your dreams. Such as JP Morgan and Chase's content writing. Both adopted an AI-powered content writing assistant called Persuade. 
AI can serve many functions. It acts as a great opportunity for every digital marketer who knows how to use it. AI is cost-efficient, precise, and extremely effective. Many big companies adopting these tools and every team must have a plan to incorporate them.
The advertising industry also uses AI. Google is the big name who already running ads powered by AI. Google optimizes campaigns by identifying the best-performing ad designs and copy and automatically adjusting based on user engagement.
Not only this, most of the content that we consume on our social media platforms is fine-tuned by AIs. So the visitor stays long on the page. The projection of this amazing technology is $190 billion in the industry by 2025. As a result, it will be `proven to be an amazing opportunity for digital marketers.
Still, in its initial stage, it offers great ROI in contrast to more traditional advertising channels. There are some issues that need to resolve.
Metaverse
The Metaverse is a world inside our world. It is the combination of virtual environments and augmented digital space. It is the space where people exist together to experience the 3D customized avatars. 
Metaverse seems to do a lot with the gaming industry. Now the question is how it becomes the trending integral part of digital marketing? 
Actually, Metaverse has made social commerce possible with the help of a network. The network of realities/virtual universes where the availability of space is almost everywhere. Well, through metaverse digital marketers got an opportunity for their brands. To fill the gap and create an entirely new medium of digital marketing.
Although we haven't reached this space of marketing yet the potential is immense!
Augmented Reality Becomes Commonplace
Everyone gets excited about science-fiction ideas of virtual reality (VR). On contrary, Augmented Reality (AR) has been more realistic for marketers.
According to the forecast report of Artillery, AR global head-worn revenue for both consumers and enterprises. It will grow from $1.6 billion to almost $18 billion.
Similarly,  there is a prediction about AR's global revenue for mobile consumers and enterprise apps. This prediction says that it will increase from $6.8 billion to $26 billion in 2025.
In simple terms, augmented reality is not a fun trick for gamers but it is much more than that. Mostly, it uses as a tool for brands to reach customers. For example, Ikea offers a virtual reality catalog where you can test drive IKEA furniture in your own home. Some fashion brands are starting to use augmented reality. Tot allow their customers to try on outfits virtually in the comfort of their own homes.
There is a chance of jumping some more brands on the bandwagon of augmented reality. 
Programmatic Advertising
We all are aware of the traditional method of Ad buying which includes human negotiation, requests for proposals, and quotes. But the programmatic Ad Buying is something different. To buy ads, programmatic ad buying makes use of algorithms and machines.
Programmatic advertising uses AI to automate so that advertisers can target more specific audiences. 
The automation is fast and efficient which ultimately increases the number of conversions and lowers the customer acquisition cost. 
Real-time bidding is one of the best examples of programmatic ad buying. It allows buying and selling of qualifying ads based on per case. That means showcasing your ad to the targeted audience. 
Let's see how Programmatic Advertising works: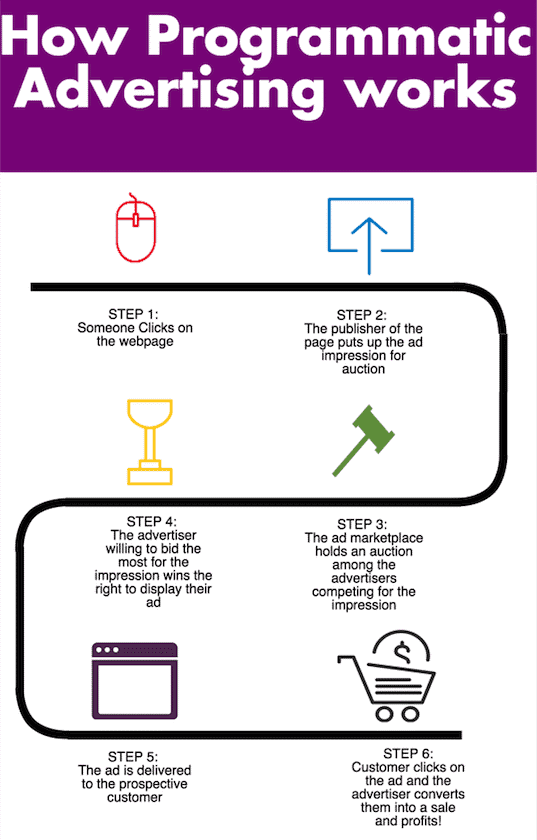 Programmatic Advertising is growing rapidly every year. There is an estimation that in the next few years, it will be used for a huge majority of display advertising.
One of the best examples of programmatic advertising would be 'The Economist', a digital and print publication. It started with the purpose of persuading curious readers to try the publication. Till now, the same campaign generated approx. 6,50,000 new prospects. Additionally, it gives the ROI of 10:1. The Brand awareness of "The Economist" also elevated by 65%.
Micro-Influencers
Definitely, the new horizon of digital marketing trends is Influencer Marketing. But due to a fake rise in the number of followers and false marketing tactics, the concept of Micro-influencers comes to light. So let's understand how it might transform influencer marketing in the next few years. 
The audience doesn't take the publicity or we can say propaganda around macro-influencers as a right. The reason is the difference between true influencer marketing and false influencer marketing people can identify clearly. 
Hence, companies will use micro-influencer for the most authentic route. Not only are micro-influencers but they need to take support from their employees and consumers for social proofing. 
Micro-influencers influence people with their actual incidents and emotions, unlike macro-influencers. Probably macro-influencing will take a hit in 2022, but the future must be overtaken by micro-influencers only. 
3. Careers in Digital Marketing
With the continuous growth in the popularity of digital marketing, companies are demanding digital marketing professionals. Those are experts in handling digital marketing jobs. 
Many companies are transforming their focus from traditional to digital marketing. Hence, the career scope of digital marketing is very high in the industry.
We highly recommend aspirants that start learning digital marketing skills and start a career in digital marketing. Another advantage of becoming a digital marketer is you can expect to get a high-paying job at top companies.
The kind of job that is available in the digital marketing sector is Social Media Marketing. Within SMM,  there is a further division of jobs which include Digital Ads Manager, Content Strategist, and Video Marketers. 
Few positions are in demand in digital marketing like Social Media Managers, SEO experts and Google Ads experts. Companies also hire people for jobs like Email Marketers, Bloggers, and E-commerce Experts. Moreover, Marketing Automation of which falls under Digital Marketing.
4. How can you keep up with digital marketing trends?
As we know, technology keeps on emerging at a high pace. Every year exciting trends keep on coming and changing the digital marketing approach. 
Stay tuned to these new trends helps digital marketers to stay in the competition. It also helps them to deliver the best services to their clients.
One way to do that is to keep you updated with advanced digital marketing techniques and technologies.  
Though it's great to keep up with future trends because your devotion to this job is necessary. Apart from this, you need to spend time on google trends, google alerts, and Twitter hashtags too.
5. Final Word on emerging trends of digital marketing 
Here is our definitive guide about the future of digital marketing that you can't ignore in 2022.
The change is a crucial part of digital marketing, from social media to search engine optimization. It continuously influences the billions of users.
Thus, to gain an edge over their competitors, digital marketers need to be progressive. In striving to embrace new technologies, tools, and strategies. 
We at Cyfuture are constantly working on discovering, testing, and implementing new technologies. In addition to, tools, techniques, platforms, and growth hacks for the benefit of our clients. With innovation and creativity, we work on a data-driven approach. By pushing for advanced and forward-thinking solutions for each project.
Thus, don't miss the opportunity to work with an expert team. That can help you lift the most advanced solutions available for your brand. If you want to start planning and executing your fresh digital marketing strategy then get in touch with us today.