2544 Views
Remember the last time you purchased a product online? If you are like most people, you would have, in all likelihood, browsed the reviews of the product online, and bought it only when you found these reviews satisfactory.
And this isn't confined to just online purchases. Today, you count on Google for everything, be it an online course you want to enroll in or a restaurant you plan to visit the coming weekend.
So, if you run a business, the last thing you would like to see on Google is a negative mention of your brand. And because online reputation translates into the offline word of mouth easily, managing your reputation in the online world matters more than ever before.
Here are some facts and figures that affirm the significance of online reputation management:
93% of customers read online reviews before buying a product.
85% of users trust online reviews as much as personal recommendations.
57% of users say they won't use a service if its rating has less than 4 stars.
4 out of 5 customers say they changed their mind about a purchase after reading negative reviews online.
A single distasteful mention of your brand can have lasting consequences for your business. Fortunately, there is a way out! By being a little proactive, it is possible to take care of your reputation and control what shows up in searches related to your business. Let's see how this can be done.
How to Manage your Online Reputation?
Here are some tried-and-tested ways in which you can control the reputation of your brand:
1) Assess the Current Reputation of your Brand
Before you start building a strategy, you need to get an assessment of the overall reputation of your business. You need to know what your customers are saying about you and how people perceive your brand.
Begin by asking the stakeholders-customers, employees, business partners, your friends, and acquaintances-what they think about your brand.
In the next step, carry out a simple Google search for your brand and see what shows up. Go through the first 3-4 pages appearing in the search results. Identify if this information is positive, negative, or neutral. Which of these results can be improved or, if negative, removed?
Now the thing is: what you see in online results is what your prospective customers, employees or any other person will. If you haven't actively worked on online reputation before, you're most likely to be dissatisfied with the results, and that's all right.
2) Establish an Online Reputation Management Strategy
Once you have assessed how you fare in the online space, it is time to start building a well-thought-out online reputation management (ORM) strategy. This way, you will have a blueprint to guide your actions and the task of reputation management won't become overwhelming for you. Here's how you can get started:
Decide your Online Reputation Management Goals: Deliberate on what you want to achieve by working on your reputation. You may be looking to weed off negative reviews of your brand, build a solid customer base, dominate SERPs for keywords related to your industry, or all of these. Make sure the goals you set are specific, realistic, and time-bound.
Determine your Resource Allocation: Assess how you will allocate resources for the task of reputation management. As this is going to be an ongoing project, you need to have resources working dedicatedly on ORM activities.
Prioritize Tasks: You may be tempted to get everything done in one go, but this is not the best practice always. On the one hand, you may have tasks that need to be handled urgently but are not as critical. On the other hand, there may be tasks critical to fulfilling your long-term objectives but are not as urgent. You have to determine an order in which to prioritize tasks so as to allocate your resources first into tasks that carry the highest stakes for your business.
Setting up ORM Guidelines: For successful online reputation management strategies, you need to have in place company-wide ORM policies to guide you through the reputation management process.
Policy Documentation: When you start working on your reputation, you will receive a notification when someone mentions you online. Since you cannot (and should not) respond to every such scenario, you need to establish a strict definition of what counts as 'urgent' and what does not (and can be dealt with later), who will be in charge, and how to respond in any situation.
Maintain a document with FAQs on your brand that can be used as a guideline for responding to comments, reviews or any other kind of online mentions.
Tone of Voice: Your ORM policy should state what tone you will adopt while responding to comments, especially negative ones. This will make sure everyone in your organization sticks to guidelines when replying online and prevent a potential conflict from escalating.
In addition, it is always recommended to have a robust crisis management plan in place. This way, you will have a template to follow whenever your brand faces an unforeseen crisis.
3) Claim your Online Space
Once you have crafted your online reputation management strategies, it's time to start building your online space. The profiles and domain names you own in your brand name can shield you against negative mentions. So, if there are any such mentions, they're likely to be shoved off the first page. As a result, they will not be noticed by many.
Domain Name
To start with, buy a domain name that corresponds with your brand. So, if your brand name is 'Café Delight', owning the domain 'www.cafedelight.com' will stand you in good stead.
In addition to the domain extension .com, it's good to have other extensions such as .net or .org. You can also buy regional extensions such as .in (India), .ca (Canada) or .uk (United Kingdom) for the regions you may be serving.
Extensions such as .com, .net, and .org are trusted by the internet and come up high in search results. If you don't own any of these, your competitors (or someone else on the internet) may acquire them, and this may harm your business.
To get a suitable domain name for your business, go to any of the reputed domain name registrars such as Go Daddy, and check if your desired domain name is available, and if so, what price you need to pay for it. You will also get to know about similar domains available for purchase. (See image below)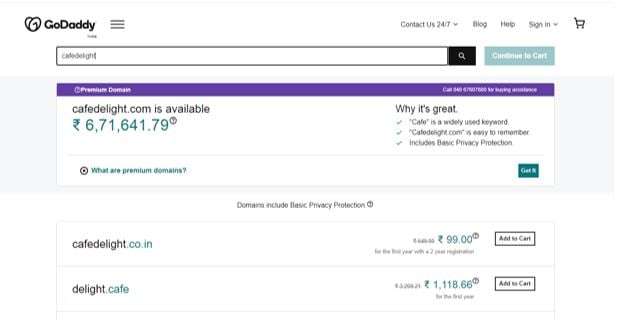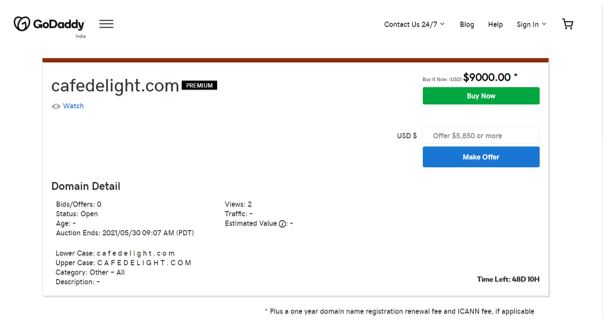 Remember: Different domains come with different price tags. Premium domains that are easy to remember, likely to attract more users and have .com extension are typically more expensive than non-premium ones.
Website Content
Just buying a domain name will not serve the purpose. You need to make sure the content you post on your website is high-quality and relevant to what you sell.
First of all, identify the keywords related to your niche that you need to focus on. Publish, on your website, blogs and webpages centered on these keywords. Also, reach out to high-authority websites in your niche and try to get backlinks from them.
Social Media Accounts
People can get to know your brand in many ways. The search engine is just one of them. The other important means is social media. An average internet user spends, on an average, 2 hours and 24 minutes on social media. Given their propensity to use social, many of these users are highly likely to discover new brands through their feeds. In addition, social is a great avenue to strike meaningful conversations with your user base.
Start by creating accounts on Facebook, Twitter, LinkedIn, Instagram, YouTube, and Quora. For each of these accounts, fill out your bio, create a profile picture, and a cover image. Link these social accounts with each other as well as with your website.
Also, add social icons in the header or footer of your website.

This way, search engine crawlers will understand that these icons belong to your brand and your chances of appearing high in the searches related to your brand will only go up.
Business Directories
Another way through which you can claim real estate in the online world is by listing your company on business directories. Find directories related to your industry and/or popular local directories and get your information mentioned accurately.
Make sure your name, address, and phone number (NAP) are consistent across all these channels. This will improve your odds of ranking high in local searches. Not to mention the reviews most of these directories have. And this brings us to the next important point: reviews.
4) Manage your Reviews
You may not even remember the last time you purchased something without checking its reviews. Today, reviews have become integral to your purchasing process. When it comes to reviews, two important things need to be considered:
Positive Reviews: Encouraging happy customers to leave positive reviews.
Negative Reviews: Responding to and handling negative reviews.
Before anything else, let us browse through some of the most significant review websites:
Google My Business: For those looking to improve their odds of appearing in local searches, particularly local businesses, Google My Business (GMB) can be a great place to begin with. Because the majority of the users on the internet search through Google and the latter pulls most of the data from GMB for local searches, GMB can help build a robust online presence.
Amazon: At present, over 2.5 billion users make a purchase through Amazon every month. If you are a product company and your products are listed on Amazon, most of the users are likely to go through these reviews. And because Amazon encourages customers to leave reviews and comments, the portal has become a repository for those looking for credible reviews.
MouthShut: With over 700 million user base, Mouthshut is India's largest review website. The platform keeps the user identity anonymous, hence users feel safe while posting a review.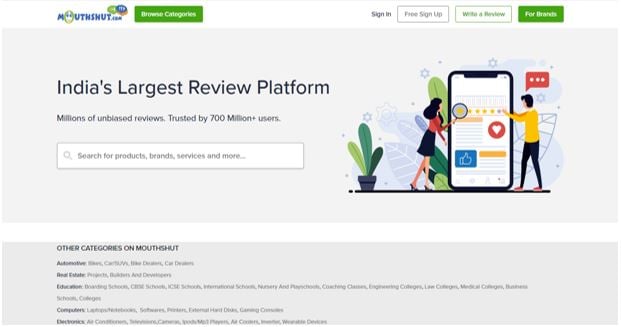 RevExpo: It is among the fastest growing online review websites in India. Unlike many other review platforms that are replete with paid unverified reviews, RevExpo is known for the authenticity of its reviews.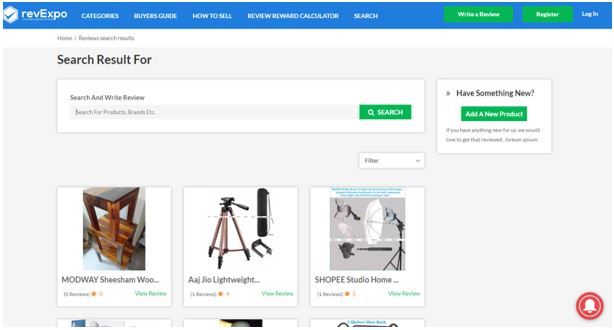 Yelp: Yelp is considered a trusted site on account of its strict review policies. All categories of business from restaurants, delivery companies and plumbers to accountants and auto repair are listed here. Yelp has over 125 million users; anyone searching for a local business is likely to visit the platform.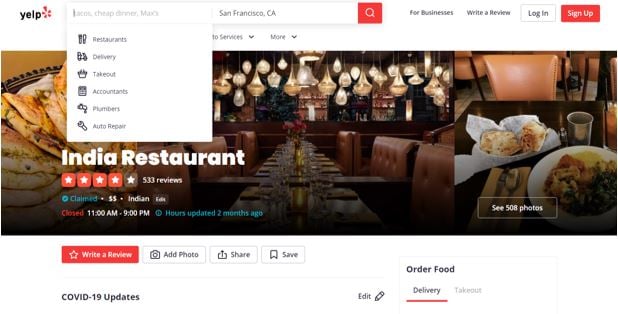 Other trusted review sites include Angie's List, Better Business Bureau, TripAdvisor, and Facebook.
Ask for Positive Reviews: Remember that most customers don't post a review unless they are asked to. So, you will have to encourage them to review your offerings almost all the time. The best place to start is your own website.
Create a review section on your website where users can leave comments or ratings. Link this section to your Google My Business (GMB) page so that your reviews appear in local searches as well. Make it as easy as possible for your customers to post a review. If you own a physical store, place a tablet or computer close to your exit on which customers can fill in reviews before leaving.
Many people don't review a product even when reminded of. For such customers and many of your loyal customers, keep an incentive for posting a review. The incentive could be in the form of a discount coupon or a small gift.
In addition, respond to reviews on time. This will make your customers feel that they are being heard and they will be encouraged to leave further reviews.
Handle Negative Reviews: Whenever someone leaves a negative review on your site, make sure to read it carefully and find out what led him to write an unfavorable review in the first place. If the review sounds genuine, apologize and promise to deliver a better service next time. It is vital that you don't lose your calm under any circumstance. Take this review as a lesson and make sure you fix the issue that made the customer post it.
Don't feel like reading the entire post? No worries, go through our brief video on online reputation management:
5) Dominate SERPs for your Brand
We all know from experience that people turn to search engines when researching for a brand. So, you need to own and control what shows up in search engine results when someone searches for your brand or its products/services. Let's see how this can be accomplished.
The first page of search results should offer information related to your business and establish it as legitimate. Your website along with your site links should come on the top of search results. (Note: Site links can include up to 10 links to different parts of your site that make navigating your site easy.)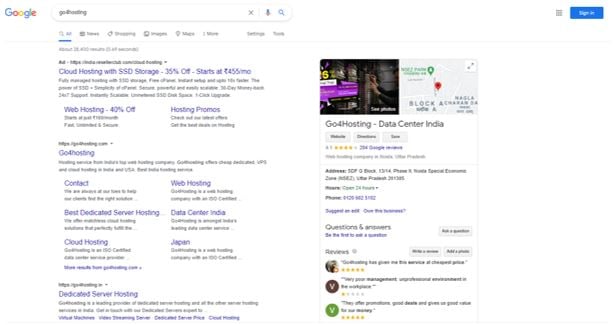 These links may occupy up to 5 positions on your SERP. This simply means all the area above the fold belongs to you. To achieve this, you need to have an SEO-optimized website with a proper architecture. Here are a couple of things you can do to make it happen:
Have a proper website structure where every page is linked to the other pages.
Make sure your website is crawled and indexed on Google. You can check the same through Google Search Console.
Drive visitors by adding high-quality SEO-optimized content on the site.
Bury Negative Mentions of your Brand down in the Search Results
All your efforts at owning the SERPs can go down the drain if something negative around your brand appears on the first page. Any such mention can smear your reputation and have financial implications.
While you can try to fix the content, the tactic does not always work. In such a scenario, the only option left is to push all the negative stuff down in the results so that they are not visible to your users. Even pushing them down to the second page will create a lot of difference.
When you have identified the negative results, find the keywords the content is ranking for. Now, all you need to do is to create quality content on the keyword. If some content already ranks on that keyword, try to pull it high up in the search results. You can boost the page by adding a few high-quality backlinks from authority sites.
6) Monitor your Online Mentions
Regardless of whether you come to know about it or not, people talk about your brand. Keeping abreast of these mentions on review sites, in news, and on social media, and controlling them is one of the most effective ways of handling your reputation.
As your brand may have been mentioned in thousands of places, choosing a reliable online reputation management tool makes sense. There are an array of such tools catering to different needs and budgets including Brand24, Reputology, Brandwatch, and so on. You can review their features and choose the one that perfectly fits your niche.
In addition, you can use Google Alerts to set up alerts on keywords and phrases related to your brand and its products/services. You can even track news websites, mentions of your competitors, and hashtags related to your industry.
This way, you will be notified whenever something relevant pops up on the internet.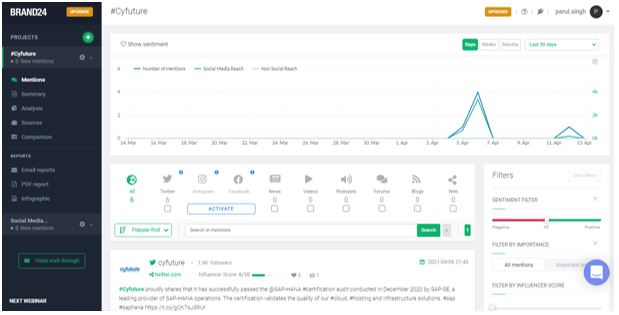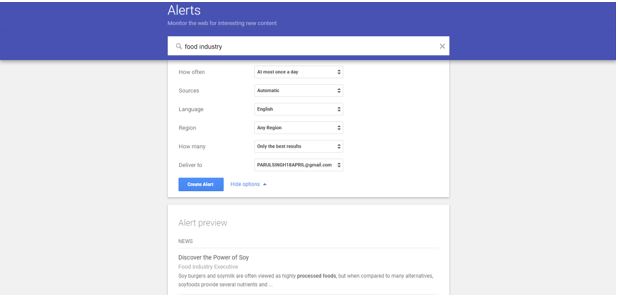 Master Reputation Management to Ace your Online Game
From what has been discussed so far, it is apparent that online reputation management goes beyond suppressing negative comments. It is about making sure your brand is represented fairly and accurately in the online space.
Because the online world is constantly changing-Google rankings change all the time, your customers keep posting reviews, your followers continually engage with your posts-online reputation management is an ongoing activity. So, you have to keep an eye on what is being said about your brand and act in a timely fashion to keep issues at bay.
If this sounds like too much of work to you, avail of our online reputation management services today. Thanks for reading!
Also Read: Best Online Reputation Management Trends to Follow in 2021