834 Views
When it comes to social media marketing, Facebook and Instagram are the big guys on the podium. With Facebook acquiring 2.45 billion monthly active users and Instagram growing along with 1 billion users, picking the best platform for brand awareness and social media marketing gets very competitive. 
Facebook, on one side, has completed 16 glorious years as a prominent social media channel, and Instagram is a new kid on the block, the power of both these social networking sites can offer your brand with a lot of opportunities and customer engagement. 
But, while thinking of advertising your brand on the best social media channel, which is the aptest, Facebook vs Instagram marketing?
To understand the domination of various social media platforms, let's consider the following statistics.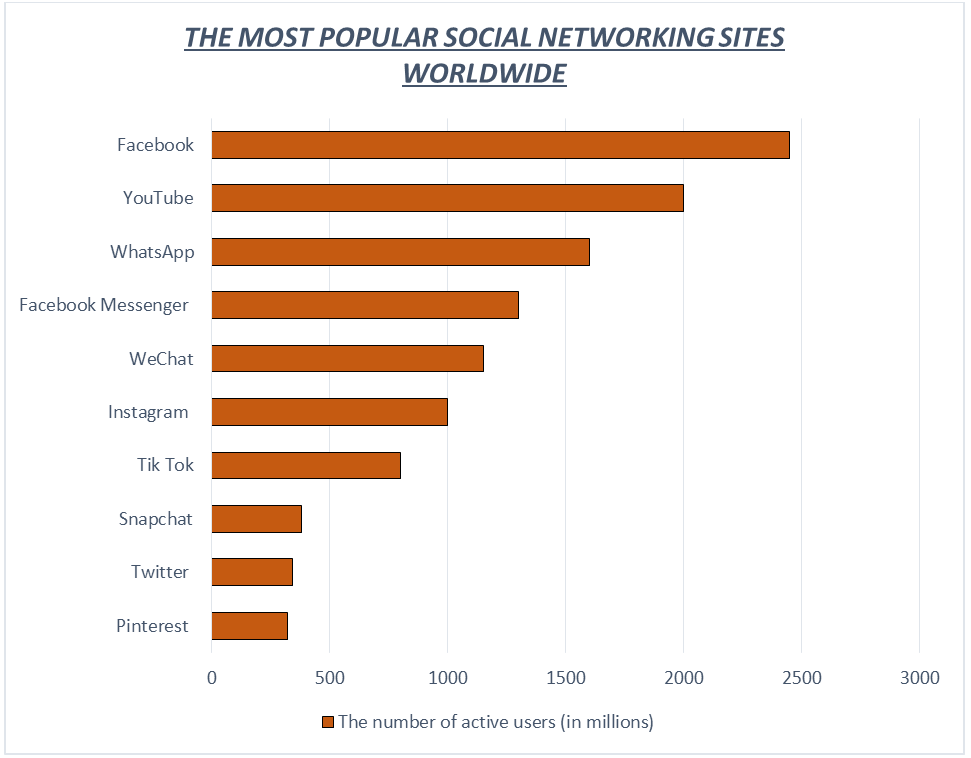 The following figure shows the most popular social networking sites, as of January 2020, across the globe. This statistic helps in devising a platform-specific strategy. It shows that Facebook is still, the master of all the social networking sites worldwide. 
Facebook might have the leading number of users on its platform, but considering Instagram's user base, it should be noted that it's the fastest growing social media networks globally.
Considering both the social media channels, brands revving up their social media strategy game can reap amazing benefits from such a large audience base. Although marketers, can tweak their social media strategies to fit into a particular platform, you cannot apply the same strategies used for Facebook to Instagram to vice versa. 
So, let's look at the difference between the two to help you understand where your brand should focus their attention to. 
Facebook Vs Instagram Marketing: The Numbers 
Facebook has a good user base with it and that gives it possible leverage as well. But with Instagram's consistent growth, it's on its way to catch up and earn that leverage. Let's look at some of the key stats. 
Facebook's Amazing Statistics 
Facebook continues to grow, in terms of active users and time spent on the channel, since its launch, in 2004. While devising an effective Facebook marketing strategy, you need to study about the platform. 
2.45 billion monthly active users 
74% of Facebook users are high-income earners 
88% of Facebook users are on the platform to stay connected with their family and friends
96% of active users access Facebook through their mobile devices 
65 million small businesses have their company pages on Facebook
89% of

social media consulting company

 employ Facebook as a part of their marketing strategy
Instagram's Impressive Statistics 
Instagram has been in the market for 10 years now since its launch, in 2010. The app that became a photo posting channel for people, has now transformed into a revenue generation source for businesses and customers alike. Let's look at the key stats.
1 billion monthly active users 
65% of marketers use Instagram as a part of their social media marketing strategy 
The average time spent per user is 53 minutes
More than half of the total Instagram users are under 34 years of age
At least 90% of accounts on Instagram follow one business page 
As you can see that Facebook has the leading numbers in its account but, the quality of stats about Instagram is highly impressive. In other words, in the Facebook vs Instagram marketing race, the latter can engage users better with the visual content shared by the brands. 
Facebook Vs Instagram Marketing: The Audience Demographics 
Creating a social media strategy is all about devising tactics for customer attention. Every platform has its demographics data which decides how the social media strategy has to be planned. The following is an infographic of the key demographics for a better understanding of Facebook vs Instagram marketing.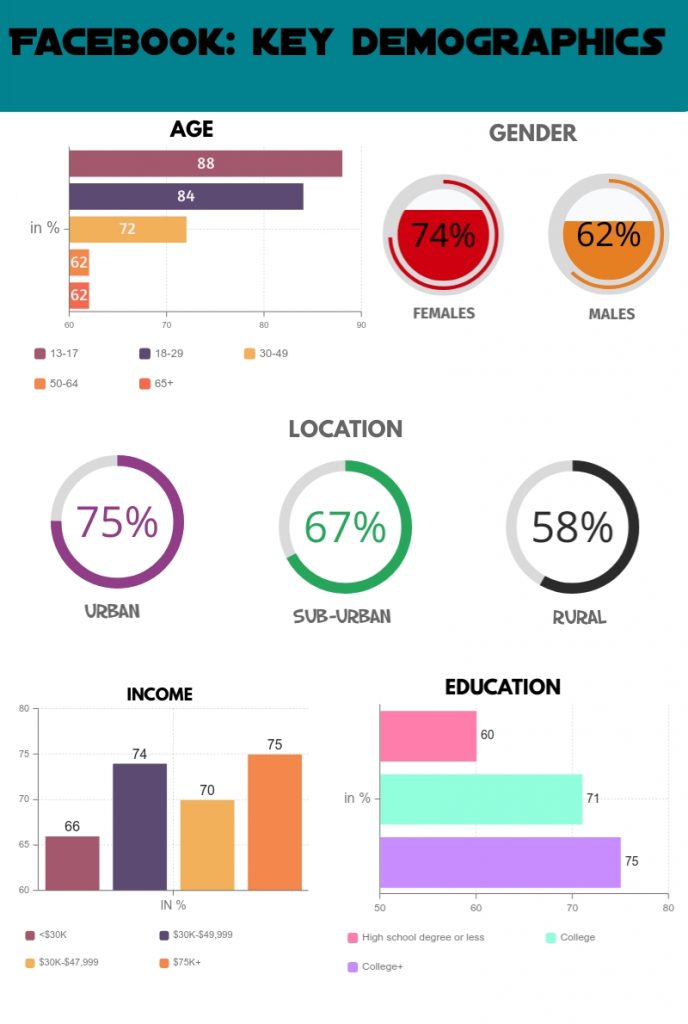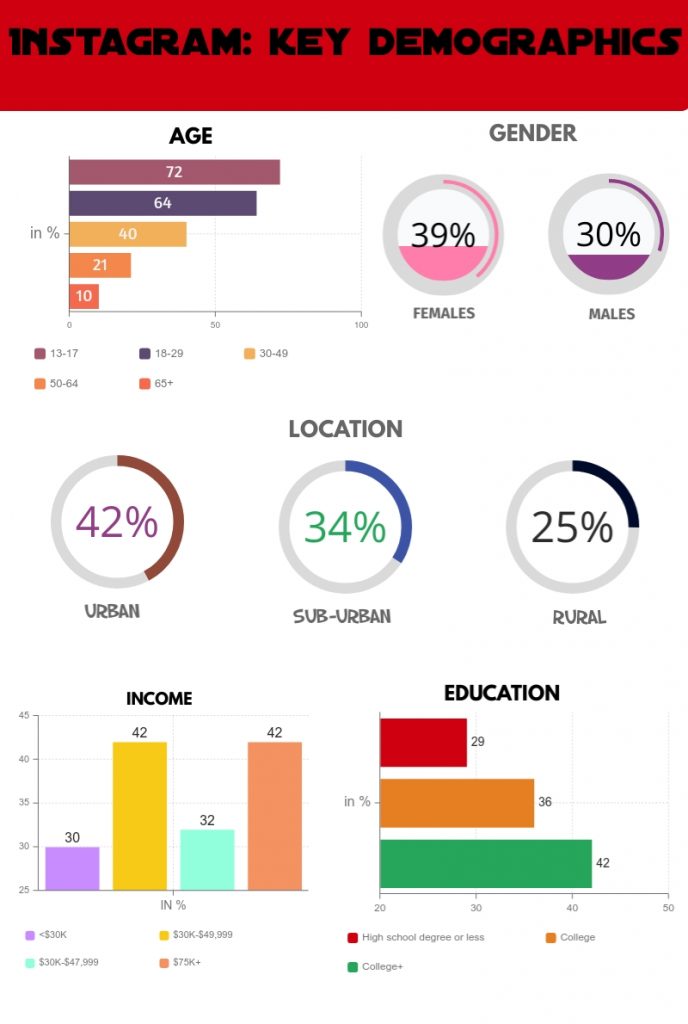 The following are the most important difference between the two social networking sites:
The majority of the population on Instagram is the younger generation. People above 50 years of age aren't active. On the other hand, Facebook has older ages active users on its platform.
Facebook has a diverse audience segment in all the areas including urban, suburban, and rural regions whereas Instagram is more localized for the urban and suburban users. 
Facebook is used by people of all income segments and Instagram is more towards the higher-end earners. Much of the reason for this shift is due to high-end brands endorsing with top-rated influencers only for Instagram advertising. 
Facebook Vs Instagram Marketing: Engagement Ratio
The engagement ratio is all about the connection between the users and the brand's page. According to a social media engagement study, it is said that Facebook posts achieve a median engagement rate of 0.09%, and for Instagram, it is 1.60%. This stat itself decides the difference your brand can earn on your campaigns, designed for both the social sites.
Let's look at this example.
This is a post from a global fitness brand Freeletics. The first post is from their Facebook page where there have 3.3 million likes on their account.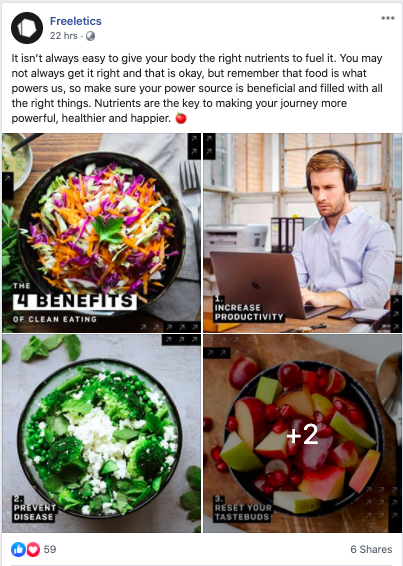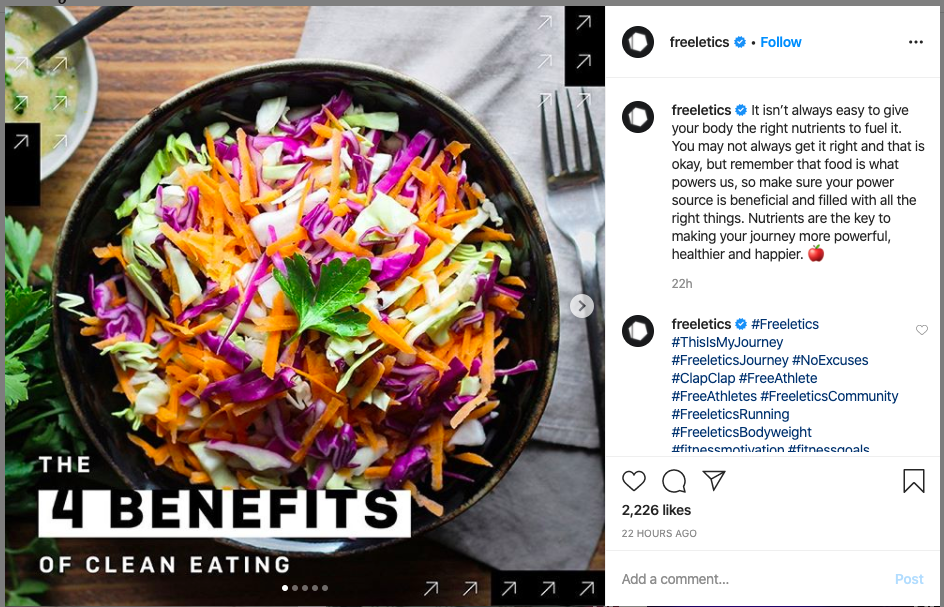 This is their Instagram page where they have 1.3 million followers.
Now, the same post has only 59 likes on Facebook and more than 2000 likes on their Instagram. For any brand's page, the engagement rate is far better on Instagram as compared to Facebook. 
Despite the higher number of likes on Instagram, as a marketer, you need to remember that not every post achieves such stardom on Instagram. There have to be some factors that make a post, receive higher engagement on one platform than the other.  
Since Instagram is a photo-sharing platform, they perform excellently on the app. However, if your image is about the text, then Facebook is the better choice. 
Facebook Vs Instagram Marketing: The Functionality of The Apps 
Discussing the functionality of both apps is very important. 
Instagram, as mentioned above, it is a photo or video-sharing app. The app is perfect for product awareness, and improving the brand's image in the minds of the customers. People open Instagram to look through the moments captured by their followers. On Instagram, you can look only at the selected group of options. 
With Facebook, the concentration of a brand page is informational. You can learn about the brand in terms of its business hours, address, upcoming events, sharing posts of the people who support you, etc. So, Facebook is mostly about textual content. You can play games, watch videos and do so much with the app. On Facebook, you can look through anyone's profile, an app offering you infinite options. 
Instagram's mobile functionality is much better than Facebook's. 
Consider the following example.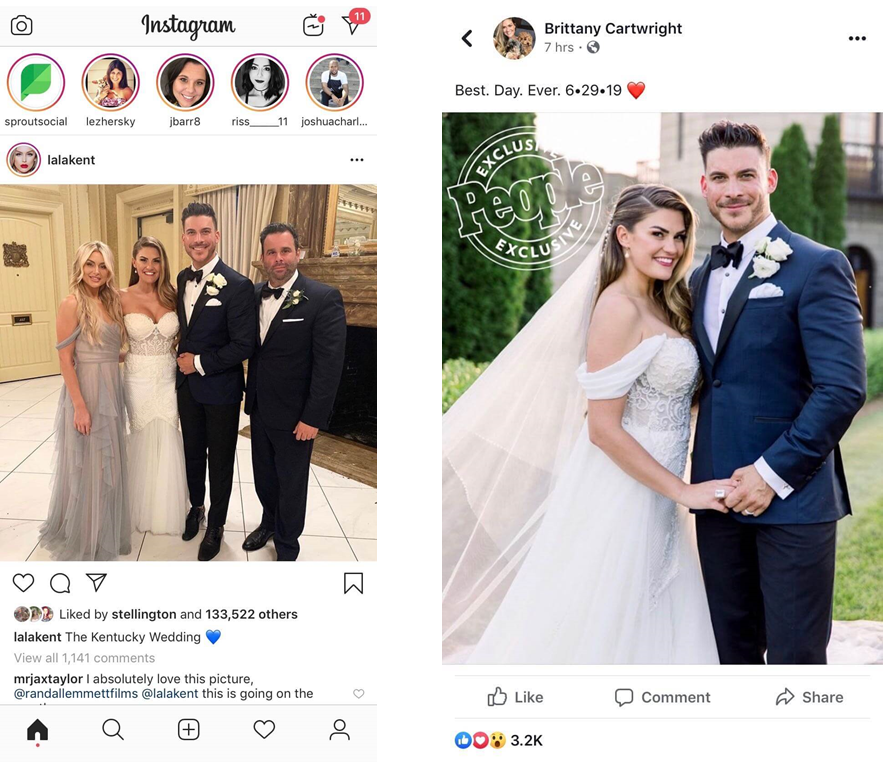 Image Credits: Sprouts Social
These are the mobile screenshots of the same person's page. The mobile version of an app will let you view stories, videos, and visual content at the same time. Instagram has an upper hand in terms of functionality.
Facebook Vs Instagram Marketing: Which Network Is The Best For Your Brand
What most people do wrong is to treat their Instagram as Facebook and vice versa. Since both platforms are different, Facebook vs Instagram marketing strategies has to be different. If one post is working well for your brand on a certain platform, it is not going to be the same on the other platform too. Therefore, you need to run test trials to see which type of posts work best for which channel. 
If you want to set up your company page, then Facebook is the right aid for you, but if you want to promote your brand, Instagram is what will reap you benefits. In case you are interested in sales and revenue, then a cumulative mix of both the strategies is what will make the most difference for your brand. 
If your posts are about content, then Facebook should be on your priority.
If you want to publish some company news, then Facebook is your top choice. 
If you want to post any event, then Facebook is a perfect app for you. 
If your content is purely about images, then Instagram is your preferred channel. 
If you want to post any contest, get hooked up with Instagram. 
If the idea is lead generation, then Facebook and Instagram both will help you to rev up your game. 
If the idea is sales and revenue generation, then a mix of both the social networking channels is needed. 
At last, the answer to Facebook vs Instagram marketing is both are needed platforms and if you want your business to stay in the queue for a long time, then a mix and match of both the strategies are what you need to get your brand in the fight.