1760 Views
Let's all agree on one thing! 
Google's broad core updates always lead to consecutive nights filled with sleeplessness, worry, and anxiety for SEO marketers. 
And this is exactly what happened with Google December 2020 Core update. 
It felt as if Google conjured upon its third core update shortly before the ending of the pandemic-struck year. Unlike Secret Santa, Google 2020 core update does not come bearing gifts for everyone. But it is definitely going to make you strategize your plans for the next year's digital marketing services. 
On December 3, Google made the day chilly for some websites. This early Christmas present from Google is a new update, typical to its previous ones but noisier than its Google core update May 2020. It took a couple of weeks for Google core algorithm update to fully roll out.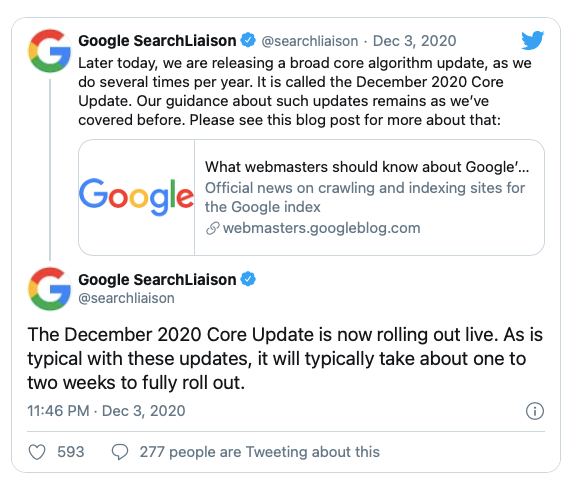 Like all its other updates, this core update wasn't limited to some regions but had a global impact. 
This update is the third one this year from Google, post the January 2020 core update and the website-wrecking May 2020 update. As per search engine analysts, this update was big and substantial, fluctuating ranks, traffic, the very existence of several websites. 
The Impact of Google December 2020 Core Update 
Just like all the other Google core broad updates, there are some winners and losers in this one too. However, as per data collectors, this could be the biggest and the most impactful Google core update than its yearly predecessors.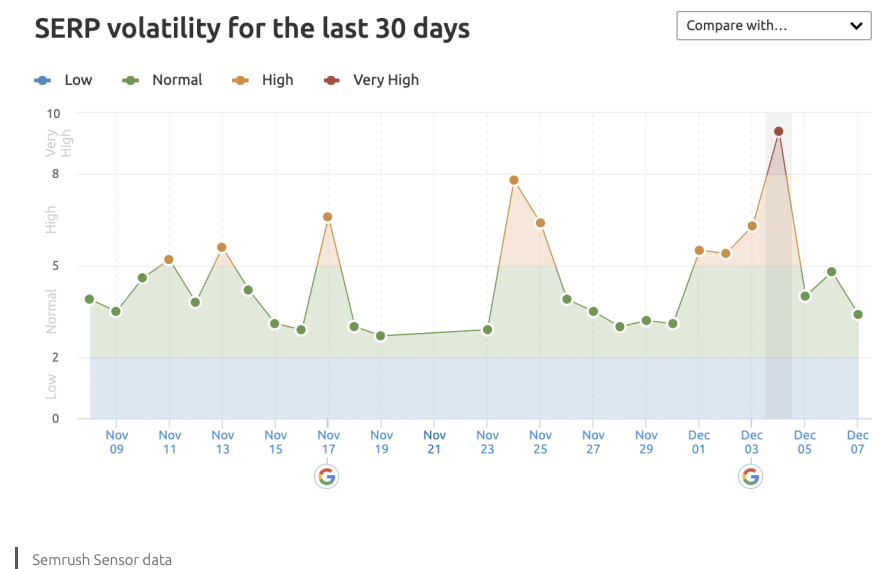 Semrush Sensor data predicts the nature of this Google December 2020 core update in terms of the SERP volatility score of 9.4, similar to the Google core update in May 2020. However, January's core update stood at a lesser score of the 8-point mark.
Websites have started experiencing the rollout results as differences in their traffic, ranking, and search engine visibility. It typically pertains to EAT and content on website domains like music, e-commerce, news, and health. Moreover, several music-related sites have seen major drops and ups as well. The bulk of medical and health websites are going up. However, several others are dropping down. 
Some interesting observations for Google December 2020 core update
Although understanding the full impact of Google's broad core update is never easy, it is still necessary. Furthermore, it is well-known that such updates do consider several factors and features of a website. There is not just one aspect that defines an entire Google core algorithm update but an amalgamation of several factors and its effect. 
This is why it is always difficult to comprehend what's going on with a website until you fully understand its history, past performance, SEO tactics, problems encountered over time, improvements implemented, and many more. 
In the words of Google's Gary Illyes, its core ranking algorithm consists of several millions of baby algorithms put together to provide an output score. For SEO webmasters, it is super important to understand that it is not just one or two things that make Google roll out an update but a combination of several tiny things that goes with analyzing and improving your site. 
How do I know if I'm Impacted by Google December 2020 Core Update?
For websites that wish to seek detail whether they crashed it hard in this update; webmasters like SEMrush, Moz, etc., can help you with such prospects. You can judge the changes in your domain post this update. While a domain's visibility might be similar most of the days, a core update brings about an identifiable and noticeable positive and negative change in its visibility index. 
Whenever a new Google core algorithm update is introduced, the entire website's visibility index redistributes. Therefore, some of them either gain or lose it in the process., hence the sleepiness nights. So, every Google update brings out a list of domains that either made it big in the update or shattered to the ground. 
The Monumental Wins in December 2020 Core Update 
As per Google December 2020 Core Update, most changes were felt by websites dealing in health, real estate, travel, finance, law, and government for the desktop versions. For the mobile versions, changes took place in health, law & government, jobs & education, pets & animals, and real estate.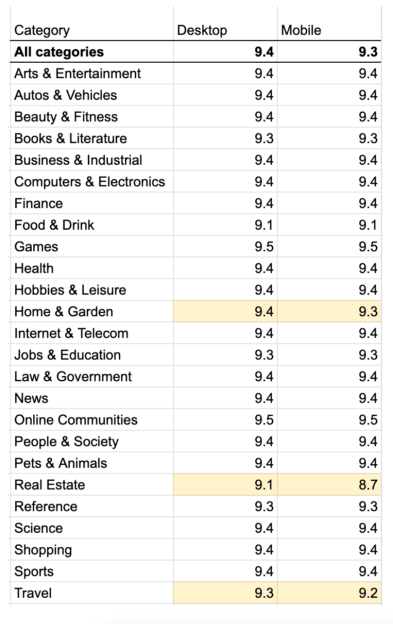 The above list compiled by SEMrush suggests the volatility index of several website categories. It states the desktop and mobile version changes for a particular website domain.
Moreover, as per reports, almost 50% of the biggest winners and losers for any domain are the ones surpassing over 1 million monthly traffic visitors. Every 1 in 3 website domain experiencing visibility drops garner more than 10 million visitors every month.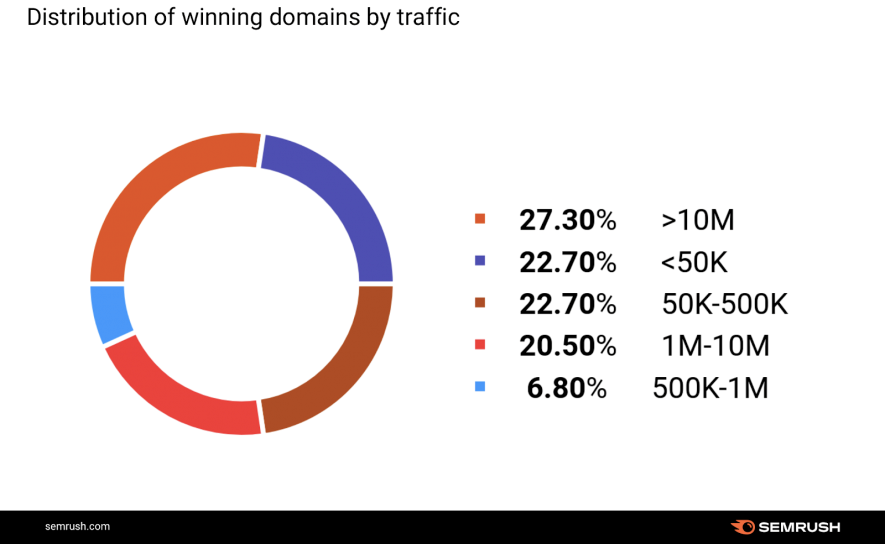 Coming back to the winners of the Google December 2020 Core update; the side includes websites related to business & industrial, Internet & Telecom, and beauty & fitness industries.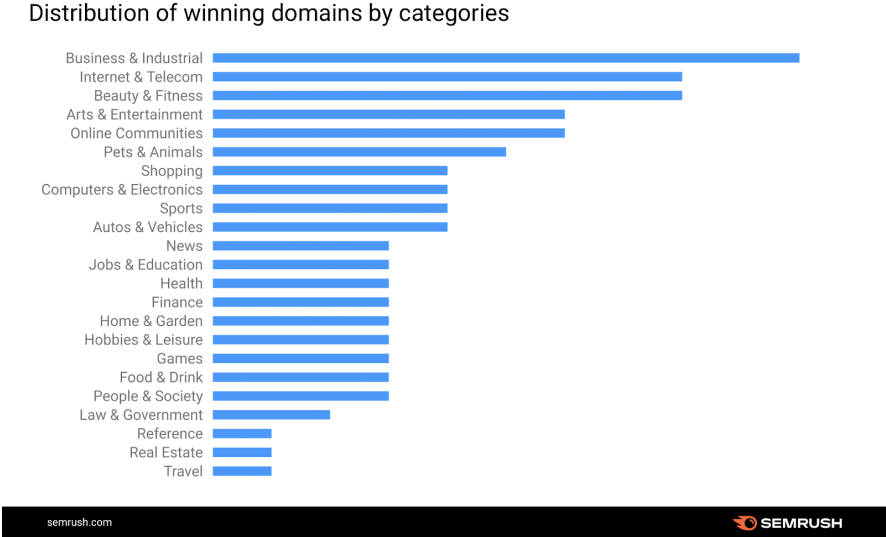 Business sites like zoominfo.com, whitepages.com, LinkedIn.com, ebay.com, vimeo.com, loginbrain.com, yahoo.com, foursquare.com, businesswire.com, soundcloud.com, apps.apple.com, twitter.com, techradar.com, thespruce.com, nymag.com, Instagram.com, nerdwallet.com, and many more are the big winners for December 2020 core update.
In the current pandemic-suffering world, such inclination towards business sites indicates the changing corporate landscape and how the top winners still dominate the market. Such changes in Google's algorithm impact the traffic and revenue generated by the winners. 
The Losers of Google December 2020 Core Update 
For those websites and domains that lost in the Google December 2020 core update race, the good thing is that such updates only redistribute the visibility of a website but do not affect the total visibility of websites in any circumstances. 
Now obviously, if there are some huge wins in this update, there will be some losses. However, amongst the majority of visibility index losing domains, sites like online communities, shopping, and news section experienced big downs. The position drops for such websites is more than the other lose-bearing ones.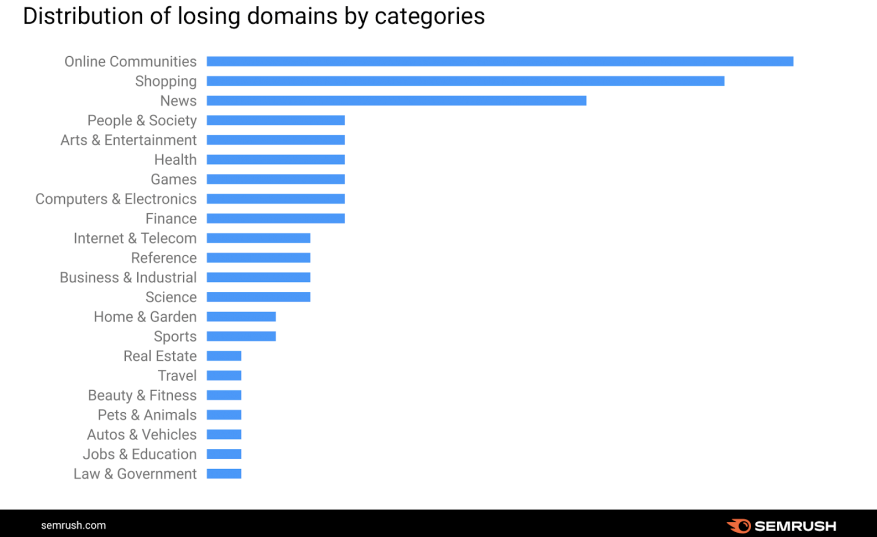 That said, the most affected sites include yellowpages.com, newsbreak.com, gettyimage.com, wish.com, echovita.com, urbandictionary.com, local.com, dnb.com, aliexpreess.com, findanyanswer.com, and many others. 
Some Major Movements in the Job Listing Websites in December 2020 Core Update 
Job listing websites received mixed reviews from this broad core update. Sites like LinkedIn and Monster enjoyed significant growth, whereas Glassdoor and Indeed suffered sufferable blows. 
The following image talks about the SEO visibility index of the top job boards.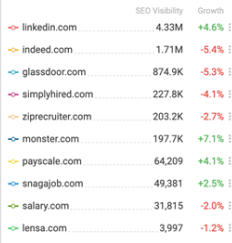 Moreover, when we compare December 2020 with Google Core update May 2020, several websites that gained traction in the May update experienced a neutral impact in the latter one. Sites like Spotify and Twitch that went through unmanageable losses in the last update have still not shown any signs of recovering in the December update. But Google has been warm with such sites, even releasing its update in multiple iterations to test results on such websites. 
What to do if my website is Affected by Google Core Algorithm Update?
Google has provided website owners with advice if you are negatively impacted by Google December 2020 Core update. There are not enough specific actions or courses-of-action to recover from the negative SEO visibility index numbers. In fact, a negative ranking might not even translate to issues on-page content and details. 
However, Google did hint at improving the content published on all such sites to make them immune to such broad core updates. Catching on to the phrase, Content is King; websites must check the relatability and quality of content before publishing it on the website. 
A website can answer questions like:
Is the content to-be-published original?
Does the content provide a comprehensive description of the topic?
Does the content give any insightful analysis regarding the information?
If the company uses details from other sources, rewrites or copies it instead of providing the author with any value.
Do the headline and description sync with the overall content?
If visitors would like to bookmark, share, or recommend your blog section to others.
Would you expect this content to be published in printed magazines, encyclopedias, or books?
The latest December 2020 core update focuses on the EAT sections; expertise, authoritativeness, and trustworthiness. Post-reading the EAT guidelines, you will know more about its perspective, importance, and further improvements. 
Google updates are more of an improvement warrant for websites that aren't focusing on quality content and acceptable SEO tactics. However, this update does imprint the necessity of content and EAT guidelines for better ranking of websites.