1314 Views
For any business owner, especially those in startups that are still trying to break-even, taking the business on digital platforms can be daunting, especially if they don't have much know-how on building websites and optimizing it to promote their business further. So even if they have heard all the buzz about Search Engine Optimisation (SEO) and the wonders it can bring to their business website, a default instinct can be getting an expert to do it because they think they can't do it on their own.
If you are a startup business owner or a newly launched brand and you are reading this, you probably had to do some things you did not know much of in the beginning but did so anyway, just with sheer determination as to your driving force. If you've been successfully doing that before, then don't let something as easy as SEO overwhelm you. You can successfully do SEO by yourself. Not only this but with this information and some practice you can also function as a digital marketing company.
So, we have gathered a list of things you need for this digital DIY adventure:
Start with the Question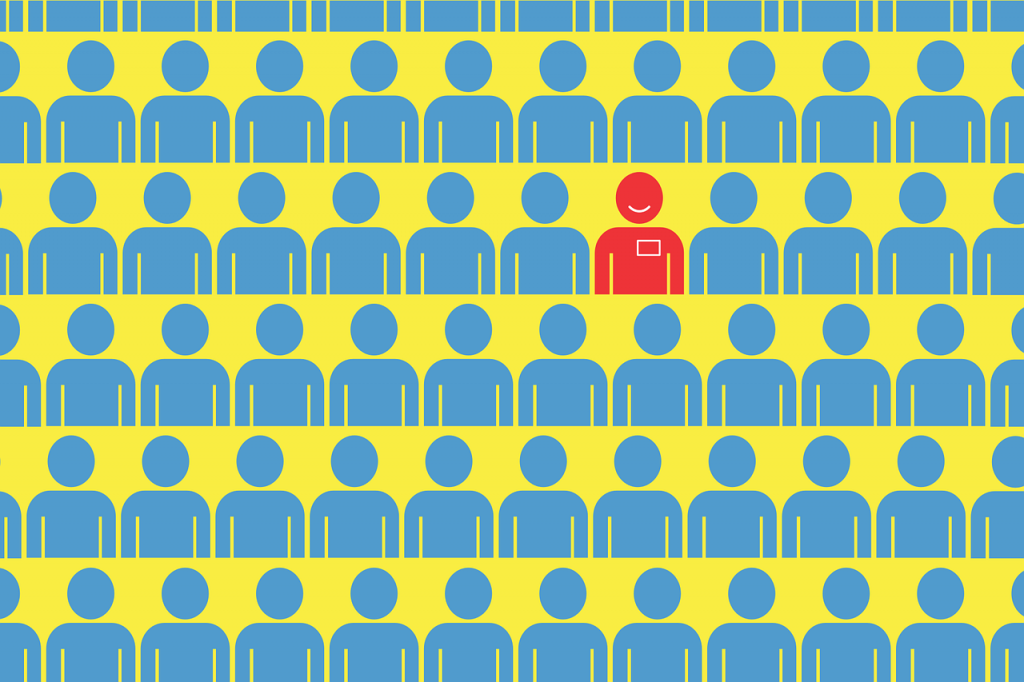 Image Source: Pixabay
Before launching your DIY SEO strategy, start by asking this question: What does my target market need? What are the questions they are asking that I can be of help to? How can I add value to their lives by providing solutions to some of their problems? What content can I contribute that will help them further in their personal lives, career, and other related ventures?
As you begin discovering the answers to these questions, you begin to define your target market. You'll find the characteristics of your target market and what makes them tick. You are building a website for people, not for search engines. You built your business or your brand to serve a need, so your website and all social media platforms you use parallel to it should echo this goal of meeting people's needs.
You are not looking to please everyone, just the ones in your target market, and asking these questions helps you identify the object of your attention and your SEO campaign. It's all about balance. If you try to reach everyone, you will likely appeal to no-one.

You can discover these queries on keyword search, that we will dive in further in the next point.
Master Keyword Research
You need a good keyword strategy for any campaign to hit both the target market and the goals you set for every campaign. It's actually how you will find those queries we were talking about. There are free tools you can go to, such as Google Keyword Planner and Ubersuggest, Wordstream, where you can input your domain and discover keyword ideas provided to you. Other SEO tools available are Wordtracker, SEMRush, Search Engine Genie, SEOBook, and KeywordSpy.
You can also get keywords from a few competitors' domains. Your goal is not to copy what your competitors are doing, or for your spirit to dampen if they are doing better than you. Your goal is to see what keywords from queries are being targeted, and see what are those that applies to you and your business.
You can also get ideas for keywords from your customers so you will not waste any of the optimization efforts you do.  Design your webpage and further content around these keywords. You can conduct face-to-face market research, utilize website forms, or conduct surveys. Polls are trending right now, especially on social media. You can also check comments and reviews made by your customers, r maybe customers from other competitors' sites. You need to see which needs are inadequately met or not met at all. It's a practical and cost-free way of finding out what keywords to focus on.
Use Long-Tail Keywords
Image Source: Traffic Radius
Long-tail keywords are more effective in finding specific users in your market niche through the use of more specific phrases that users type in when they are about to find out what they are exactly looking for or when they are about to make a purchase.
Long-tail keywords account for 70% of all web searches. Using generic keywords yield high search results, but because they are vague, the chances of exactly meeting the user's query are low. They are also very costly if you include them in your PPC (pay-per-click) campaigns in your SEO strategies. You will be paying a lot, but there will be no ROI (return of investment) if you do not get found online with these keywords.
Experts suggest using long-tail keywords that are 4-6 words long because they are more specific and are actually what users are typing in search engines. For instance, if your business is making furniture, instead of just using "furniture for sale" as your keyword, you can use "customized wood furniture for bedroom," or something trendy nowadays, "customized wood furniture for tiny homes." It's how you will be found by users in that particular niche much easier than using generic keywords.
You outrank your competition with long-tail keywords. You also ensure you don't get stomped on by search engine algorithms like Google's Penguin and Panda, which removed from SERP all websites with weak or dying results. Google's Humming Bird now adjusted the metrics of the algorithm and prioritised more specific keywords that are delivering results.
Study Your Competition
Understanding your competitors is actually part of good digital market research. The goal is not to pattern your business and strategies on what your competitors are doing. The goal is to gain insight into effective and ineffective search campaigns and to check how you can tailor your search initiatives even further by covering queries that are not being targeted that are aligned to your business and your potential buyers.

Free tools such as SpyFu helps you in this regard. You can know what prominent websites in your market niche are doing well at, what content do they have that you may not be delivered yet and study the structure of their search campaigns and other interesting features you may learn a thing or two about. If you know what's trending, you can stay abreast of the pulse of your market as relevant as you can.
Remember, if you are no longer relevant, then you are no longer needed. Yes, you want to be unique, but not too unique that the market never finds you, does not understand you, or does not even need what you offer.
Structure Your Site Well and Optimize
Preparation time is never wasted time. You need to have a clear vision for your website and how you want it to look and feel. You need to map out the different pages you need, and other elements that will make it work well. Plan out the keywords you will use to address the queries you have research about your target market. It's like creating the skeletal structure upon which your website will be built before you out in the content.
It's useful to make a strategic site-map and put yourself in your visitor's shoes. As a visitor to other sites yourself, you do not want to be on a website that is unpleasant and irrelevant to you. You would not stay if a site has significant slowdowns, and if it is hard to navigate. Consider these things and more for your website as well.
Conduct on-page optimization steps such as including your keywords on your title tag, meta tags, H1 tag, and alt tags.
Title Tag – Use your main keywords at the beginning of your page title. Remember that only the first 64 characters are shown on search pages, so be strategic in creating your title tag. It should still make sense while hitting your keywords, so visitors click your site.
Meta Tags – include one or two keywords here as you describe your page's content.
H1 Tag – this is the header of your page. Include a single H1 tag per page, with a description that can appeal to your visitors and make them want to click as well.
Alt Tag – are floating descriptions whenever a mouse hovers over an image. Use the main keywords or keyword variations in your image's alt text and filename.
Use your keywords no more than four to five times on a page. Use variations of your keywords and make sure to add it seamlessly or naturally into your article. Do not cram your keywords in the content to the point that what you are saying no longer makes sense. In the past, we saw this kind of keyword-cramming strategy, but with search engine's algorithms looking for high-quality content that people flock to and read, make sure you use your keywords strategically while serving your viewers with fresh and meaningful content.
Publish Content Consistently and Often
You need to keep a schedule when you are releasing or publishing content. It cannot be sporadic and random. Just like a brick-and-mortar business, if the business hours are erratic and inconsistent, the business will only fail. It goes with your website too, which is an extension of your business. If your subscribers know you release new content daily, do so. If you release only once a week, no problem, just do so consistently.
Whatever schedule you decide on, do it religiously, so your customers get the sense you are dependable. Your website stats will also be easier to measure when you are producing regular content. Are your campaigns working? Is your content hitting the target market? How many are converting as subscribers and customers? All these questions are more comfortable with gauging when content is consistent. Your point of reference is evident as you check if your SEO strategies are working.

If you are a business startup, and you find it hard to produce content consistently, ask your employees to help. Assign one topic for each of them once a month and feature one or two per week. It is a brilliant and easy way to endear your team to your market since they will feel they even more that they are dealing with real people behind the website. Invite guest bloggers too. Do you have a friend or family member willing to help you out by creating an article for you? Don't be shy to ask their help too. You may also encourage people from your digital community to write to you.
Some writers will write for free, as long as you link back to their blog. It helps you both gain more inbound links, that's why this strategy is a trend nowadays. Just make sure your website's ideals will not be compromised by your guest blogger's website or social media accounts. Vet the bloggers you allow to write for you before you even consider working with them.

Whatever your game plan will be regarding your sources of content, you need to ensure that the content you produce matches the search intent, is readable, with exciting titles and headlines, tags and metatags, and has inbound links that can lead your readers to other pages in your website, and backlinks to references and statistics you use.

A good length for an article is more than 1,500 words that showed on SERP rankings to be prioritized by search engine algorithms. Articles this long have a high probability of being high-quality content and well-researched.
Remember, though, that you are not writing for search engines but people. In all these strategies, producing great content that meets people's needs should be an unchangeable value that guides you.
Social Media: Free PR Campaign

Image Source: Flickr
Utilise the trending social media platforms available to you and run accounts parallel to your website. It is where you can share content on your site, tap more people in your target market who are often on social media platforms and use it as a launching pad to find the content they need on the web. You can connect on a more personal level with your subscribers because these social media platforms are designed to engage "conversations" through comments, polls, groups, and the like.
Learn Google Analytics
A measurement is a form of feedback you need, so you can tell if your SEO efforts are working. You need to track the performance of your site so you can adjust what is not working and amplify the strategies that do. Google provides a step-by-step guide on how to understand Google Analytics and analyse performance. Google provides a Google Analytics tutorial for beginners. You can also read different SEO blogs that talk about the topic, or watch free video tutorials, like the one below:
Video Source: Google Analytics Beginners Tutorial|Josh Hall © 2017
Find Technical Issues on Your Website Right Away

Image Source: Constantin Guay
You can use a crawl to your site with tools such as Site Audit. Once the crawl is finished, you will see any technical issues encountered on every URL on your website. Site Audit and other similar tools will have recommendations you can follow to fix the problems.

You may also monitor how users are using your website. UX Sniff is a User Analytics as a Service that provides real-time monitoring of your user's behavior on your site and detects and reports abnormal user activity.

Make sure that your site loads fast. Google uses page speed in web search ranking, so always monitor your webpage several times in a day, dealing with any problem to slowdowns right away. You can use Google's free PageSpeed Insights Tool to check your website speed.

If you are consistently experiencing slowdowns, maybe you need to change your web host or reduce image sizes, and enable browser caching.
Use SEO-Friendly URLs
Use clean and optimized URLs to get high rankings in search engine results pages (SERPs). A URL is a unique web address that leads a user to your site. As you create URLs for your website, include your main keyword that coincides with the copy on your website they are directed to. It should also be simple and easy to understand so that you can outrank your competitors on SERP ranking.
URLs that are descriptive and concise pays off because ranking highly on SERPs drives more traffic to your website and increases your website's conversion rate as well. Checkout this SEO Cheat Sheet below for a quick guide: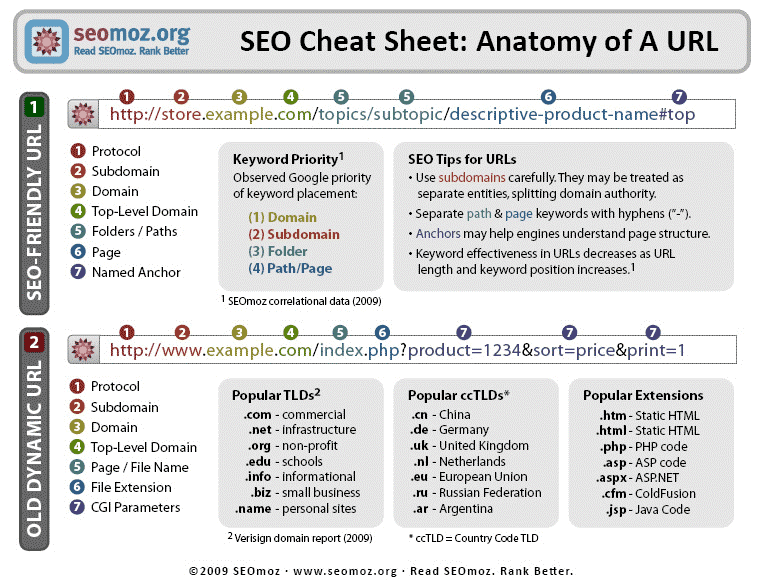 Image Source: Seomoz
Conclusion: Don't Be a Loner
Pioneering or starting anything is labor-intensive, and that includes SEO strategies. The value of this season where you do most of the work is you learn the ins and outs of managing your business and your website. You learn effective measures to meet your customer's needs. You experience first-hand why things are not working and also how to move from failure to success throughout your SEO strategy. It builds resilience in you as you deal with the challenges of implementing SEO campaigns.
In the future, when your business is more stable, and you can set aside a budget for SEO professional work or hire additional staff to do that for you, you will still have an intelligent oversight over the process because you have been there, and you have done that.

But also keep in mind that you are not alone. Find blogs or communities that help DIY SEO strategists such as yourself to gain more knowledge on best SEO practices, tips and tricks, current trends and threats on cybersecurity that you also need to consider as you maintain your website, and other marketing strategies you can run parallel to your SEO campaign, such as content marketing. When you meet roadblocks along the way, there are experts out there that are willing to share what they know freely, so somebody like you can also succeed.

Keep going and do not give up on your journey because when you do SEO correctly, you will immediately see the fruits of your labor, which will fuel you even further to keep aiming for success. Happy DIY-ing!
Author's Bio
John Ocampos is an Opera Singer by profession and a member of the Philippine Tenors. Ever since, Digital Marketing has always been his forte. He is the Founder of SEO-Guru, and the Managing Director of Tech Hacker. John is also the Strategic SEO and Influencer Marketing Manager of Softvire Australia – the leading software eCommerce company in Australia and Softvire New Zealand.