1126 Views
Did you know, 65% of consumers trust online search engine reviews while researching a business! For an enterprise, there is no big a blunder than having an unsatisfied and unhappy customer. Not to mention, word of mouth travels faster than the speed of light in this on the web world, it doesn't take much time for a customer to use public forums and warn people about a particular brand.
Businesses nowadays understand the importance of having a cordial online reputation and the power vested by a customer. Once a brand becomes a victim to customer heist, it is very difficult to earn recommendations or worse, target new customers.
The key to reducing the impact of such negative comments on the internet is to have strategies for managing online reputation in place before a potential crisis arises. Several third-party companies offer online reputation management services to maintain brand credibility and integrity.
How to improve online reputation management of your brand?
Online reputation management (ORM) is for every company which has a digital brick and mortar store on the internet. A great brand reputation is a crucial and valuable asset for any company. The following guide to improve online reputation, isn't just for brands with a negative reputation but also for companies new to this fierce market.
1. Capture Reviews from Your Previous Customers
This is the easiest amongst the online reputation management tips. If your brand has thousands of customers but, you do not have enough reviews, to enlighten the online visitors about how amazing your services are, you are losing a lot on conversions. 
In case you haven't received any reviews from your past customers, you can always send them a feedback form or an email blast.
Also, it is not important that all your reviews should be 5-star or 4-star, it is normal to have a mix and match reviews for your services. Moreover, if you have several positive reviews, it will overshadow the negative ones, and your brand still stands as high and authentic, in customer service and satisfaction. Since no brand is perfect, don't let the bad reviews bring you down. Where negative reviews can dishearten a company's services, they are a form of constructive criticism.
2. Expand Your Online Presence
So, where can people find more about a company and its services?
Some would say Google, others will say Facebook, and some others will say Yelp. All in all, there is no perfect answer to this question.
Consumers use different platforms to know more about a brand and dive into their services. Having, just a Facebook page is not enough.
Consider, this pie chart for example. It entails the most trusted review sites used by consumers to research about a brand. As you can see, there is no single platform used.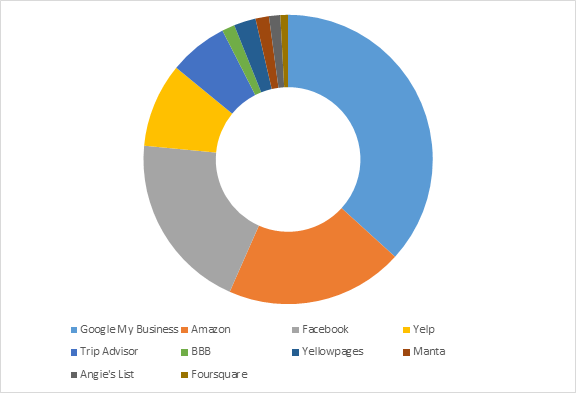 As a brand marketer, you need to create pages on all these above-mentioned sites. Add information like the website address, phone number, physical address and contact hours. Also, these pages have to be monitored in a timely manner, a task easily accomplished with the best online reputation management tools in market. Look through all the reviews posted by users, and if you come across a negative one, ask them about what went wrong, any recommendations for future orders, and their expectations.
3. Ask Customers to Upload Their Pictures
Why?
Because, 77% of consumers say that customer photos have a profound impact on their buying decisions. Brands can ask customers to review a product they recently bought from a website and ask them to upload a photo too. Customer reviewed photos are considered authentic, and many buyers base their buying decisions on such photos. Such reviews not only improve your online reputation but encourages other customers to engage with your brand.
4. Respond to Customer Complaints and Queries Publicly
It is normal for users to post a bad comment on your public pages. As a reputable brand, it is your responsibility to handle such situations in a professional manner. Ignoring such complaints won't help. Instead, resolves their complaints publicly.
Here's an example of how JetBlue Airways responded to a customer complaint on their Twitter page: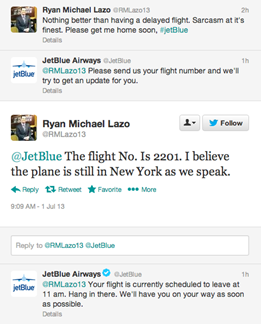 A customer had a problem with his delayed flight. He sent a sarcastic tweet through his social handle. Instead of defending the situation, the company politely replied with the information about his flight and that to just have a little patience.
5. Share User-Generated Content on Your Social Pages
Not every customer who rights a review for a product is going to upload a photo as well. 
In such a case, you can share user-generated content on your social media platforms. It creates social proof for the others customers and makes them trust your brand. Here's an example of a brand using user-generated content for its social page.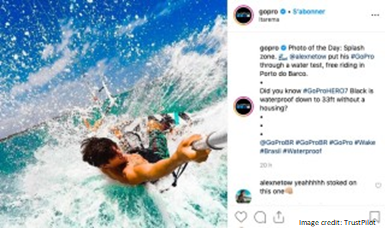 6. Work with Influencers of Your Business Genre
Influencer marketing is an incredible tool for brand advertisement, rapport building, customer engagement. It has been in the digital market for quite some time now and holds a great influencer on consumer behaviour and mindset. According to a study, 90% of the consumers trust recommendations from influencers and are more likely to trust a brand that has been referred by them. 
Influencers can boost your online reputation by expanding your brand's reach and increasing its credibility. Content posted by influencers generates lots of views, shares, and engagement for your brand through the social media channels. 
7. Power Your Online Brand Marketing Strategy With the Available Tools
There are various tools available in the market that can help you to review and analyze your brand's online reputation. Such tools notify you whenever someone talks about your brand, or tag its pages or mentions its name in their stories. Such tools, like, Google Alerts, Buzzsumo, Reputology, Mention, YouScan, Similar Web, Buffer, and SentiOne help you to take one step ahead for effective online reputation management for your brand.
Are You Ready to Improve the Online Reputation of Your Brand?
It's never too late to start working on your brand's online reputation management. Even if you've started working on improving your online reputation from today or build credibility from scratch, this guide can help you to follow the right steps and set achievable goals.