2219 Views
How often do you use emails to connect with your prospects? Do your email marketing efforts yield the desired results?
With the emergence of modern avenues for connecting with prospects, many businesses have begun to perceive email marketing in a not-so-positive light. This is because they don't get any positive results with their email marketing efforts. Many times, all these businesses need to do is to make a couple of small changes in their emails.
Regardless of what a business may think of emails, they are still the most effective way of generating business. In fact, email marketing gives a better return on investment (RoI) compared to other any marketing channel. (See chart below)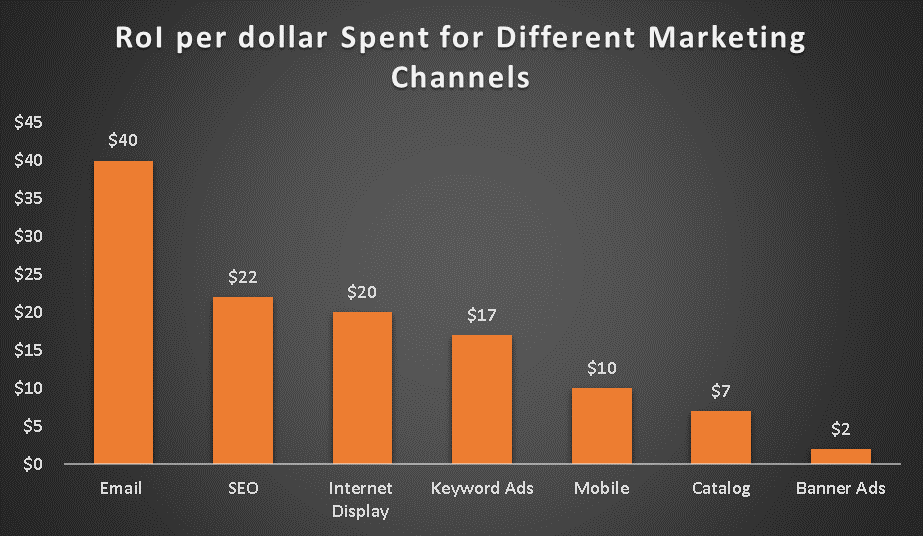 So, you see with email marketing, you can generate a return of around $40 for every dollar spent. In contrast, other popular marketing media such as SEO and internet display generate a much lower RoI.
In addition to a higher RoI, email marketing generates higher quality leads and allows you to connect better with your prospects.
But in order to make the most of your email marketing, you will have to take steps to ensure your email marketing campaign stands out from the rest of the businesses. Unless you adhere to the industry best practices and incorporate the best email marketing tips while designing your campaigns, you will not attain favourable results.
In this post, we will discuss 7 powerful email marketing tips that will skyrocket your conversions this year. So, keep reading.
1. Establish and Segment Your Target Audience
This is inarguably one of the most important email marketing tips that you should adhere to. That's because this step will lay the foundation for the rest of your email campaign.
The emails that you send to prospects should be relevant to their interests. And that's possible only when you understand the audience well.
Because every individual you send your email message to is different, sending the same mail to each one of them does not make sense. It is, therefore, imperative that you follow a targeted approach while drafting your email campaign.
To make sure you send the right message to the right recipient, it's vital that you segment your email list into smaller, more targeted sub-segments. Segmenting your list will allow you to target recipients on the basis of their preferences. This will also help you promote your offerings in a personalised manner.
For example, if you are into selling health drinks, you can segment your prospects into distinct categories depending on their product preferences: adolescents, young adults, mature adults, pregnant and lactating mothers and the elderly. And, accordingly, you can run one or email campaigns.
Here are some of the criteria that you can use to classify your email lists:
Age Group
Gender
Geographical Segment
Buyer Persona
Purchasing History
Stage of Purchasing Cycle
Email Response
Sending Frequency
Email segmentation is the step that lays the foundation for the rest of your campaign. So, let us look at the other steps you can take to get your email campaign right.
2. Keep Your Message Clear and Concise
A large percentage of your recipients may open your mail but may not read or understand it if it doesn't instantly convey what it is about.
Your email should be written in a clear and concise manner so that whoever reads it gets the message immediately and, if possible, acts on it.
Studies have shown that concise emails help you achieve better results. Often, the purpose behind sending an email is to help your prospects understand the offer you have for them. If they understand the relevance of this offer, they may visit your website or reply to your mails to know more about it. If your message is short and to-the-point, it will be easy for them to take action.
Here are some steps you can take to keep your email message clear and concise:
Write only as much as you need to get your message conveyed. Unnecessary points are to be avoided at all costs.
Use bullets to make more email more readable.
Keep just one call-to-action per email. Including too many CTAs in your mail will only distract the reader. He may get confused after reading your mail and leave or delete your mail without taking any further action.
So, the bottom line is: keep your message as succinct as possible. It will save your time as well as that of your reader.
3. Choose a Catchy Subject Line
This is yet another crucial marketing tip that contributes to the success of your email campaign. The open rate of your mails depends primarily on your subject line. If your mails are not opened, what you write inside doesn't matter. So, it's vital that you craft your subject line wisely.
Here are a couple of things to remember while creating your subject line:
Be honest and transparent with your subject lines. If your email doesn't convey what's mentioned in your subject, your readers will not perceive you in a positive light. So, no shady subject lines.
Keep your subject line natural and try connecting with your readers on a human level. Don't create subject lines that make your mail sound spam.
As with your email text, keep your subject line short and to-the-point. Long subject lines are often difficult to read and understand. The recommended length is 6 to 10 words. It has been found that around 21% of the people open emails with a subject line in this range.
Figures and questions have been known to fetch better click-through rates when used judiciously. Combine these with well-crafted subject lines.
If humour is your forte, do not hesitate to add a dash of humour to your subject. It will add personality to your emails. But don't go overboard with the humour thing as it can make your brand sound unprofessional.
Here are subject lines from some of the most creative brands out there. You can use these for inspiration.
a. Subject lines that Arouse Curiosity
You're Invited (Birchbox)
Is it your lucky day? (Death Wish Coffee)
b. Subject Lines with a Dash of Humour
SAAALE! Extra 40%! Sorry for yelling! (Bonobos)
Nope, still NOT going out of business. Enjoy 2 for $45! (Crocs)
c. Subject Lines that are Promotional
Your favorite jeans are 20% off 🙌 (Hollister)
ONLY $19.99 (or less) for all of THIS? (Urban Outfitters)
This sale's too BIG for subject li– (Moo)
d. Subject Lines that are Highly Personalized
Hey Seray, we picked these for you! (Fabletics)
1 DAY ONLY just for you, Seray! (American Eagle)
e. Subject Lines that Create Urgency
There's Still Time to Save On These Exclusives (Violet Grey)
All good things come to an end… (One Kings Lane)
Don't let your offer go cold (Happy Socks)
f. Subject Lines for Follow Up
More about our Sweety Flared Bandage Dress (The Kewl Shop)
You left your stuff at our place… (Shinesty)
Still thinking it over? Maybe this will help… (Sock Fancy)
Trust your instincts. (Bath & Body Works)
4. Split Test Your Emails
One of the best ways to ascertain if your emails are giving the desired results is to split test your emails through A/B testing.
In A/B testing, you split your email audience into multiple segments and send them different versions of the same email content to find out which version gives the most favorable results in terms of open rates, click-through rates or conversions.
Using this method, you can assess the different versions of your emails and eventually tweak your overall campaign to better the chances of a successful email campaign.
While A/B testing, you can choose to split test any element you find relevant to your campaign. For instance, you can test your subject line, day of the week and time of the day you send mails on. You can also choose to test two or more CTAs. Whichever be your approach, A/B testing should be an integral part of your marketing strategy.
5. Personalize Your Emails to the Extent Possible
Personalization is the holy grail of email marketing. When you create a unique experience for your prospects, it makes them feel special and improve the odds of their buying your offerings.
In fact, according to a recent study, emails that have a personalized subject line are more likely to be opened than the ones with a generic subject line.
So, if you know the first name of your subject, try to include it in the subject line as well as the body of the email. You can go a step further and ask them relevant questions thereby lending your emails a personalized touch.
Personalization is also essential during follow-ups. If a recipient has requested to learn about your new products and services, he should be sent content that helps him make a buying decision with regard to those products and services.
6. Keep a Dedicated Landing Page for Your Campaign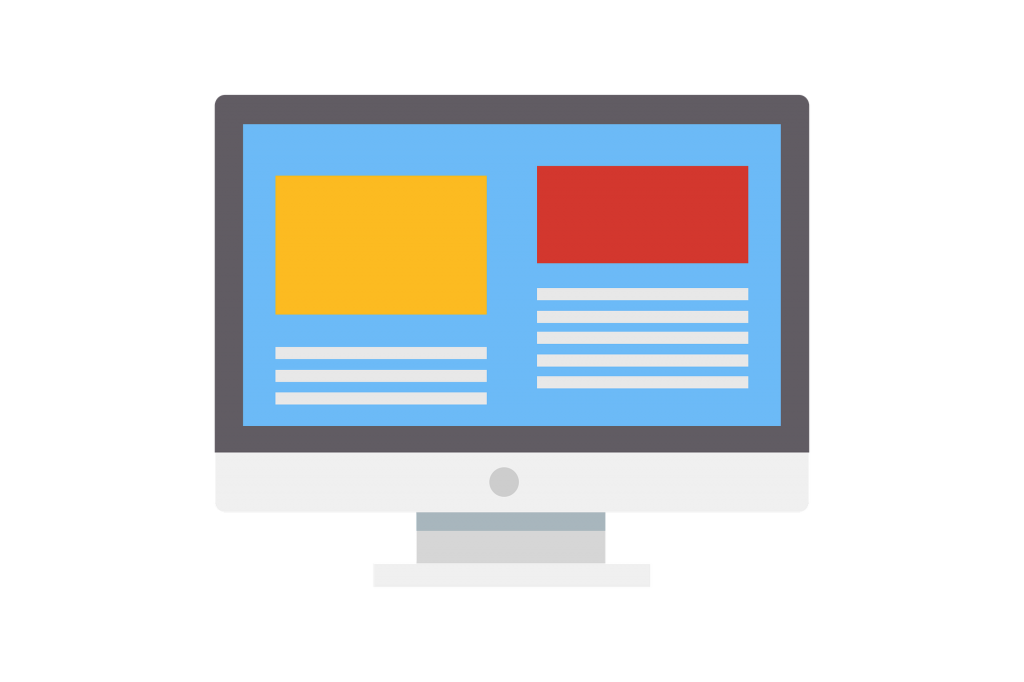 In addition to crafting a highly personalized and relevant email, it's essential to pay attention to the page you are sending your traffic to i.e. the landing page.
More often than not, your subscribers click-through from your mail to the homepage, product/service page or a landing page especially created for the campaign. To make the most of your email marketing efforts, it's highly recommended that you create a dedicated landing page for each of your campaigns and bring your prospects to it.
Once your readers come to your landing page that's highly specially crafted for them, their chances of getting converted increase manifold.
A good landing page should have the following characteristics:
An eye-catching headline that persuades the visitor to read and discover more.
An Image/Video that emphasizes the headline and explains the purpose of the landing page.
Social Proof such as customer testimonials, industry accreditations that add credibility to your brand.
A visible CTA button that compels the visitor to take action.
What's important to remember is that the message you are conveying through your emails should match with the one on the landing page. Otherwise, the purpose of creating a landing page will not be fulfilled.
7. Keep Your Mailing Lists Updated
In addition to running regular campaigns, it's vital that you keep your mailing lists updated. Email lists often contain addresses that are old, outdated or wrong. Sending mails on such addresses simply means your mails will not be delivered.
In addition to this, a lot of recipients ask you to remove them from your mailing list. Many of them simply click the 'Unsubscribe' button indicating that they want no further communication from your end. Such recipients should be immediately removed for subsequent campaigns.
Failing to do so can affect your email deliverability. Plus, you face the risk of getting blacklisted by your email marketing service provider.
Wrapping it up
While email marketing has been there for over years now, few businesses have been able to master it. Creating a successful email campaign entails a lot of work: you need to understand your target audience, segment your mailing lists accordingly and deliver highly personalized content. You also need to create catchy subject lines and keep your text clear and to-the-point. In addition to this, updating your mailing lists from time to time is also critical.
Do you use email marketing to connect with prospects? If yes, which of the above email marketing tips are you planning to include in your campaigns? Let us know in the comment section below. Thanks for reading.