3833 Views
Amazon store in India commenced its journey in the online retail market in February 2012. Before launching its store, it started with a site launch, Junglee.com, which allowed users to compare the prices of commodities online before buying them. Where the e-commerce giant had no market in India in 2012, Amazon, in 2019, acquires more than 31% of the market share.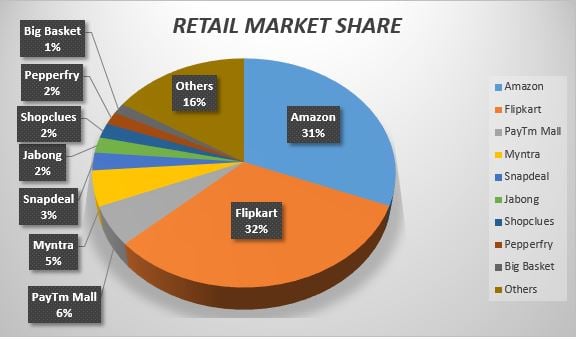 Figure 1: The following shows the online Indian retail market division. The highest market share is acquired by Flipkart (32%), followed by Amazon (31%). Amazon and Flipkart are fighting a very staunch e-commerce battle, trying to acquire the maximum market share. According to a report, it is said that India will be responsible for generating a gross sale of $32 billion by 2023 for Amazon.
How Amazon Grew its Billion-Dollar Empire in India: The Chai Cart story
It is said that Amazon always wanted to grow its online retail market in India. Moreover, every global market wants to target the second-most populous country in the world, a powerhouse of e-commerce revenue when it comes to the online market. Amazon store in India tried to tap into the market with both merits and demerits at its end.
The merits were a very young populace, more than 65% of the population under the age of 35, and cell phone prominence uprising in the country with more than 80% ownership. The demerits included, more than 67% of the population lies in the rural regions of the country, undeveloped infrastructure, only 35% of the Indian population having access to the internet, and business operations running only with cash and not credit cards or online payments.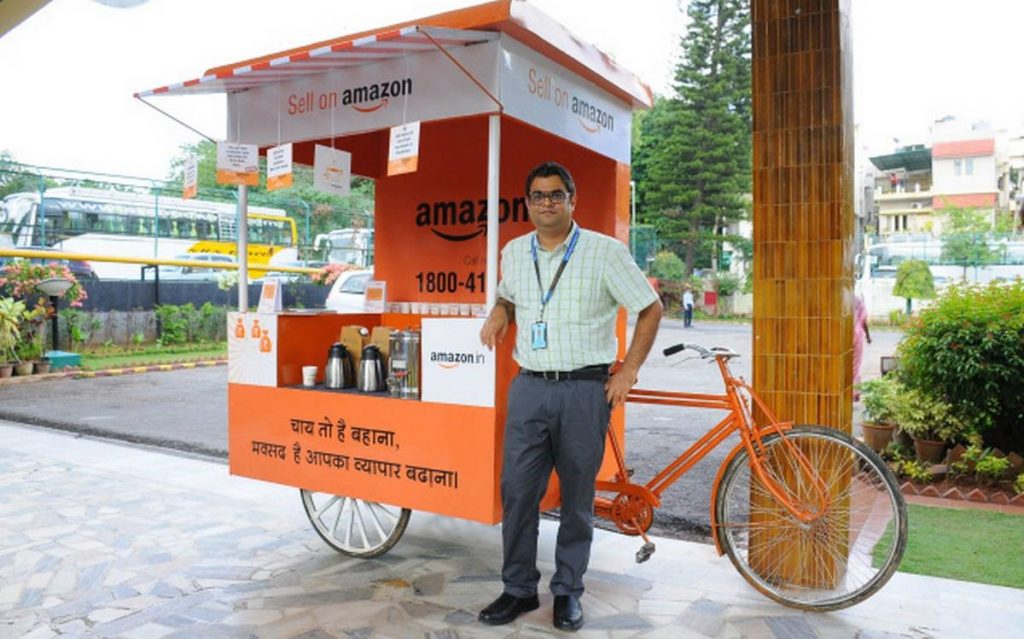 The situation was further worsened by the rigid FDI policy that restricted any foreign seller from selling their goods directly to the consumers online. That meant that for Amazon store in India to flourish successfully in the Indian market, they will have to act like a third-party seller that too for Indian-made products. All Amazon retail store in India needed was an innovative business model that could work for both the Indian audiences and the company as well.
India has many small manufacturers and sellers, and when Amazon decided to expand in the market, there were probably fewer manufacturers who thought of going online for selling their goods. This meant that the growing an e-commerce store in India will be a tedious, complex, and time-consuming task. The conditions were made impenetrable for Amazon by India's cash economy.

Figure 2: The following graph shows the net revenue of Amazon's e-commerce services from 2010-2019. The company currently has a net value of USD 280 billion. However, most of the revenue sources of Amazon was earned from North America and Canada, and around 75 billion US dollars were earned internationally.
To sow the seed of their business in India, they first went on a supplier hunt, convincing every small supplier to be their trustworthy partner, to help them earn revenue through their platform. A master-stroke by Jeff Bezos was their concept of Amazon Chai Cart, serving refreshments to small business owners, in the form of chai and snacks, navigating throughout the city streets, while teaching them the essence of e-commerce marketing, and how an Online India is not just a concept, but reality as well. According to a report, the Chai Cart travelled more than 9400 miles across 31 cities in India, engaging with more than 10,000 sellers.
Once they had the sellers in their arcade, now they moved to the next segment, the delivery fulfillment. In the US, Amazon fulfilled its orders through the FBA rules. The sellers sent the products to the Amazon centers, and the e-commerce-giant distributed it further to the customers. Amazon started with the same concept in India as well. To date, there are more than two dozen warehouses of Amazon in India. For delivery, they partnered with delivery experts like India Post and Blue Dart. They also started with its own Amazon Transportation Services, for last-minute deliveries.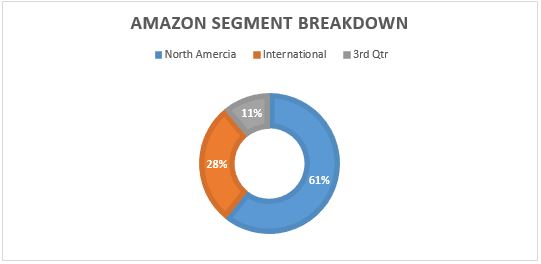 Figure 3: Amazon's business is segmented into North America, International, and AWS. The online stores generated USD 123 billion in sales, in 2018, or 52.8% of net sales. The physical stores generated USD 17.2 billion or 7.4% of net sales. North America accounts for most of the sales for Amazon.
However, since the last 3 years, Amazon is losing a lot in its international business. In 2018 alone, it lost 65.9 billion in international sales.
What Amazon did was establish trust with the small sellers, and listed them as their delivery partners. This arrangement is the reason why Amazon store in India was able to reinvent the culture of a cashless and online payment economy in a country where every transaction happened in cash. With releasing 10,000 EVs in India for the delivery of their products, it is now funding an electric-equipped India too.
Why is the Indian Market of So Much Importance for Amazon?
According to a report, it is said that the estimated size of India's e-commerce market in 2019-20 will be 103 billion. This means that e-commerce stores stand an opportunity to grow with the growing population. It is also said that India will be the biggest market for Amazon, outside the US, accounting for one-fifth of international sales, by 2025. Furthermore, the overall growth of the market is 43.5 billion, with a sales growth of 35%.
The biggest question that arises over here is, why is the Indian market so much important for Amazon? Is it the booming population, stable economic growth, or the availability of cheap resources and good profits?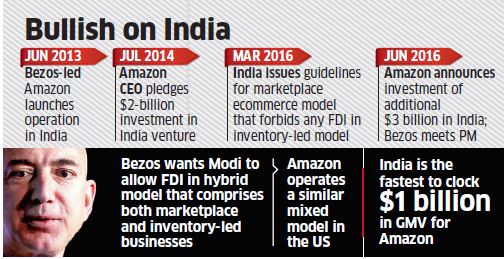 Since the launch of Amazon store in India, it has invested 10 billion into the e-commerce market. India will witness the Jeff Bezos-led company investing more dollars, especially for its Prime membership growth, to increase member engagement. Amazon retail store, currently has a blank cheque approach towards India, owing to the immense growth opportunities due to high-speed internet and increasing adoption of smartphones.
The possible reasons as to why Amazon wants to invest in their e-commerce market in India, despite registering cumulative losses of over 7000 crores across their various units in 2018-19 are the statistical figures that predict the domestic e-commerce market in India will grow to 102 billion, by 2020.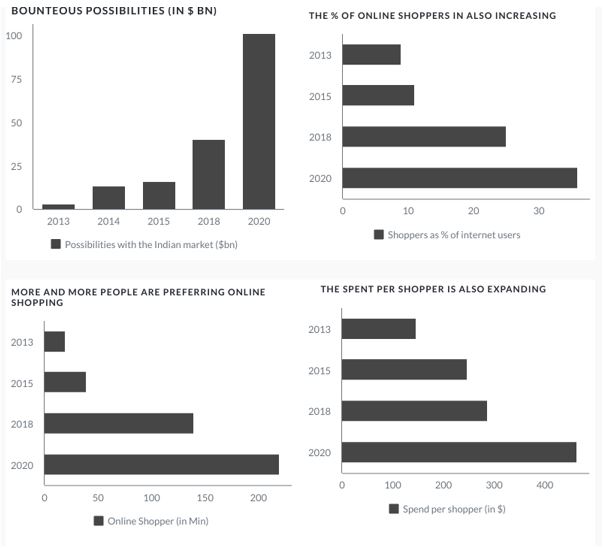 Figure 4: The Indian market is driven by factors like the rise of the online shoppers, the increasing number of mobile internet users, evolution of new payment solutions, partnerships among the local companies, adoption of goods and service tax (GST), and the idea of getting 5G into India. Furthermore, the rise of middle-class consumers and changing shopping habits are going to provide Amazon store in India, the leverage it needs.
Amazon India vs Flipkart: A battle between a Glocal and local brand
In 2018, Walmart bought $16 billion stakes in Flipkart Online Services Ltd, an e-commerce brand acquiring 31.9% of the market share. The point is Flipkart might win the Indian market, but Amazon retail store is a global brand, a reputation that helped it to acquire the Indian market by the second-largest market share.
Both, Amazon India and Flipkart have outstanding sales records, awesome discounts, and spectacular business tactics. Collectively, Amazon and Flipkart own 60% of the online retail market in India. Frankly, there is no competitor, foreign or local, that can knock any of the two companies. Now that Flipkart is owned majorly by Walmart, Reliance threatening to enter the online retail market race, and Amazon trying hard to capture the attention of the budding smartphone users, how well will the e-commerce players portray a positive brand value while ensuring customer trust, is going be a spectacle.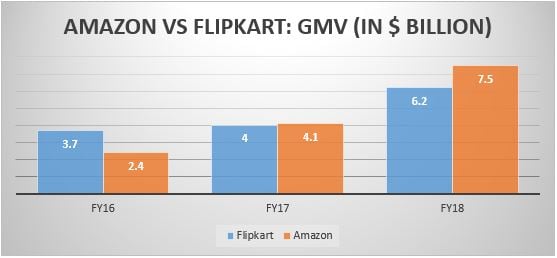 Figure 5: The following graph shows the Gross Merchandise Value (GMV) of both Amazon and Flipkart. Amazon stood as a clear leader for gross sales in India, with a whopping value of $7.5 billion. Flipkart, on the other hand, stood at $6.2 billion.
As per Barclays, both Amazon and Flipkart are established leaders in the Indian e-commerce market and will grow two-fold to $40-45 billion by 2020.
If the statistics related to the growth of the two e-commerce channels are to be believed, Amazon grew by 82% in FY18, whereas Flipkart stood at 47%. Flipkart might lead the market in terms of revenue, however, Amazon is not very far behind. Amazon has already made the delivery of groceries, affordable and easily deliverable for Indian households, and it entering the online food market will tap the nerve of the Indian customers. Once Amazon retail store earns a hold of the online food market, there is no turning back for the Bezos-led company. Other Amazon ventures like Amazon Web Services earned a revenue of $192 million in FY18, and Amazon Pay saw growth by 53 times, grossing a total of $61 million in FY18.
Amazon in India: What Lies Ahead?
The Indian economic industry has billion-dollar potential. It is undergoing exponential growth, and by 2023, it is going to be an international market for Amazon, generating a gross sale of $32 billion. It just seems to be fair enough for big brands like Walmart and Amazon, to apply their tactics to this market and drive revenue growth.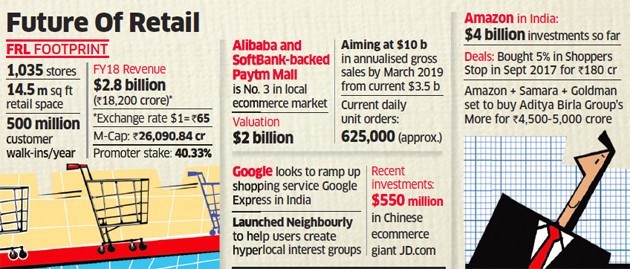 According to a report, it is said that India's e-commerce sales will be the second-fastest in the top 10 APAC countries, with a CAGR of 26%. Now when India is booming its smartphone adoption, penetrating this gold-plated online market is expected. India's e-commerce penetration will likely reach 9.5% in 2023, and investing in such a market will reap benefits for all the players.
Bezos has already invested 4400 crores in its various units in India. With Amazon store in India launching Prime membership, Amazon Echo, Prime Now, and AWS it seems like Jeff Bezos will make India, Amazon's second home, after North America. It is also said that Amazon retail store is very soon going to enter the food delivery market, leaving top players like Swiggy and Zomato in the dust. Its promise to roll-out 10,000 EVs in India, by 2025, is going to accelerate its adoption in the household, and earn the trust of the Indian government as well. It will also help the Indian government to increase the adoption of EVs in the Indian market.