1337 Views
Whenever I open Pinterest, my feed is jam-packed with spectacular images and photos.
 Sometimes, I just keep scrolling down for hours on end browsing through the pictures and videos of amazing quotes, new workouts to try, and how many different themes I can add to my outfits.
I constantly add all the witty and creative content to my board. 
If you feel than Instagram and Facebook are only platforms your social media marketing strategies should focus on, you are losing a lot on customers and sales.
With over 300 million monthly active Pinterest users on the platform, social media marketers know the importance of Pinterest for business. Not to mention 90% of content experts look for amazing post ideas on the network before making any decision.
But, why is Pinterest marketing so important?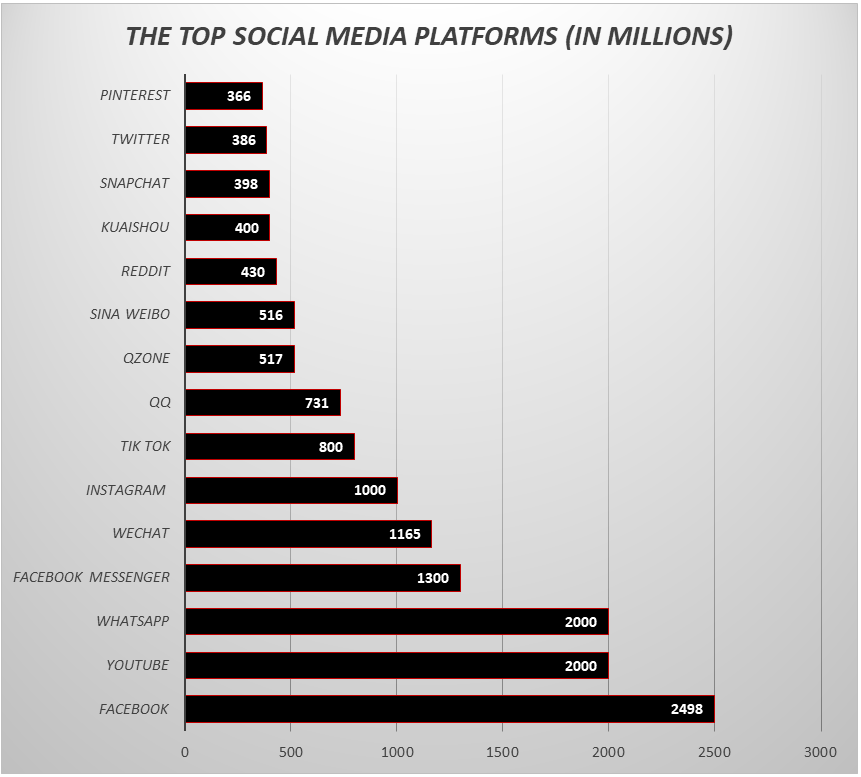 The following shows the top 15 social media platforms along with their active users (in millions). Pinterest currently has 366+ active users on its channel.
Let's consider the following marketing stats.
Pinterest houses over 300 million monthly active users on the platform
More than 8 million people are actively engaging with auto content on Pinterest.
There are 3+ billion boards on Pinterest.
Nearly 2 million active Pinterest users save shopping pins on their boards.
98% of marketers use Pinterest for new ideas.
93% of active pinners use Pinterest to plan for purchases.
More than half of the Pinterest users earn more than $50k per year.
Social media is vastly growing and using Pinterest will only refine your social media marketing tactics. It can do wonders for your business when properly employed.
After all, there are over 75 billion and counting ideas on Pinterest. You never know which one of them can help in maximizing your business potential.
Why should you use Pinterest for business?
Pinterest is a great tool for businesses.
Why?
Aside from the fact, you can find gourmet food, exotic destinations, amazing content, and great shopping ideas, the real strength of Pinterest is its integrated features for business accounts. It's not just one thing that Pinterest for business is known for. With every business account, you get:
Different terms of service: The terms of service are different for each business. Make sure, you read everything listed over there. Every business account is treated differently so you will be promoting your commercial account in a totally different manner.
Education marketing materials: Pinterest isn't just a platform; it is an institute teaching you how to create education marketing materials. This will improve the effectiveness of marketing your business. Pinstitute organizes interactive workshops to connect with pinners, whereas, webinars are a useful resource for small businesses.
Pinterest Analytics: This new and widely appreciated feature on Pinterest is offered to every business account one verified. As a marketer, you can track how well are different strategies and content doing for your business. Using Pinterest Analytics, you can constantly work on improving your marketing skills.
Rich pins: These are different than the average pins, as they are loaded with information like direct links to the site, interactive map locations, real-time price, and stock updates. Rich pins are of five different types.
Different settings: A business account can use its name instead of first name and last name rule. Furthermore, if you want to link your Facebook business page, you'll have to add it to the Pinterest home page.
New tools now and then: Pinterest offers amazing new tools to business accounts. This includes promoted pins, Pin It button, Widget Builder, etc. New tools are added to Pinterest every other day, so stay updated by joining the Pinterest newsletter.
How To Strategize Brand Marketing With Pinterest? The Top Four Ways For Pinterest Marketing
Creating a good marketing strategy using Pinterest for your business is a perfect way to get started with this platform. The following are the five easy steps for an effective and rewarding Pinterest Marketing Strategy.
So, let's dive in!
Rebrand your profile
If you already have a Pinterest business account, you can use that same profile. Through your business account, you can access analytical tools, rich pins, and much more. Your social media profile should speak volumes about the brand. It should be easily recognizable as your company profile.
Choose a good cover board. Pinners can choose a cover board that shows pins from that board at the top. These pins are not clickable, but the link at the corner of the board is present. Here you can add blog posts, graphics, product shots, and other important images from your company. Give them a synchronized look to give your profile a branded look.

The following homepage belongs to Issuu, an electronic publishing platform for the sharing of digital content. The cover board is filled with photos of exotic dishes giving it a more complete and cohesive look. It covers fashion, lifestyle, shopping, wedding themes, home improvement, and food menu as its boards.
Always show the featured boards. This is the next part of building a top-notch your profile. You can include five different featured board themes underneath your brand name and bio. All the important or latest or the most loved boards are to be included in this section.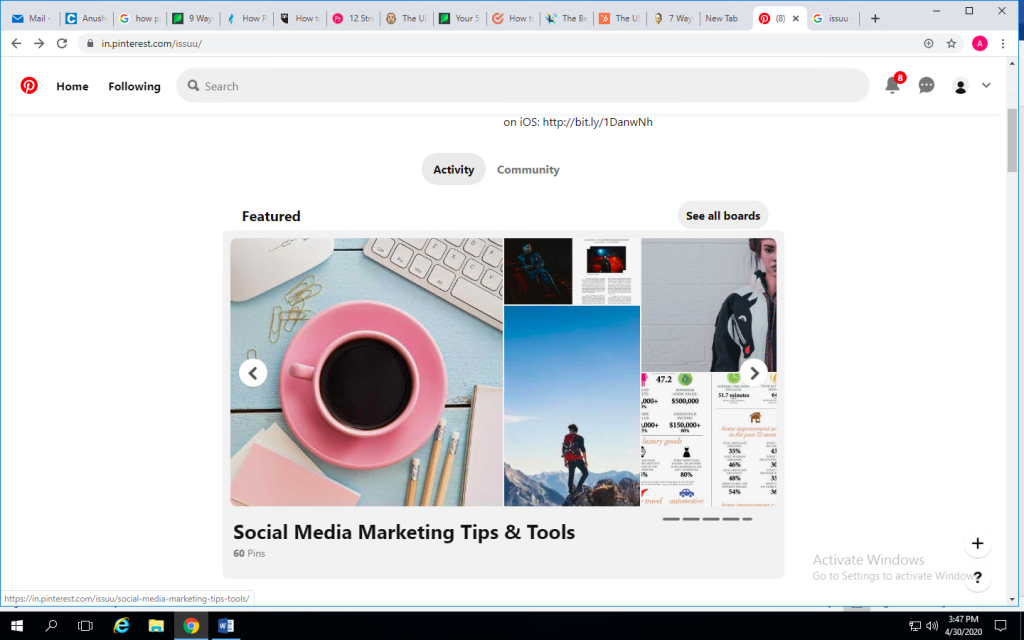 The next step is very easy. All you have to do is, upload a profile photo (brand logo in case of a company), write an appealing bio, brand your board covers, and verify your website.
Build a content strategy
The main idea of searching on Pinterest for users is to look for exciting and innovative content ideas. 90% of the pinner access Pinterest for one major reason, ideation. Besides, just like every other social media platform, Pinterest includes a variety of content. Since users look for all types of ideas, you never know which pins perform amazing on the platform.
The different pins that you can include as a part of your Pinterest marketing strategy are, product pins, blog post graphics, infographics pins, and lead magnets.
Try to create more vertical graphics than horizontal ones. Enticing content always gets recognized and pinned by users.
Join community boards
If you want to use Pinterest for business promotion, you have to explore all the relevant niches of the platform. One of them is community or group boards. Either you can create one, or you can be a part of one. This is a great way to get your content reached out to a wider customer pool.
Join groups that have good monthly active users and is related to your niche. Many communities have rules for brands or to join the board, so you'll have to explore the Pinterest groups. Usually, brands have to email the owner or fill out the contact form along with the account details for such groups to add you.
This way, you can remain active within the boards, pin some of your content, and curate content that helps in promoting your own business.
Pinterest SEO is a must
With billions of pins on Pinterest, getting your product onto the consumer board is a tedious task. This is where Pinterest SEO comes into play. Just like the normal SEO tactics, on Pinterest, it helps in finding the right pinners for your content.
It is simple.
Optimize your account or board or pins for maximum customer reach.
Some tips that can help to ace Pinterest SEO tips include:
1. Your pin boards should be visible to anyone and everyone. In search of privacy, you'll be asked to keep search engines from showing your Pinterest profile in search results. Say No to this feature. Make your profile available to anyone and everyone. The below image shows Pinterest boards as search results on Google (or any other search engine).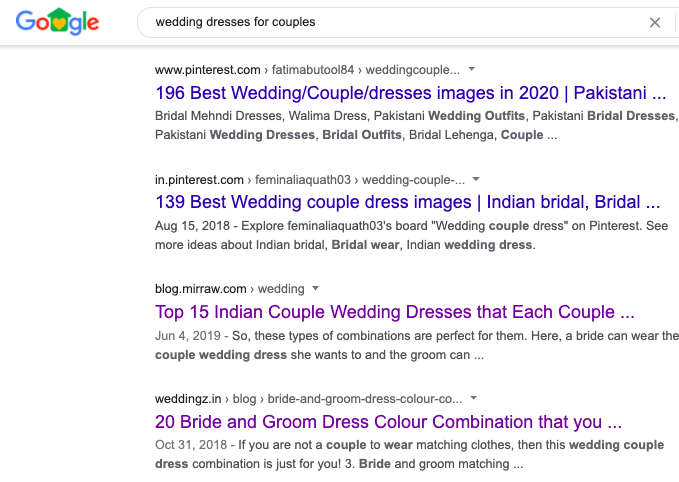 2. Optimize your business page name. Make sure that your company is easy to search and find on Pinterest. Always add industry genre in your business name account.
3. Always include keywords in the 'About' section. For example, if you are a graphics designer then add keywords related to it, in the about section. If you are an online marketer, add that in you about section and Pinterest Name as well.

4. Name all your boards with keywords. A board can include infinite pins but make sure, people can find it. Use original and specific words to distinguish Pinterest boards. In the below image, all the boards are named with keywords, to make them easy be found on the platform.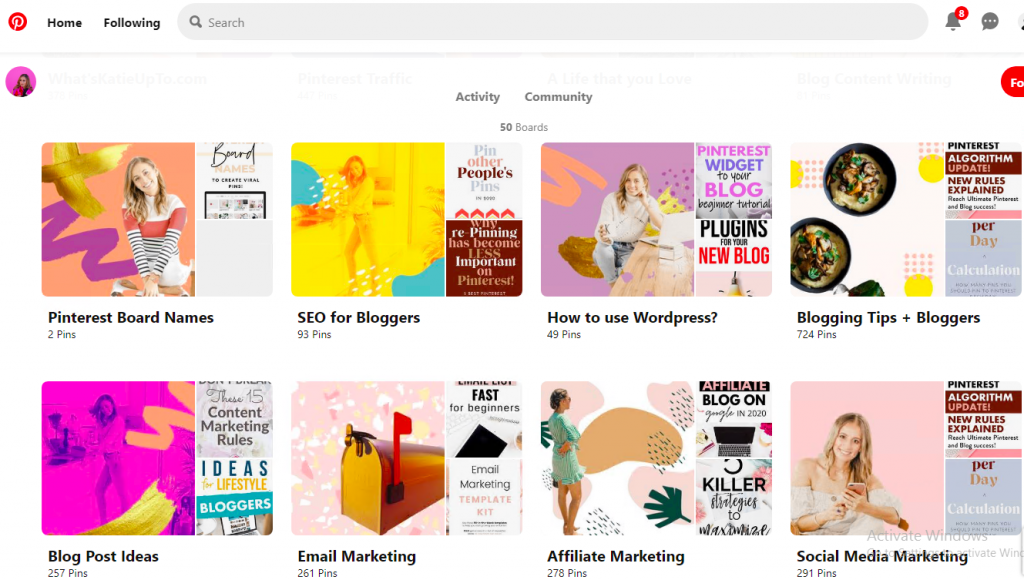 5. Incorporate keywords in your board descriptions. Not just the title, but even the board description matter. Use this to include specific, concise, and descriptive keywords. You can do a little research using Google Adwords or any other keyword planner.
6. The most popular and searched pins should be added to featured boards on your Pinterest home page.
7. Use keywords in Pin Descriptions. Pinterest gives you 500 characters to describe each of the uploaded pins. The following image includes keywords in its pins, i.e., blogging tools for 2020.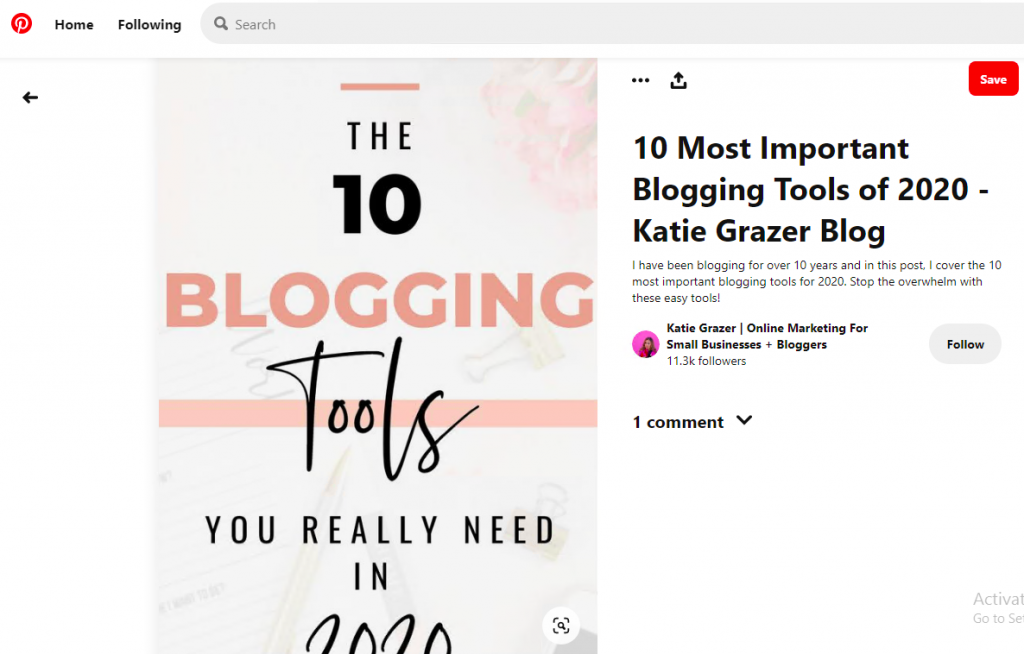 8. Hashtags are really powerful. Use them. Include at least three hashtags in a pinned post.
9. Always link back all the pins to your website. Since you've already verified it, that shouldn't be a problem.
10. Use keywords in the alt tags. Search engines cannot read images, but they read the file names and alt tags. So, if you use keywords in alt tags, your Pinterest board will appear as a search engine result as well.
Now, that you know how to perform Pinterest SEO, the following four-step guide will help you with simple and hassle-free optimization.
The first step is to research the keywords using a tool. The best one is Google AdWords keyword planner.
Add keywords to your pins titles.
Add keywords to your pins descriptions.
And, add keywords to your pin image file names.
A call-to-action/pin in your ad copy. This will serve multiple purposes at the same time. It will increase engagement on your pins, improve the number of website visitors you have, and provide a good ROI to the business. According to a study, 80% more engagement is received by pins that have a CTP button.
Influencer marketing is a reality
Well, you might be quite familiar with influencer marketing, but did you know how important it is for Pinterest too?
Mostly, Pinterest marketing works wonders for B2C companies and products. The social media approach is totally different than any other social media platform. This is because Pinterest is more of a search engine than a social media platform. The top performers on Pinterest even work as influencers for other brands, sharing their pins, resharing them, and pinning them to their boards, mostly shopping tabs and boards. Pinterest for business recently includes influencer marketing for users who like to buy products and merchandise, directly from their platform.
Determine your target audience
So, now that you know how to pin data on the platform, and how to optimize it for users, let's study the demographics for Pinterest Marketing. The key demographics will include details like age, gender, job title, location, and income. Their interest levels can vary but you need to make sure that your pins are reaching the target audience. You can use the Pinterest Analytics tool to make sure your boards are receiving the right recognition. Furthermore, you can include the Pinterest ads account to run ads on the platform as well. Focus on building followers and connect with your audiences on different social media platforms, other than Pinterest.
Get Started With Pinterest Marketing For Business
Now, that you know everything important about Pinterest for your business, ace your Pinterest campaigns with these successful and proven strategies. Start improving your website traffic, reputation, and get several new customers with these effective Pinterest marketing tactics. Devise innovative content ideas for your audience and build a strong Pinterest profile. Use Pinterest analytics for more tracking and assessing information about your Pinterest account.
In the end, successfully promote your business using Instagram marketing strategies.