2193 Views
If you are one of those who have shrugged off TikTok as yet another teenager fad, you are probably missing out on a big opportunity. TikTok is taking the younger generation by storm and individuals and social media marketing companies are already reaping dividends. Currently, the platform has crossed 800 million followers in over 155 countries. So, TikTok could well be the next platform to market your new-found business.
Before anything else, let's look at some startling statistics related to the app:
TikTok reached 800 million active monthly users in October 2019.
In early 2019, TikTok was the third most downloaded app globally.
By Feb 2019, TikTok had reached over 1 billion downloads.
TikTok is available in over 155 countries.
TikTok has 26.5 million monthly active users in the USA.
90% of TikTok users visit the app more than once each day.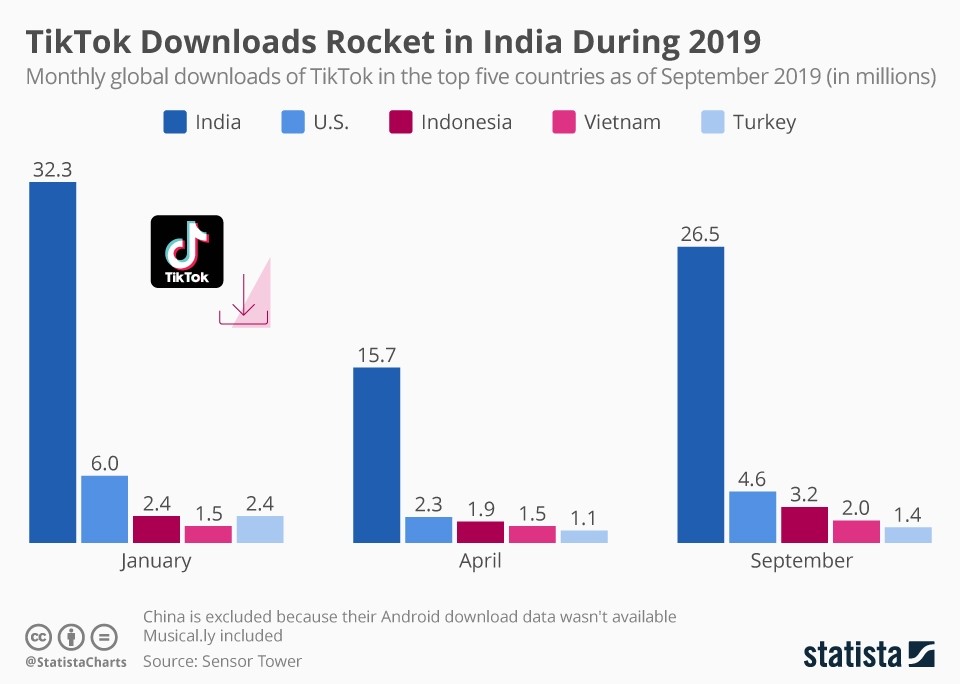 The chart shows how TikTok downloads skyrocketed in India during 2019                                                 Source: Statista    
What is TikTok?
TikTok is a video-sharing social media marketing app where users can create and share bite-sized videos that are 15-60 seconds long. Tik Tok is owned by ByteDance, a Chinese company founded in 2012.
ByteDance had launched Douyin, a precursor to TikTok, for the Chinese market in 2016. In 2017, the company rebranded Douyin for international markets and launched TikTok.
Interestingly, Douyin and TikTok run on separate servers to ensure compliance with Chinese censorship regulations. So, TikTok may have had its origin in China, but the app is not available there.
How can You Use TikTok?
You can share vertical, looping videos ranging between 15-60 seconds on TikTok. It's essentially a social media platform, so you create an account, gain followers who can like, give hearts, share and comment upon your posts.
While TikTok is often dismissed as a lip-syncing app, users can do a lot with it, all thanks to its extensive toolkit with a wide range of filters and massive music library.
Videos
Videos are a part and parcel of the TikTok experience. You can either upload videos from other sources or create it in-app.
Video Editing
TikTok has an array of editing tools that let you apply visual filters, stickers, emoji, time effects, split screens, transitions and GIFs to videos.
Music
TikTok's integration with Apple Music allows you to add, remix, search and save songs and sounds through playlists and videos.
Live Streaming
If you have over 1000 followers on TikTok, you can go live on the platform.
Like Twitter and Instagram, TikTok also has official accounts that are given blue checkmarks. If you are a popular creator, you can also earn an orange checkmark.
How can You Use TikTok for Business?
Individuals, businesses and social media marketing companies that promote content on TikTok understand that the platform has a huge following among Generation Z. And they are the ones who can relate to short, quirky videos that go viral on the platform.
So, if you are planning to build a presence on the platform, you have to create content that caters to this demographic-hilarious, bewildering or emotional (and outright weird!). You might end up acquiring some passionate TikTok followers.
Let us look at some ways in which you can leverage TikTok for your social media marketing strategy:
1) Challenges
Challenges are immensely popular on TikTok. More often than not, they go viral. Here are some challenges that went viral in 2019:
#MicrowaveChallenge: This off-the-wall challenge (like most challenges on TikTok) took the internet by storm in early 2019. Here, a person had to swivel around the floor and feel as if they are on a microwave plate, all while keeping their arms and legs steady (watch the video below). The challenge most likely originated on Tik Tok in February and by March, it had spread to Twitter and other social platforms.
#faketravel: In another bizarre challenge that went viral last year, users had to mimic aircraft windows using household items (e.g. detergent container or stool) and create the illusion that they are flying over the clouds.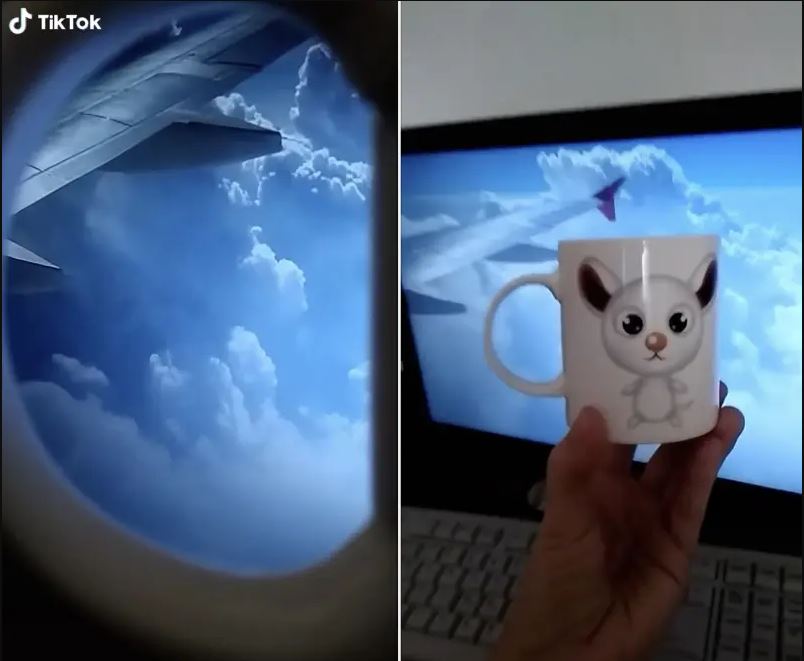 2) Duets
Duets are a fun way of interacting with other Ti Tok users. You can convert any video in a duet provided the other user hasn't turned off duets. When you record a duet with another user, you film your video on a split screen.
When using duets for promoting your business, you can collaborate with industry experts, clients or even a TikTok influencer. You can use duets as a medium to answer frequently asked questions, disseminate information on a newly launched product/service and bolster brand awareness.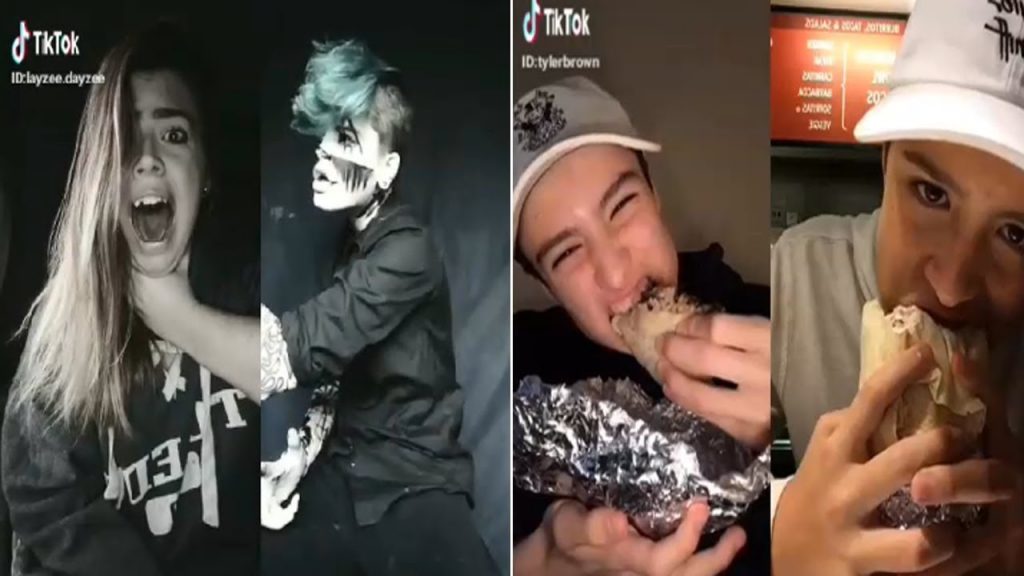 Duets are a fun way of interacting with other TikTok users.
3) React Videos
Instead of simply liking any video, you can record and share your reaction to it. React videos are a great way of interacting with others' content. Users can record their reaction while the video plays and the position their react video alongside original wherever they want.
As a business owner, you can ask your loyal customers and prospects to record their reactions on your videos and share the customized video on their wall. This way, you can get other users to generate content for you: an easy way of enhancing your footprint on TikTok.
4) Influencer Marketing
A great way of disseminating your content organically is the so-called 'influencers' i.e. individuals with millions of TikTok followers. You can select any influencer in your niche and create content together or share each other's stuff.
Brands such as Universal Pictures have roped in popular figures to promote their films off and on.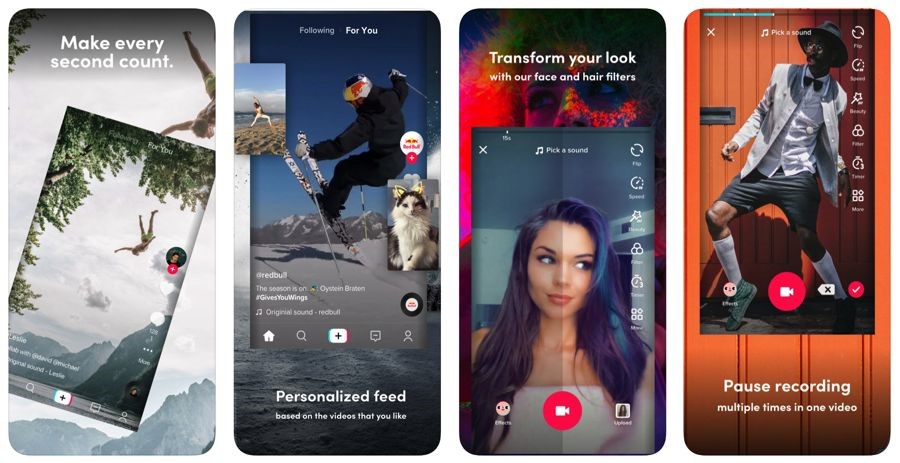 5) Advertising
In addition to the above methods, you can go for paid promotion through ads if your budget allows.
The good part of advertising on the platform is that you can customize the ad as you like. You can choose the format of your ad (described below), target audience, budget, keywords and advertising objective. You can also choose where your ads will display and what time they will run.
The not-so-good part is that paid promotion is not as popular on TikTok as it is on its counterparts (YouTube, Instagram etc.)
TikTok currently offers the following ad formats:
In-feed Ad: An ad format similar to what you have seen on Instagram or Facebook where the ad appears in the user's feed. The user can click on the ad to reach the website and/or download the app.
Takeover: A full-screen ad that shows when the user opens the app. It is called a takeover because only one brand from each category can use this type of ad every day.
Hashtag Challenges: An easy way to garner high user engagement. As a brand, you can initiate a new campaign or sponsor an existing one.
Branded Lenses: These are branded filters created by your brand that allow users to interact with your brand using augmented reality (AR).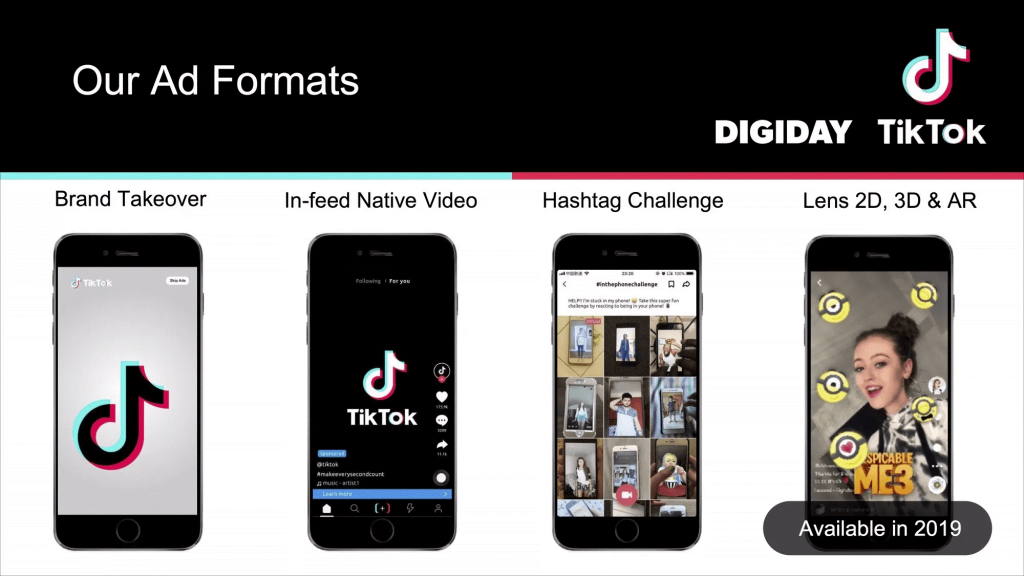 Will TikTok be an Effective Social Media Marketing Platform?
All of us would agree that video content is rapidly gaining traction among mobile users-online video is expected to constitute over 82% of the consumer internet traffic by 2021. In light of these developments, individuals, businesses and social media marketing companies regard TikTok with high optimism. Many of them even consider it the next Instagram.
So, you should certainly leverage TikTok for business. But because it is largely an entertainment platform that offers outlandish stuff, whatever you create needs to reflect that. Keep the platform's younger demographics in mind and craft something that matches their tastes and preferences.
In the beginning, it might take you some time to get your head around what kind of content works on the platform. But once get the hang of it, you can reap huge benefits.
Have any innovative ideas for marketing on TikTok? Please let us know. We will be glad to incorporate them into our writing.