873 Views
Do you have a website built on WordPress? If so, you may already be aware of the colossal library of over 58,000 odd plugins that the CMS offers. Such a huge number, understandably, poses, a challenge to new site owners to pick and choose the right plugins.
If you are wondering if these plugins are a must-have for your website, they definitely are. Plugins are the building blocks of any site. Want to add a new feature to your website? Get a plugin for the same. Anything from adding a contact form, improving SEO, and creating an online store to adding email opt-in can be done easily with the help of a plugin.
Regardless of the kind of website you have, certain plugins can benefit almost any type of business. Here are some of the best plugins you can choose for your WordPress site.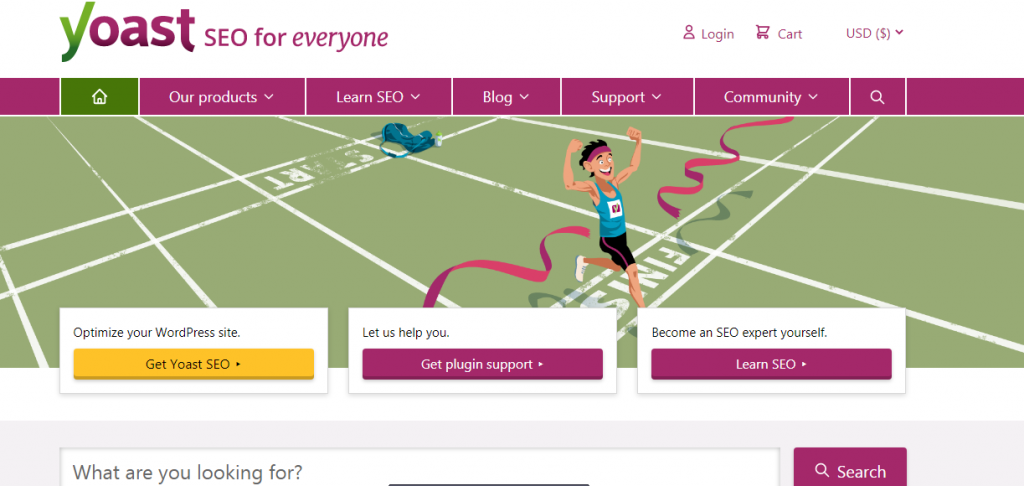 Making their website visible among users is the ultimate goal of any online business. While there are plenty of ways to get traffic to your website (free and paid), none can match the reliability of search engine optimisation or SEO.
And to make that happen, we have dozens of plugins out there. Of these, Yoast SEO stands out.
A highly popular plugin, Yoast SEO allows you to build SEO-friendly pages and thus improves traffic to your website. In addition, it also analyses the readability of your content.
Because most of the readers merely scan through your copy instead of reading it word-by-word, it can help you gain the reader's attention. Yoast brings in a range of powerful features to boost your on-page SEO:
Optimisation of pages and posts with the right keywords and meta descriptions
Internal linking suggestion
Readability Check
Updates according to Google's algorithm
XML News Sitemaps
Redirect Feature to build 301 redirects
Price: The basic version of Yoast SEO is free. There is a premium version with additional features that starts from $89/website.

You may have hundreds of users visiting your site but what if you don't have their contact details? Forms that capture the contact details of your prospects help you reach them directly.
And to build such forms, we have an amazing plugin on WordPress-WPForms. This user-friendly tool lets you create a variety of forms through its drag-and-drop feature-contact forms, email subscription forms, payment forms, surveys, forms and polls with just a few clicks.
In addition, WPForms can integrate with all popular payment and marketing platforms, so it makes form creation an absolutely hassle-free activity.
Here are a couple of features of this immensely popular plugin:
Pre-built templates for form creation
Conditional Logic to Show/Hide Form Fields/Sections depending upon user behaviour
Multi-page Forms to improve user experience
Geolocation feature to display user location
Surveys and Polls to gauge the response of web visitors
Price: The plugin comes with a free version although you can always avail of the pro version to access a wide range of templates.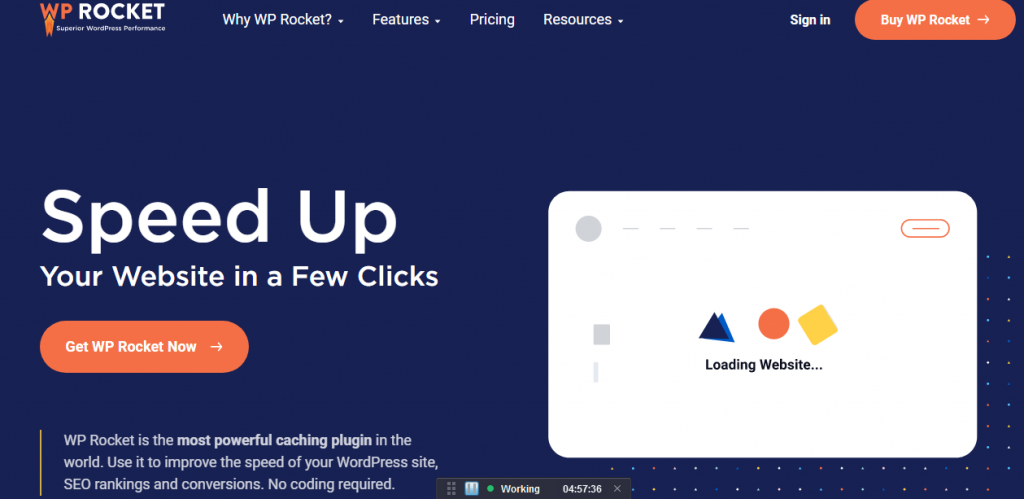 We live in the age of instant gratification where quick page load time has become critical to the seamless functioning of your business. Fast loading pages create a hassle-free experience for users, making them spend more time on your site. A robust caching solution is the best way to accomplish the same.
WPRocket is an effective caching plugin that helps you enhance website speed and performance, even when you have no technical skills. The plugin accomplishes this by creating cached copies of each of your dynamically built webpages. This not only eases the burden on your servers but also slashes the weight of your HTML, JavaScript, and CSS files. The images present on your page are loaded only if a user scrolls down the page.
WPRocket comes with a range of highly sought-after features to optimize the loading time:
Lazy loading to improve loading time
Image loading on request
Integrating caching solution with a Content Delivery Network (CDN)
Support for WordPress Multisite
Multilingual Compatibility
Price: Unlike most of the other tools on this list, WPRocket has no free version. There are three kinds of paid licenses, ranging between $49 to $249 annually.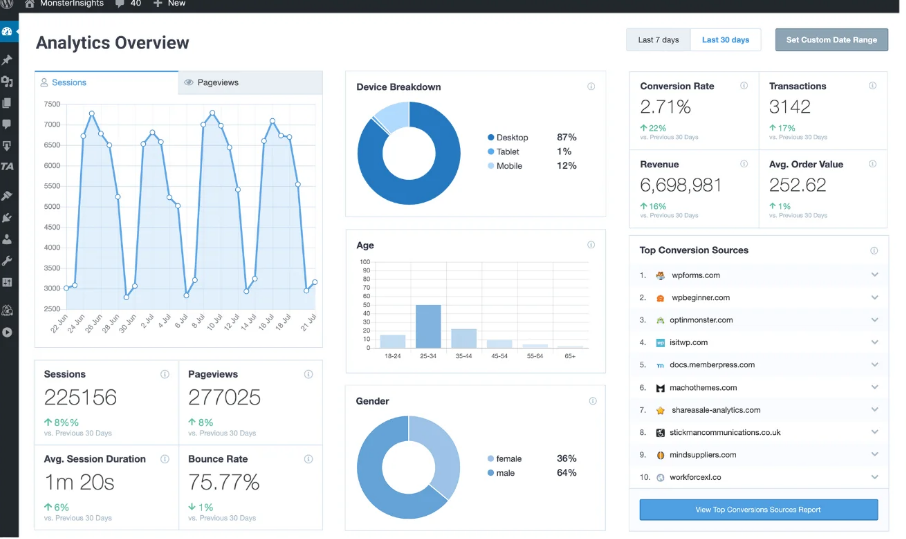 To keep a track of the analytics related to your online business, you need to integrate Google Analytics with your site. And that's where MonsterInsights comes in handy.
The WordPress plugin allows you to set up Google Analytics on your website with just a few clicks and monitor, in real-time, how your website is performing. With MonsterInsights, you can get a grasp of complex stuff like user behaviour and sources of traffic.
By analysing the latter, you can focus on the channels that are bringing in the audience to your website and exclude the others; this way, you can optimize your marketing spend. The tool also tracks e-commerce metrics like conversion rate, total revenue, top products, and so on. Here are a few of its salient features:
Real-time Statistics
Google Analytics Dashboard
Quick, Hassle-free Set Up
Tracking of Google Ads
Tracking of File Downloads
Price: The tool does come with a free version. However, a premium version is recommended as it helps unlock its true potential.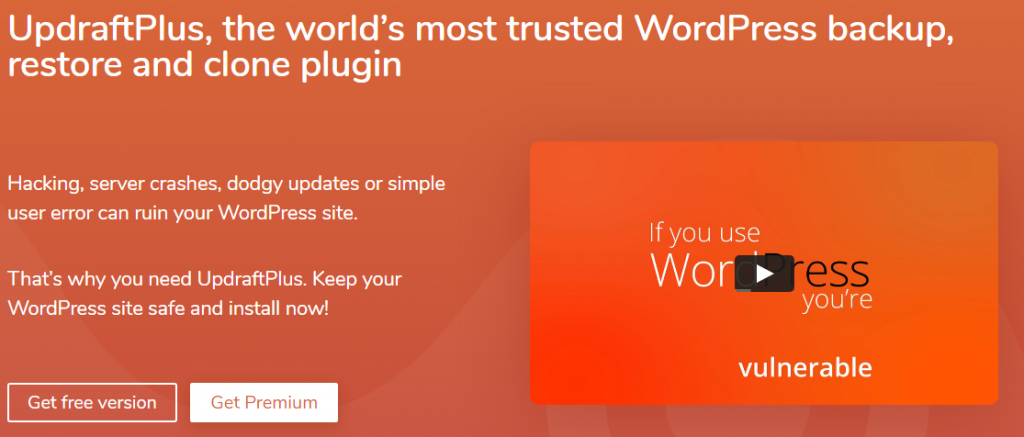 I am sure none of you wants accidents to happen on their WordPress site. But they do happen at one point or the other. Losing your site's critical data would probably be the last thing you want for your business.
Under such a scenario, the right thing to do would be to create timely backups of your website. And that's where our next WordPress plugin plays an indispensable part.
A popular WordPress plugin, UpdraftPlus comes with scheduled as well as automated backup options and stores these backups on the platform of your choice-Google Drive, Dropbox, Rackspace, or FTP.
You can even restore your website from a backup if required. Since these backups are stored in the dashboard, you can access them later as required. Here are some of its key features:
Back-up and Restoring of Website with a Single Click
Cloning and Migration of WordPress website
Backup to a Remote Location
Manual or Scheduled Backups
Back-up for non-WordPress files and databases
Price: The basic version is free; the paid one offers additional features and priority support.
Choose Cyfuture to make the most of your WordPress Site
So, these are some of the plugins you absolutely must install for your WordPress website. While these can assist you in smoothly running your business, there are dozens of other plugins that didn't find mention in this post.
It is not uncommon for website owners to use at least 15-20 plugins for their site. Installing, managing, and updating all these plugins is no cakewalk. Without a helping hand, you may not be able to get the most out of these plugins. And that's where our expertise and experience come into the picture.
As a 20-year-old custom software development company, we have a team of qualified WordPress consultants to guide you on what kind of plugins to choose for your business and help you manage them with the utmost ease. With our technical prowess, you can focus on what matters the most-marketing your business. We will take care of the rest.
Need consultation regarding WordPress or any software development service? Fill this form NOW. Our experts will reach out to you within 24 hours.