145 Views
No matter, if your business is big or small, a recently added business or an existence for years, investing in the most effective marketing strategies is critical.
Every business works hard.
You stretch every budget and minute into getting something out of it. Even if your business is thinly squeezed, unlike the old organizations, you need to find the right resource that inculcates the best marketing efforts.
Like any other business, a small business has customers.
It establishes some goals and tries to overcome challenges.
It markets its products and services, maybe not in an elaborate manner, but it does make sure that people know about them.
And, over time, every business wants to elevate their sales and revenue funnel.
However, unlike small businesses, established brands like to outsource their digital marketing needs instead of building an in-house team. These strategies are mostly focused on catching the big fish from the pond.
But, what about small and medium-sized businesses?
How do they plan and implement their digital marketing strategies and tactics?
How do they yield returns?
For starters, digital marketing isn't just for larger organizations, it is for small businesses as well.
But, forging an effective digital marketing strategy for small businesses can be a difficult approach since they aren't sure of how to get started.
Digital marketing is a perfect way to advertise your services in a cost-effective manner, get a loyal following, grow your businesses into a brand, and sell beyond the geographical borders.
There are many components to a successful digital marketing strategy. It includes a website, social media handles, the content you script, and much more. However, as a business functioning in a digital era, it is important that you understand what digital marketing is and how it blends all your business operations together.
What is Digital Marketing for Small Businesses?
Digital marketing is a term that encompasses marketing processes utilizing all the available digital channels to promote a service or build a digital brand. Digital marketing is a perfect successor to traditional marketing, a major transition from paper and newspaper ads to Facebook campaigns and PPC strategies.
Digital marketing is important for two major reasons:
It builds a digital presence for your business through a website, blogs, social media handles, etc.
It constructs a sales and revenue funnel for your brand
For example, you run a salon in Cleveland. Now, your business is running fine, but its isn't growing anymore. You don't have a budget to spent on the TV ads and newspapers. This is where digital marketing can help in expanding your business.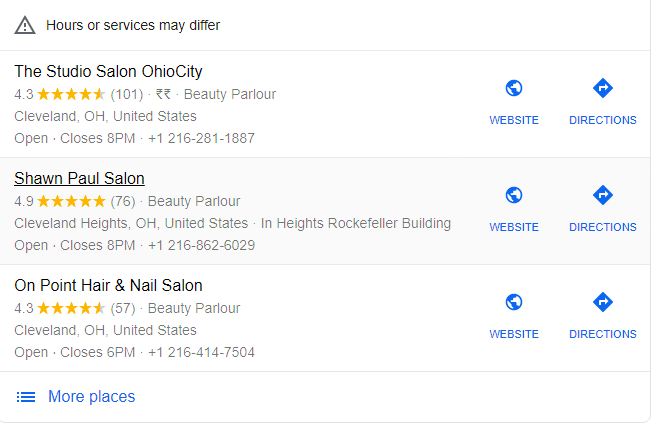 The image shows the top three salons in the area. Unfortunately, your business name is not visible since you haven't figured out your digital marketing game yet.
Digital marketing has that indefinite power that'll help you establish governance over the online mediums, such that, when customers look for such services, your businesses are suggested to them. Ultimately, you can improve sales and widen your customer base too.
Why is Dgital Marketing Important for Small Businesses?
Did you know, over 97% of people learn about local businesses online more than anywhere else?
If your business goes online, it is more likely to be found by the customers, eventually improving your physical and online presence.
Since there are more than 4 billion people worldwide using the internet, a small business owner can definitely compete in the big leagues.
However, digital marketing isn't just about getting customers, it is an apt platform for B2B marketing; generating leads, improving conversions, and increase revenue. Therefore, implementing the right strategy will help you master your digital marketing efforts too.
What are the Core Elements of Core Digital Marketing for Small Businesses?
Once you are a business owner, you are already in the competition. All that's left now is finding the right tools to achieve an edge.
The core elements of digital marketing for small business are:
Website
Just like a physical store, a website is an online store for your business. It is also the most important asset for small businesses. This is where you write about your business, the services you offer, where you're located, how can a potential customer contact you, etc.
Blog
If you believe that blogs are restricted to only technology and news sections, you're mistaken. Blogs help in improving your website's visibility online and help you educate your potential customers and why should they trust your services. To start a blog, you can use a free website available, construct a free site, and use templates to post your blog.
Once you start blogging, you can add a Call-to-Action button to your posts so that the visitors can subscribe to your blogs and receive promotional emails. In the long run, it reflects your business as top suggestions on Google search when queried for similar products and services.
Email tools
For all those professionals who feel that email marketing has lost its importance and essence in the business world, here's a fact check for you; over 73% of millennials prefer communications from business to come via the             
Email marketing is easy, free, and a scalable approach to communicate better with your customers. Once you have email marketing tools, you can experiment with newsletters, and other promotional offers, directly into a customer's inbox.                                                   
Social media accounts
You might know how people are building a fortune using social media accounts. You probably might have a few personal accounts too.
So, now It's time to use them for your business!
Construct social media profiles for people to socialize and connect with you. Facebook and YouTube are the most powerful digital marketing for small business tools. These accounts can help in improving traffic on your website, more customers, improving search engine rankings, and increase your sales and revenue quotient.
Conversion tools
What are conversion tools?
Well, we've entailed the mediums required for growing your business, but haven't yet specified how they can help in driving revenue. As informed before, digital marketing services for small business is a very effective way to generate leads or customers. There are several types of free conversion tools in the market, that can help in optimizing your website and driving leads from it.
The Starter Pack of Digital Marketing for Small Business
Let's learn how to build a perfect digital marketing strategy for small business.
Construct/Optimize your website along with SEO
Building a website is no longer a brainer.
Buy a domain and start adding content and service pages to it.
But, just having a website is not enough. You need to make sure it is optimized to ensure a constant flow of visitors, leads, and customers.
In the coming time, the user base searching for services online will increase. It is the first point of contact for customers looking for such services. Therefore, it is important that your website is displayed in the search result when people look for services related to your business.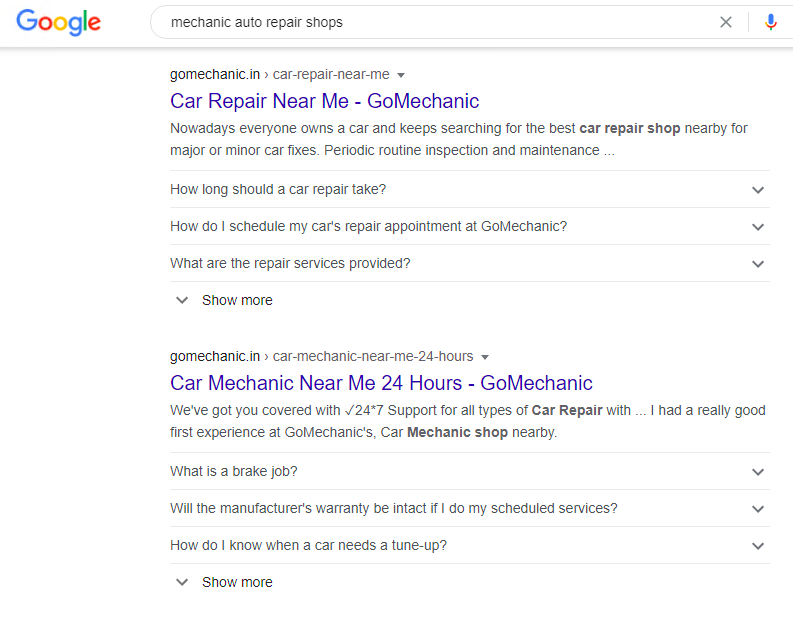 For example, when I look for auto repair shops, GoMechanic appears as the top result, all because its website is optimized in such a manner.
This is how digital marketing services for small businesses turn a business into a brand.
This optimization process is called Search Engine Optimization (SEO).
SEO helps in getting your website discovered via search engines like Google, Bing, and Yahoo.
There are five things are most important for SEO optimization.
Page Titles: A page is a text you see under the web link of a website. It is the title of the page that appears on the search engine result in response to a query.

Meta Description: This is a summary about your web page displayed by the search results.
Headings: It is a piece of text that appears larger than the others on the same page.
Images: This enhances the user experience.
URL Structure: The URL that appears on the webpage is the web address of your business.
Wondering how to do SEO and rank your website?
There are a lot of factors that play a role in how a webpage is ranked on Google. Some of the important factors include relevant keywords, length, and quality of the content, page speed, frequency of posts, and more.
Understand this, Google looks for the most genuine piece of content when a user searches for it. So, if your website has original and authentic content, then Google will show it in SERPs. Look for relevant keywords of your services and try to employ them in your blog posts.
SEO strategy is formulated keeping a buyer's persona, and keywords in mind.
Get an account on Google My Business
Google does specifically a lot for small and medium-sized business owners. So, if you want to get more recommendations from Google, it is important that you make an account. All you have to do is visit Google My Business website, and then add all details like the name of your business, address, contact hours, contact number, email address, image, services offered, and some basic information.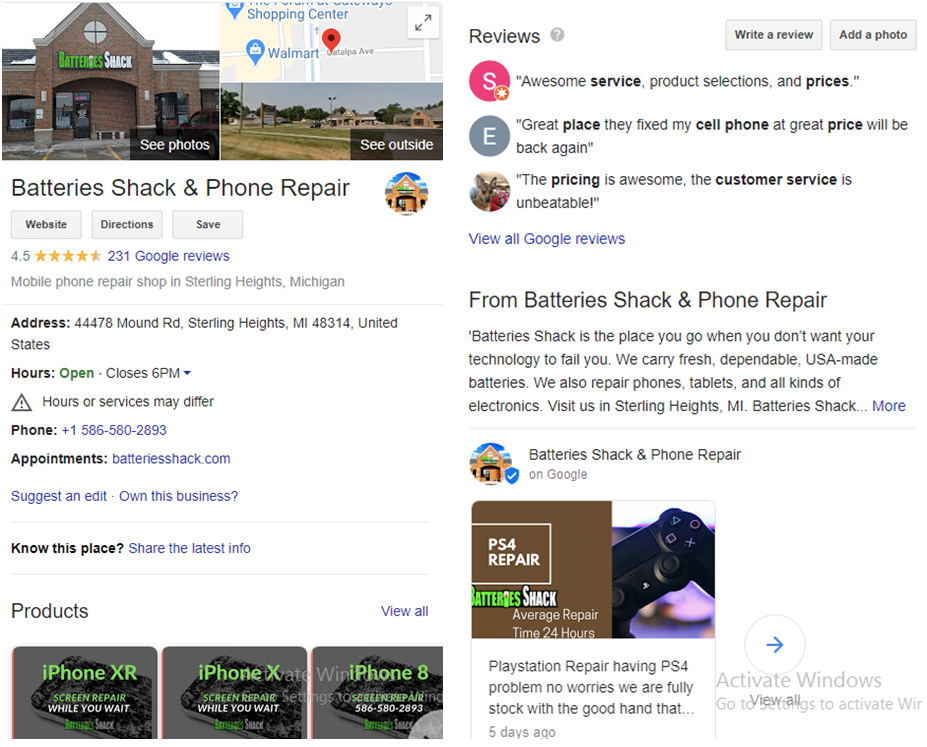 For example, this is a Google My Business account for a business. It shows everything that a customer needs to know about them. It includes a short description, address, hours open, contact number, in case customers want to book an appointment, reviews, products and services, and store images.
Launch business pages on Facebook, YouTube, and Yelp
If your business is focused on a local area, the most important accounts are Facebook, Google, YouTube, and Yelp.
Google My Business is already explained, in the previous section.
So, let's talk about Yelp and Facebook.
Good reviews on Yelp improve your authority online and is does great wonders for digital marketing of small business tactics.
Just like all the other business profiles, Yelp is a free online business site. You can customize your profile and add pictures, and start asking for more reviews.
Facebook business page follows the same approach. However, Facebook is really helpful in finding local businesses online.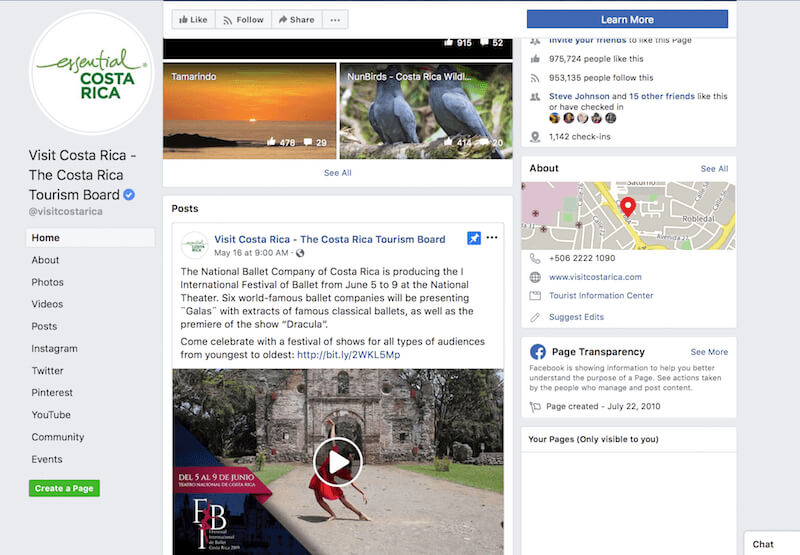 A Facebook Business page looks like this. People can add their reviews on your social page, contact you, book an appointment, and read everything about the latest development. You can use your social media page as a customer service platform as well.
YouTube isn't just any video content platform; it is the most important one. You really won't need to invest in other video resources if you ace YouTube marketing. Create a video about your product and services, real-time video, or go for YouTube ad marketing.
These are the most important social media profiles that you need to take care of.
Get the Right Resources for Digital Marketing of SMBs
More and more companies are spending time and money on digital solutions. Small businesses can take tons of advantage from the free tools and resources available online.
These tactics aren't away your businesses reach. Just utilize whatever you have and do something big with it.
These are the most important tips that'll help you get a headstart on digital marketing for small businesses.