1639 Views
AI rapidly conquers the business world. What was once written in science books has now become our reality: businesses switch to automation in order to bring a new unique experience to their customers and make their lives more comfortable. AI isn't something we should wait for in the future. It's already here.
Technology develops very fast, and your business needs to be fully prepared for the AI revolution to keep your position in the market and stand out from your competitors. The AI revolution has already started taking over the world of business, and the stats prove it:
By the end of 2018, 70% of businesses were expected to implement AI
80% of customer interactions are expected to be managed without a human by 2020
80% of executives believe that artificial intelligence benefits work performance and creates jobs
However, AI is expected to replace 16% of jobs in the U.S. by 2020.
As you can see, artificial intelligence has the potential to bring some crucial changes to the business world. And some industries have already experienced the influence of the AI revolution on how they operate, as it brings the innovations that businesses have to accommodate to as fast as they possibly can.
Changes Brought by the AI
You can already observe the innovations that came with the AI revolution, making changes to how businesses operate. For instance:
Predictive reasoning, brought by the AI revolution, helps app developers tailor search suggestions to the needs of the users. The most famous instance of using predictive reasoning in apps is Instagram. Suggestions, which accounts to follow as well as the whole discover page is based on the search history and other features that make using this app more personalized. The feature of predictive reasoning allows app developers to relax a bit, as they no longer have to create complex codes to make apps more personalized.
AI and localization have become a huge help for the travel industry. As you book a flight, you get tons of suggestions of nearby hotels, often with attractive discounts. This is a feature of geolocation that helps services offer the best options for you in the area where you plan to travel to. In terms of travel communication, there are downloadable chatbots (travel concierges) that stay with you during your trip, guiding you and making your trip more comfortable and safe.
The biggest change in the retail industry that AI brought along is the ability to track purchase behaviors of the customers. Amazon is the leader in using this feature to track and predict customer purchase behavior, offering the buyers attractive discounts and suggestions based on their search results and the history of purchases. Amazon's "compare with similar items" tab is also a feature brought by the development of artificial intelligence: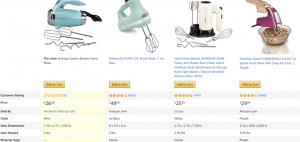 Image credit: Amazon
Business is getting ready to be fully submerged by artificial intelligence. But is your business ready for the AI revolution?
Here's what you need to consider to start preparing your business for it.
1. Use AI to Improve Cybersecurity
2018 was a difficult year in terms of cybersecurity. The most famous cybersecurity breaches included the attacks on the U.S. universities, massive data exposures, and, in the world of business, Under Armor experienced a severe hacker breach of their MyFitnessPal app.
The advancement of technology brings along many threats as well, as the artificial intelligence may have quite a few solutions in terms of improving the cybersecurity of your business.
In the wake of the recent blatant cybersecurity attacks, having endpoint protection, encryption software and the whole IT and security departments is obviously not enough for your cyber-safety. That's why companies started implementing machine learning to improve their cybersecurity.
Machine learning algorithms introduce the techniques that can help you identify different patterns that weaken your cybersecurity, as well as vulnerable user behavior by allowing you to mine the data that can prevent security breaches from happening.
Machine learning is implemented in many different forms. For instance, Cisco, an American networking hardware company, uses a cloud security platform called Umbrella, which is powered by machine learning.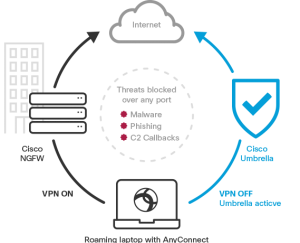 Image credit: Cisco
This system allows you to apply machine learning in order to identify cases when a hacker tries to flood a domain with a DDoS attack. Machine learning in this system is applied to the massive customer and enterprise data to identify malware and potential hacker attacks.
Machine learning is the foundation of how AI can be implemented in cybersecurity. And although machine learning is essentially a trial-and-error method, meaning that a computer has to encounter many different situations in order to know what to do if a threat comes, there's already an AI-powered technology that allows you to boost cybersecurity.
2. Implement AI in Your Customer Support
The sphere that truly gets completely changed from the bottom up with the introduction of the AI is customer support. Automation of services brought by the AI revolution has made it possible to delegate a huge chunk of work to chatbots and virtual assistants, making the workflow of a customer support service more efficient.
The major AI-powered digital solution for customer support is the introduction of chatbots. It is expected that 85% of customer support interactions will be held by the digital customer support representatives (i.e. chatbots) by 2020. For a business, the implementation of chatbots in customer support means a quicker and better service, with more tickets and inquiries resolved.
Moreover, your business can benefit from chatbots financially. Hiring a qualified customer support representative translates into $3,000 – $4,000 per person, and implementing chatbots can save you tons of money, which can be invested in improving the technological aspect of your workflow.
Chatbots use natural language processing feature that allows them to resolve almost all inquiries without human participation. The technology keeps developing, allowing chatbots to connect to multiple channels (which is great for multichannel marketing campaigns), making chatbots tailored to a more personalized communication, which is beneficial for positive customer experience.
But before implementing chatbots into customer support, you need to be prepared to invest time, energy, and, more importantly, finances into the following features for this input to pay off:
Introducing chatbots means writing a script which they will use in their interactions with customers. These scripts include cases that your customer support service has already experienced and directions on how to act in different situations. Scripts need to include everything from addressing a customer by their name to offering a solution to their problem. The more detailed they are, the better. The process of writing a script for a chatbot includes a detailed description of a case and such tools as Grammarly, SupremeDissertations or GrabMyEssay for the flawless structure and grammar.
Introducing chatbots to customer support is usually done for the sake of improving personalization. You might want to invest in brand messenger to give your customers around-the-clock access to customer support. Brand messenger will allow them to quickly access any information regarding customer support at any time, which is a level up in personalization.
Although it seems like too much effort, your investment will definitely pay off. Customers always want quicker and better customer support, not to mention that 67% of consumers worldwide already use chatbots to resolve their issues. So, prepare your customer support for the future by introducing this AI-powered feature.
3. Benefit from AI in the Corporate Environment
AI-powered technology is a huge plus to the corporate environment in general. It brings a lot of benefits, making many daily in-office operations quicker and more efficient. This includes many AI-powered features in the office software as well as the new technology that changes the way, how we perceive many day-to-day in-office operations.
For instance, at the end of last year, Microsoft Office, the most widely-used software in the offices around the world, has introduced several AI-related features in the newest software updates. Among them, there are new additions to the feature of online teamwork, enhanced To-Do app that allows you to give access to others.
PowerPoint includes a new feature based on machine learning, namely the automatic correction of awkward word choices and grammar. Microsoft Forms now allow users to collect real-time feedback, using the new available forms and quizzes, which is all based on automation and machine learning as well.
Probably the most exciting feature that is available now for many companies is biometric signature verification, which does not only allow creating e-Signatures but does identity verification on electronic documents. This AI-powered feature allows to perform authentication of signatures as well as creating them remotely without having to arrange a meeting.
How does it work? When a user sends a document to another user, all they have to do is to place their finger on a special sensor carrier to sign it. The user that receives a document back, needs to use a special public key to decrypt it. This technology uses an RSA algorithm, a cryptosystem that uses two different keys in order to secure data transmission.
This can be very handy for the business, especially for a startup, as having this breakthrough e-Signature technology will definitely bring you new clients. Implementing this technology now means that your business will be well-prepared for the future and will secure its position on the market.
Final Thoughts
AI revolution is already here. With so many new features that it has already brought along, it's hard to expect what the business world will have to face next. But the AI revolution doesn't mean that the business will have to resist it. On the contrary, it will bring many benefits that will bring success to the company's that will be open to the new technology.
To stay relevant, you need to start preparing your business for the AI revolution as soon as possible. By doing it you'll ensure a strong position among your competitors. Hopefully, the tips and recommendations described in this article will inspire you to implement the new technology that will help you get ready for the AI revolution.
About the author
Bridgette Hernandez is a Master in Anthropology and a professional writer at IsAccurate. She started her writing career as a blog writer for HotEssayService, mainly writing about technology and how it affects people's lives. Her writing is oriented at people who want to learn more about new technology, she enriches her blog posts with great examples as well as some interesting data to support her statements. That's why her blog posts bring great value to the readers.