2282 Views
In sci-fi movies, the protagonists immensely rely on virtual assistants powered by AI and IoT; even for their routine activities like waking up, picking outfits, and whatnot. This, however, isn't a farfetched possibility anymore. Science and technology have evolved the human world into an incredible amalgam of artificial intelligence and gadgets; interconnected to present unlimited possibilities. From tracking our routine to creating a schedule that helps us stay on time, meeting deadlines and delivering work assignments; inventive technologies have altered the way we live.
Connecting Our Lives
Fitbits connected to smartphones, air-conditioning systems controlled even from different geographic locations; our world has never been so well-connected before. As we inch towards a new decade, the installed base of devices connected via IoT is anticipated to grow to 31 billion. The rapid upsurge is all set to make this technology an innate part of our everyday lives. Considering the fact that how seamlessly IoT fits in our lives, we sure can reap a plethora of offered benefits. It can be rightly said that this innovation can connect our lives, making a multitude of tasks less complicated; enhancing our productivity and helping us live efficiently.
Rebuilding Businesses
Thriving on a distinct array of tech innovations, commercial organizations have remodeled their operations to not just fit in with the existing technologies but also consistently upgrade with the upcoming ones. Perfectly poised to massively impact business processes like design, production, and sales, IoT is the lifeblood that is enriching enterprises of all sizes. In fact, IoT has been integrated into numerous operations across diverse business verticals including healthcare, manufacturing, education, and transport.
Reviving Business Processes With IoT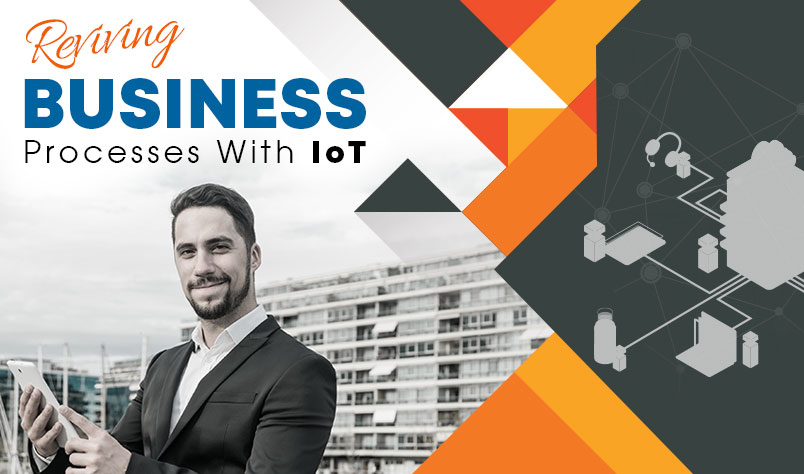 Breaking The Geographical Barriers
As businesses expand their roots across their homeland and foreign lands, the need for remote operations has grown drastically. Wiring devices across various geographic locations into a network has never been easier before; IoT facilitates seamless operations whilst connecting employees as well as clients, irrespective of their current location. Tapping into the power of a secure network, businesses and individuals can instantly exchange documents and communicate even while working from different corners of the world.
Enhancing Productivity
Remotely operating via IoT turns out to be quite favorable for employees, as they can comfortably work from home with maximized output; whilst avoiding the time and energy exhaustion in traveling to their workplace. Women who are pregnant or have recently delivered a baby are one amongst the major beneficiaries of remote operations. In case, they are unable to travel to their workplace on a daily basis, devices connected via IoT can help them conveniently work from home. Apart from this, the Internet of Things aid employees, suffering from minor health conditions like fracture and even flu to efficiently complete assigned tasks from their homes and meet deadlines.
Boosting B2C Communication
Someone once said that get so close to your customers that you are able to anticipate their needs even before they realize it. This holds a lot of relevance, considering the booming competition in various industries. IoT aids in building lucrative communications between businesses and their target audience; thus, helping businesses understand their consumer base in a better way to deliver services and products that meet and greet their needs and aspirations. Smart devices that boost B2C interactions cannot just engage customers but also track and record their behavior patterns to modify operations, services, and products accordingly.
Upgrading Customer Experience
Internet of Things has been recognized for rapidly upgrading and enhancing customer experience. The new avenues of research and communication generated by this technology can amplify the buying cycle, thus helping commercial organizations retain customers while maintaining a steady flow of revenue. Speed and accessibility offered by IoT, helps businesses serve customers better, which sure matters a lot; considering the escalating competition in various operational domains. Today, customers tend to expect businesses to not just offer great products and services at a reasonable price but also cater to their specific needs. In this aspect, IoT brings together groundbreaking technologies to not just entice customers but also hold on to them.
Managing Data Dexterously
Data management is the core of every enterprise that can immensely affect the overall growth and development.  Data across various operations like designing, production, warehousing, marketing, and sales needs to be streamlined and made accessible. In this regard, IoT helps build communication and enable data exchange via a secure platform to annihilate the possibilities of theft and forgery. The massive amount of data that streams through production systems, IoT sensors, and various other devices and operations, assembles valuable insights on performance and productivity; thus, creating opportunities for growth and innovation.
Unearthing New Opportunities Of Growth
As competition continues to grow in various business verticals, the need to venture into new business lines has become indispensable for the survival of organizations. IoT is one amongst the exceptional technologies that enable a smooth transition of organizations to new business lines, thus opening new avenues of revenue generation. Internet of Things facilitates the creation of new processes to engage customers for a long haul with new products and services in line. Adroitly sharing data across the ecosystem of organization, partners, and customers, IoT ushers organizations to new paths of opportunities and success with value-added services and products.
Regulating Finances & Forecasting Revenue
Prioritizing finances is indispensable, considering that it is what finally decides the fate of an organization and its survival. IoT can offer access to valuable metrics, thus generating insights for financial decision making. Offering real-time data for ERP (Enterprise Resource Planning) as well as for the accounting system, IoT enabled devices and systems gather information to present a holistic view of an enterprise's financial status and revenue segment. The technology can aid in optimizing processes to regulate finances and even forecast the revenue to be generated in the upcoming cycle, which in turn paves the way for effective financial planning and management.
Asset Management
Recently, a prominent name in the automobile industry launched a telematics solution system for vehicle tracking, live status, and emergency alerts on a car segment. The application connects the smartphone to a car for not just tracking but also asset management and alerts. It immensely aids in managing the frequency of maintenance and refueling, whilst consistently tracking the movement and location of the vehicle. In businesses that involve production and heavy manufacturing equipment, IoT can generate similar results. Efficiently monitoring equipment and generating alerts for maintenance and repair work, the technology turns out to be an incredible tool for asset management in both small-scale and large-scale manufacturing businesses.
Internet of Things is a prodigious tool that can help commercial organizations grow by leaps and bounds. Integrating this technology in the operations and systems promises a multitude of benefits. It is a competitive advantage that offers enterprises not just an edge over competitors but also a steady flow of operations and revenue. The futuristic technology embeds efficiency, whilst tapping maximum productivity via systems, equipment, operations, and workforce that form an organization. The efficiency of the Internet of Things can transcend businesses to new possibilities of success. It is an innovation that creates new paths for growth and development, which is the reason why approximately 60% of the organizations that have opted for it has expanded to new business lines. Opting for technologies like IoT is a move that is remunerative in endless ways; it not only draws maximum potential but also minimizes investment through efficient resources planning and management.