903 Views
The world is going digital. Commerce has gained a new meaning and is now even more popular as e-Commerce. Paying for availing transportation services has become easy, and it no longer needs 'change'. All that a consumer needs to do is look for the code, scan it, and boom, the payment is processed.
What is the core behind this ease?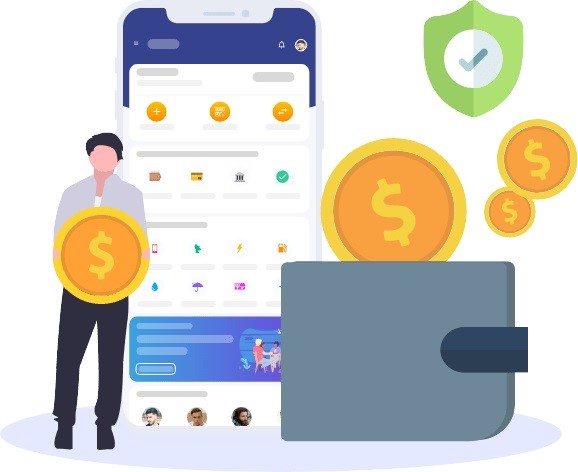 Image Source: Peerbits.com
It is the prowess of digital wallets. We all know them by different names—Apple Pay, Samsung Pay, Google Pay, etc. The use of digital wallet is increasing at an exponential rate, and it doubled more than two years just between 2013 and 2016.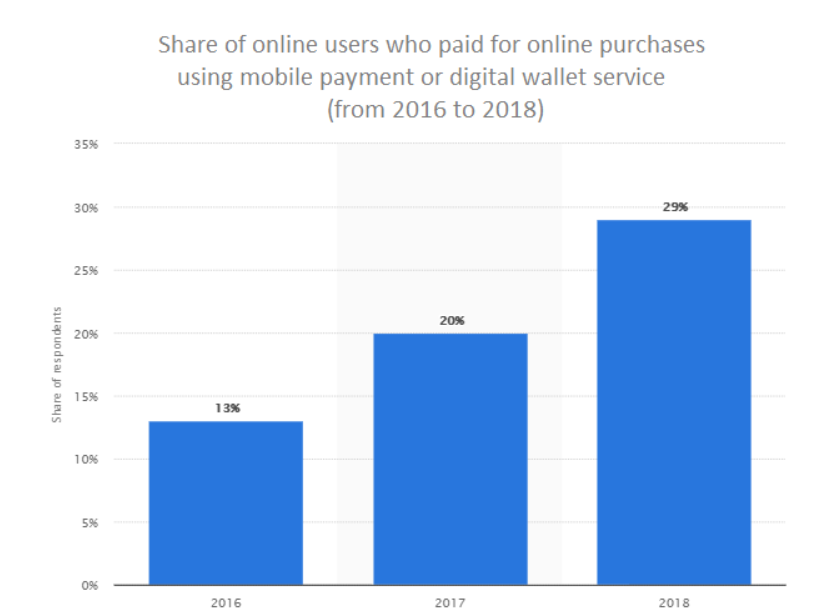 Source: Statista
As the stats show, e-Commerce is the causative factor that has catapulted the leap of digital wallets.                                                                        
What are the Key Features Offered by Digital Wallet Apps?
There are four standard features that every digital wallet software offers:
Consumers no longer have to take the hassle to visit the ATM to withdraw cash and make their purchases. If they have their mobile phones, they can make a purchase of any kind, extending to any range. So, even if they forget their physical wallets at home, payments are no longer a hassle.
Despite being a peer-to-peer payment option, the digital wallet solution is entirely encrypted. This feature makes it less susceptible to the prying eyes. Besides, if during the transaction, any technical issue occurs, consumers can make sure where their money has gone. The mobile wallet platform also processes refunds, in case of a failed transaction and makes it a win-win solution for all the stakeholders.
 All that a consumer has to do is open the app, scan the QR code, and confirm the payment. Alternatively, if an individual has to send the money to a friend in another city, he can use his contact details and make payment.
As opposed to the online banking transaction solution, wherein a gateway is involved, the checkout time is relatively less for the digital wallet. Payment processing through the digital wallet solution is almost instantaneous.                
Read More: Ways to Be Successful In the Mobile App Market in 2020                          
What are the Types of Digital Wallet Solutions?
E-Wallet app development can be done by incorporating different technologies. Some companies offer QR code-based scanning payment solutions, while others provide contact-based payment options. However, the digital wallet solutions are much more comprehensive than these options.
Below are some of the basic types of digital wallet solutions:
Optical or QR Code
The QR code-based digital payment solutions use cloud technology. A seller uses a code that is encrypted with the bank account details. When a consumer scans the code, the payment is processed and transferred almost instantaneously.
A unique advantage offered by the QR code-based digital wallet solution is that they are cheaper to integrate, and merchants or shopkeepers can use them extensively. It is important to know that businessmen who are planning to target local merchants can develop digital wallet app incorporated with the QR scanner. However, this solution cannot be used to carry out transactions at an international level.
Digital Delivery Technology
The digital delivery technology is usually used for the purchases made on the Internet. It works best for freelancers and small-scale businesses that require payment and invoicing options.
Some of the examples of digital delivery technology are PayPal, Alipay, and Amazon Pay.
The benefit offered by the digital delivery technology-based digital wallet apps is that individuals can even accept payments from the other side of the world. However, these solutions are not feasible to use when it comes to making local payments.
SMS-oriented Digital Solutions
Among the other digital payment solutions, SMS-based digital wallet works well for the peer-to-peer transactions or C2B transactions.
Key solution providers include Tigo, Orange Money, and Mobile Money.
A unique feature offered by the SMS-based digital solution is that payment can be processed even without having an Internet connection. So, when individuals are on a trip or in remote areas or on highways, they can use these solutions to make payment.
The only drawback with this digital payment mode is that there are not many vendors and consumers using the solution.
NFC Technology
Recently, the popularity of the NFC technology-based digital solution is gaining momentum, as these are contactless payments, and they provide high security.
Key digital wallet brands using NFC technology include Apple Pay, Android Pay, and Samsung Pay.
Payment can be processed by merely touching a smartphone with another one. This makes it useful for peer-to-peer payments in tandem with payments to small cafes, transportations, retail stores, pharmacies, etc.                                                                      
What are the Unique Ideas worth Incorporating in a Digital Wallet App?
If you wish to develop a mobile wallet platform, it is worth comprehending that you need to have unique features. This is because numerous digital wallet apps have already gained popularity. In such a scenario, to cut through the maddening noise claiming the popularity of digital wallet apps, and make it to the top position will require going to an extra mile.
Know your target users well: You have to know who you are catering to. If your target end users are local consumers, you need a simple technology that can help both—merchants and consumers—make payments easily. However, if you are catering to small businesses, offer additional features such as invoicing and recurring payments.
You can even target flat mates and group buddies, who can add the total amount in the app along with the name of people paying for different expenses. Once they run the split option, the app generates the total value of who is going to pay whom what amount, thereby making it easy to split and make payment.
On the whole, it is not only the transaction that matters, but it is also the features that can attract the consumers.
 A Peek into the Future of Digital Wallet Solutions
The world is becoming a closed space. In such a scenario, the future will not know the physical boundaries when it comes to making purchases. So, digital payment solutions will have to have features that support international payment.
However, one approach to it can be through a block-by-block digital wallet app development. You can hire a mobile app developer to develop a digital wallet that can help you make a local presence. Once you see the success, you can plan advanced features for the same.
Author bio:
Nikunj Gundaniya, Product manager Digipay.guru, one of the leading Digital payment solutions, which provides mobile finance application development services. He is a visionary leader whose flamboyant management style has given profitable results for the company. He believes in the mantra of giving 100% to his work.