2442 Views
So, the holiday season is around the corner!
But don't you feel it's going to be different this year?
The global pandemic has had quite some impact on festivities and celebrations. Like fewer customers would be physically visiting stores to buy things. Rather they will scroll through the thousands of products on an e-commerce site.
Let's not forget, e-commerce giants in India recorded ground-breaking sales even when we fighting unemployment and the viral conundrum. It only shows the excitement and thrill customers experience during the sale season. Even while sitting at homes, people are treating and rewarding themselves with affordable products, thanks to the e-commerce channels. More so, online buying was already achieving its speed pre-pandemic, but the nationwide lockdown instilled its importance and recognition.
With that said, 85% of the global consumers are looking for presents, clothes, accessories, cosmetics online, and that in itself is a tremendous achievement for the e-commerce industry.
However, nothing comes free in this world!
If e-commerce sites want to attract a higher user base, they need to provide them with services that add to their time spend and efforts rendered.
So yes, e-commerce channels do have a ground-breaking opportunity to boost their sales this holiday season. But they need to ready for that.
How?
By making their websites and apps self-sufficient.
Again, how?
By hiring the best chatbot development company in India to built a chatbot for their website, app, or social media!
And what difference does it make?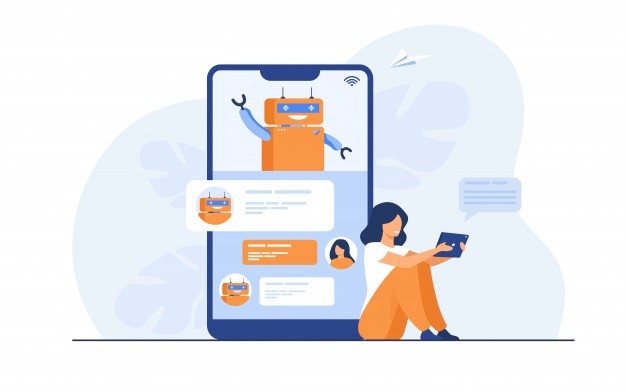 Chatbots are known to personalize a user experience even when they give the same answers to different customers for varied questions asked.
But the important thing is, a chatbot is a 24/7 active agent. So, it can optimize several aspects of your business, including customer experience, engagement, and higher conversion rates.
Plus, chatbots collect data about a customer's behavior, preference, interests, and choices. So, you can use it for clickbait or email marketing!
Perhaps, employing a chatbot might help you ace your game in the market, and you never know how many sacks you could shoot using just a simple but worthy AI-bot.
Why Chatbot Development Companies in India must invest in an e-commerce chatbot
True, e-commerce chatbots continue to gain so much prominence in the e-commerce sector.
But why?
Because, it kind of suits customer preferences.
Instead of waiting in queue to talk to a customer agent, they can converse with a well-learned chatbot and get their issues resolved.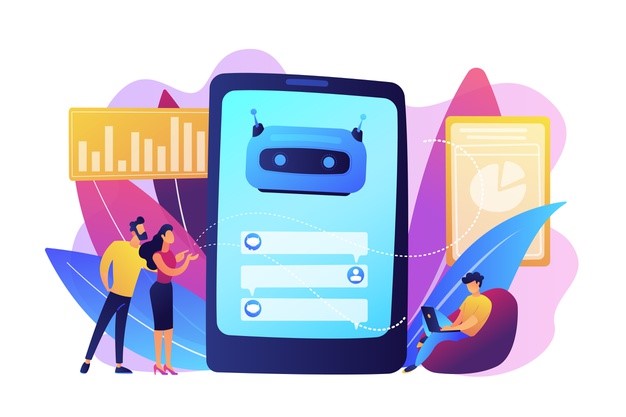 Chatbots are a modern and forward conversational commerce approach to boost your business ROI.
Moreover, the user base of the messaging apps is on a rise! These apps count more monthly users than social networks do, and that serves your purpose. Also, the average open rate for such private messages is 98%, which is five times more than that for emails (20%).
Keep this under consideration, and then study the role of chatbots in the e-commerce sector, how it improves customer acquisition, retention, and engagement rate, and helps brands script talks of customer loyalty.
Believe it or not, chatbot development companies in India are in for a treat with these e-commerce bots!
Ecommerce Chatbots boost online sales:
Chatbot statistics prove that 40% of shoppers like interacting with a website's chatbot, in case they have one. These tech products are a perfect tool for online retailers to garner consumer attention, solve purchasing queries, and help them complete a purchase.
Adding chatbots might reduce cart abandonment ratios as well since the customers will have all the information required, improving conversion ratio in the process.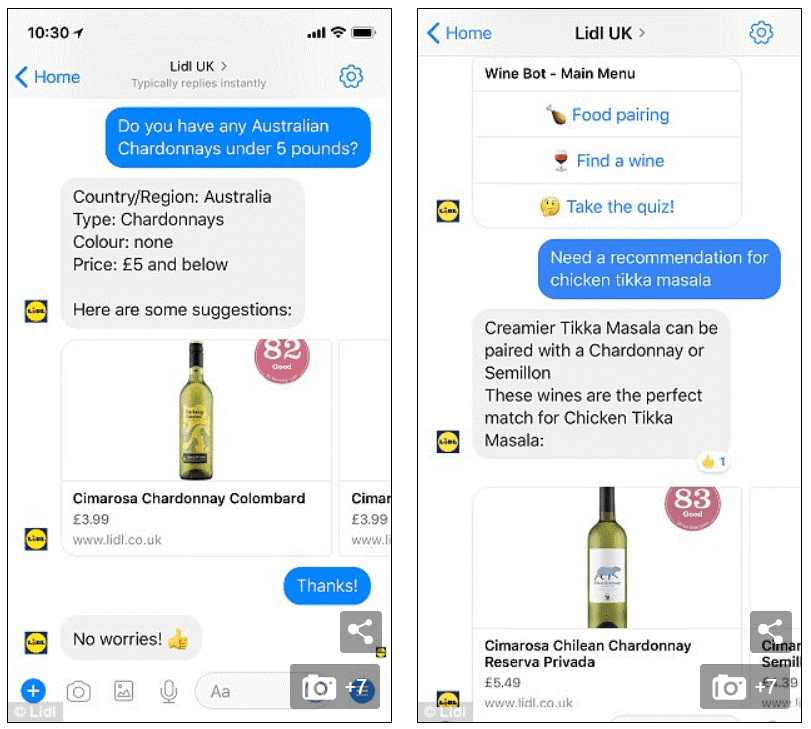 For example, a user asked an e-commerce chatbot for wines under 5 pounds. And, the chatbot was more than able to help the user with the right options. Not only does it save a user's time, but it also helped them close a purchase under their budget.
Customer acquisition through Social media:
Chatbots are for everything; website, app, social media, etc.
On that note, social media is actually a very profitable channel to gain new customers for your online store. Social media reviews and recommendations have become a thing now, and till the time social media is up and running, you can receive so many orders from it, more than you can imagine! As per a report, there are over 100,000 chatbots using Facebook Messenger to recommend products, process orders, collect customer information, etc.
If you need to target more customers, then opting for FB chatbot development is a great idea.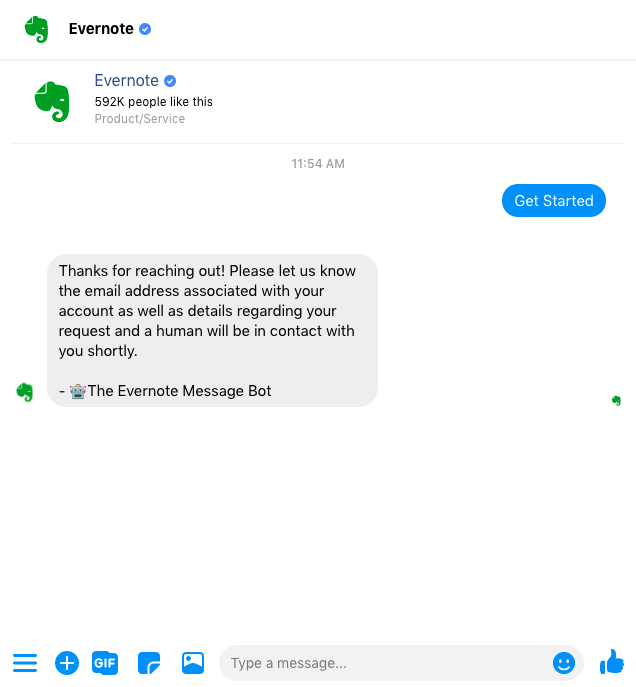 For example, several brands use FB messenger to connect better with customers. Moreover, since people can type in their requests and queries anytime they want, it streamlines the process since instead of going to your online store and searching for products, customers can send a message to the brand on their Facebook Messenger page.
The chatbot would ask the customers about a necessary product and then send a link about the same to the website. This way, the number of steps a consumer has to perform to reach the brand decreases, improving the overall sales funnel.
Reduce cart abandonment rates:
As discussed before, chatbots have a significant impact on reducing cart abandonment rates. As per a study, around 23% of online shoppers will abandon carts if they have to register onto their online stores. So, by incorporating a chatbot, you reduce the prospect of a user adding products to their cart but never buying it.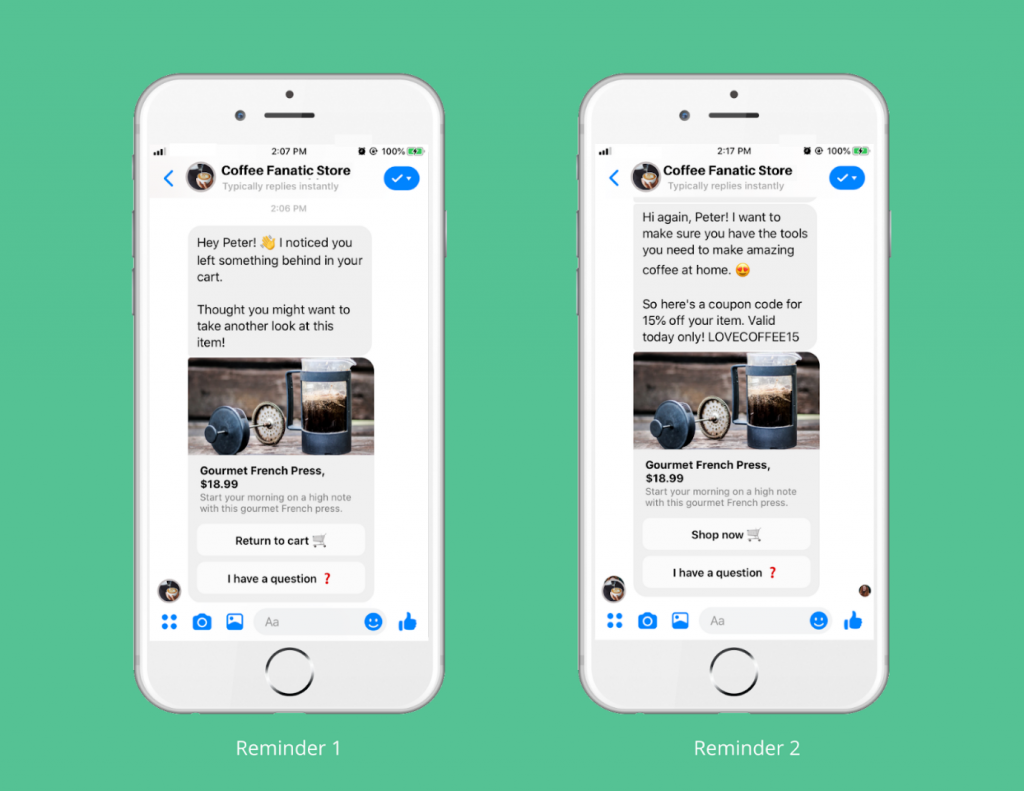 For example, this excellent chatbot marketing strategy from Coffee Fanatic Store details two ways in which you can remind a customer that they have some products in their cart. One way is by just letting them know they have a filled cart, and the other is by intriguing them to return to their cart.
For suppose, there is a consumer who added products at their leisure but then forgets about it. So, a chatbot can always remind them of the added products in their car, and who knows, they might seal the deal!
Collect customer data:
There are more advantages of adding chatbots to your ecommerce portals.
Want to know one other thing that chatbot is good at?
Collecting customer data!
In this modern era, data can make and break a brand. With most of the organizations going data-driven, it is more than necessary that you use whatever information you have about the consumers to provide them efficient, automated, and excellent touchpoints.
When a customer interacts with a chatbot, it does so more on the conversational side and less on the tech side. It enhances a customer's perception of a brand and adds a personalized touch to your services. Chatbots can refer to previous purchases and customer behavior.
With the relevant products, customers might actually complete their purchases.
All in all, chatbots multiply the numbers in your sales funnel.
It constructs customer loyalty:
if you want a successful online business, you need to learn how to acquire and retain customers. The key to expanding your customer pool is entertaining the new ones and loving the previous ones.
When you keep online shoppers satisfied, that is the first aspect that tells you're running a profitable business.
Personalized conversations not only do facilitate engagement, but it is a great thing that leaves your customers wanting more!
Always remember, you can buy a customer's loyalty.
And brands who have loyal customers, they never shop with their competitors.
That is what loyalty programs are for!
Indulge in free giveaways, loyalty coupons, surprise gifts, discounts, etc., to lure the customers back to your online store. And, a chatbot can do all this for you.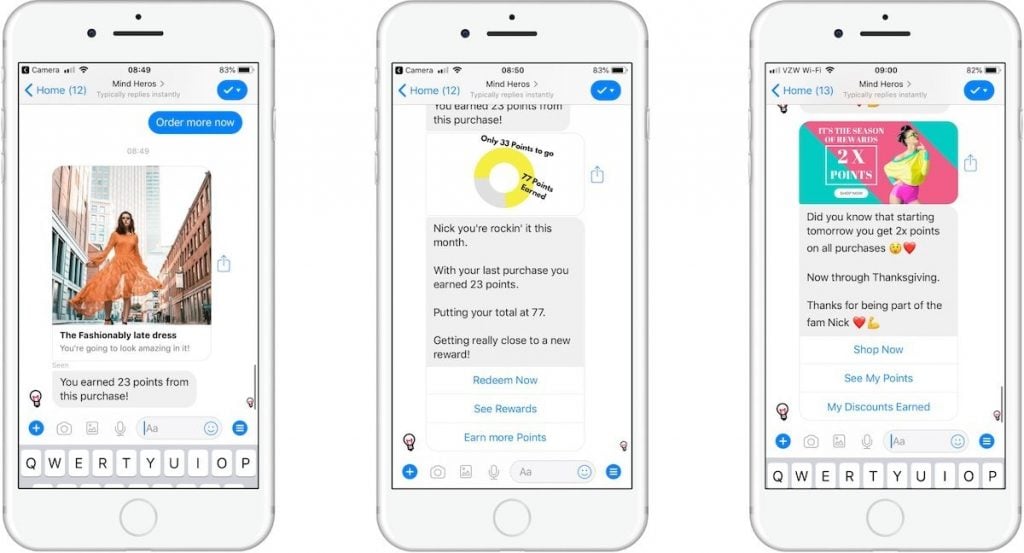 For example, Mind Heros reminds a customer about their loyalty points, rewards, encouraging redemption, and resurrection of your brand name in their mind.
The top ways Chatbots can enrich a user's visitation to your online store
Now that you have quite an idea about why your business needs a chatbot and what it can do; let's study the HOW of this prospect.
Set up catchy greetings:
A greeting is a welcome message that pops up as soon as consumer steps into your online extravaganza.
In a greeting, you don't need to sound too sugary, but appreciate their presence in a non-intrusive way. Try to script a compelling short note that engages a visitor and grab their attention. Maybe they engage in a chat with you and educates them about the right offers.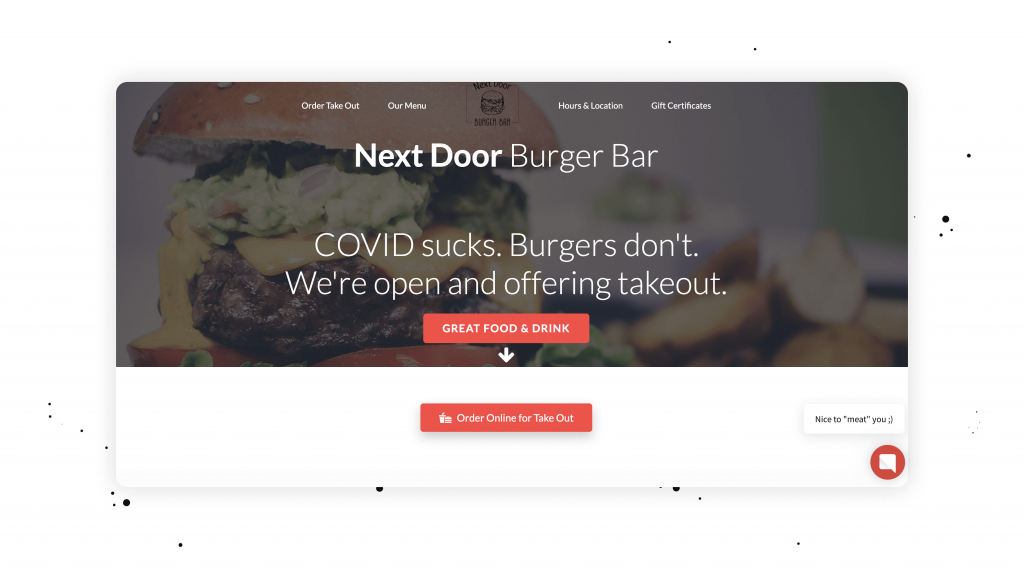 Define the written message you want to display to your users. Let it cover some aspects of your brand and products as well.
So, write a warm and friendly welcome message that stands out for your customers. Users don't like reading love letters online, so keep it crisp, unique, and engaging.
Personalize using product recommendations:
Ecommerce stores, unlike the brick and mortar ones, can offer a lot of recommendations, and they don't even need a human agent for that!
Undecided shoppers often are overwhelmed by a multitude of options and fail to understand the ones they should pick. So, personalized product recommendations can save time and nerves of customers. Studies have shown that over 70% of customers expect brands to understand their needs and demands. And, customized product suggestions will help meet those customer expectations.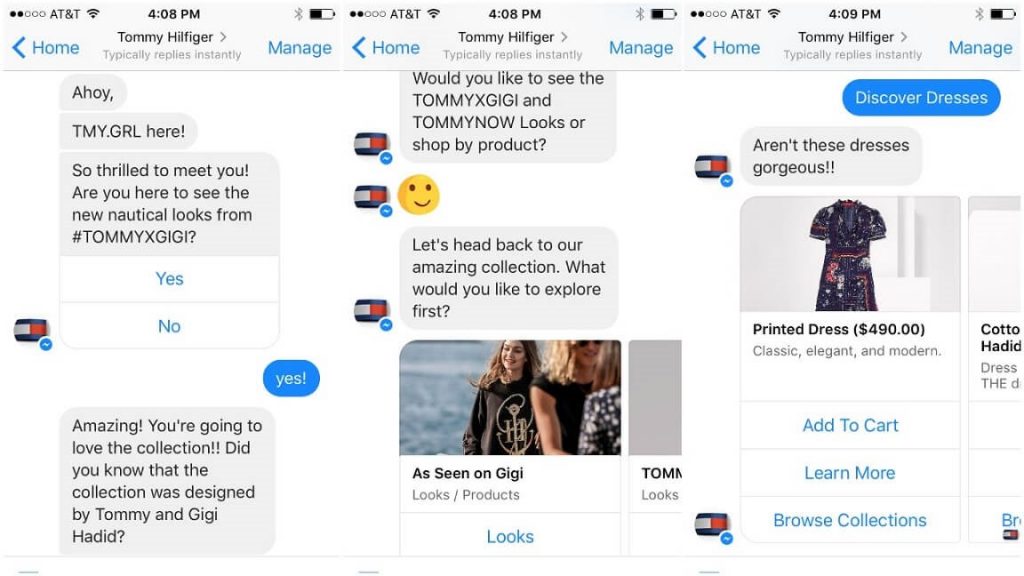 For example, Tommy Hilfiger is great at getting customers back to them. It always personalizes the best products for their customers, and they don't even have to go to the app. The chatbot can suggest anything and everything to the customers, initiating, extending, and closing purchases.
Give attractive discounts:
Discounts are the best way to incentivize customers and allow them to explore your store. Not only does this support conversion, but aids in finding things within their budget. Conversational chatbots are a great way to promote your business, and when you're talking about discounts, customers can lose their minds!
Discounts are a great way to spice your shopping experience and provide your customers with stuff that they actually can afford.
Engage in a conversation maybe through quizzes:
People do look to take part in quizzes, and some thrilling activities, especially when they know that there are rewards, discounts, and gifts in return. So, why not take a chance and add a bit of fun to their shopping experiences using chatbot quizzes!
All you have to do is compliment your chatbot with a web form and make it look like a casual conversation. You can create a quiz based on some trending topics, send customized messages, and add that you're offering rewards to the winners as well. It will add a pinch of excitement to your online store's visit and make up for all the lost connection with your customers as well.
Give correct shipping information:
Customers hate when they do not receive correct shipping information. Customers won't purchase from any other site that has offered them a disappointing shipping experience or delivered the package late without providing any prior information. Even if your delivery services are being handled by a third-party company it is better to let the customers know when their orders will be delivered.
Further, the right and the most authentic information about customer packages, so you need to make sure that you have the trust and belief of your customers.
Now is the time for Chatbot Development Companies in India to make the most out of the opportunity
The holiday season can be very stressful for e-commerce channels, but if you're connecting with customers and making money, every time is a good time.
With that said, now is the perfect occasion for chatbot development companies in India to take up this opportunity and make something out of it.