2004 Views
Do you know that more than 83% of small businesses believe that digital marketing works best for them? Statista declares that in 2021, the global number of digital buyers is expected to cross 2.14 billion. Don't you think it's a boon for the small businesses to grab this online marketing opportunity?
Yes, without a doubt!
You can reach the global marketplace without burning your pocket. So, get to know the digital marketing strategies that can work best for you. Or, you can also hire the Best Digital Marketing Company in India to help your business expand beyond boundaries. 
But, before that, let's have a look at the components in digital marketing. Here's the list:
Search Engine Optimization (SEO)
Social Media Marketing (SMM)
Content Marketing
Pay-Per-Click (PPC) advertising
Email Marketing
Mobile Marketing
Conversion Rate Optimization (CRO)
This write-up will give you a clear idea about how you can strategize your digital marketing efforts to thrive in the market.
Your marketing effort starts after creating your business website. How will the users know about your web presence? The answer is Search Engine Optimization (SEO). Professional SEO services rank your website on google pages so that the website gains visibility. SEO services won't let you down. It will help your customers find your business among the oodles of companies.
Similarly, SMM, PPC, and Email Marketing are other online marketing approaches for your business. However, you need to pick those digital marketing tactics that can boost your sales.
It's time you build your Brand! Have a look at the following listed points.
Be Different From Your Competitors
Research your competitors. Are you providing the same product or service? As a local business, you must offer additional value to the market. Start with Google Search. Looks like a fishing expedition? Yes, it is! Analyze your competitors. See how they are positioning themselves in the market. Let's take an example. If we consider the google search results for California Pest Control Services, "Fully Trained Technicians" and "Call Us Today" are great catch points.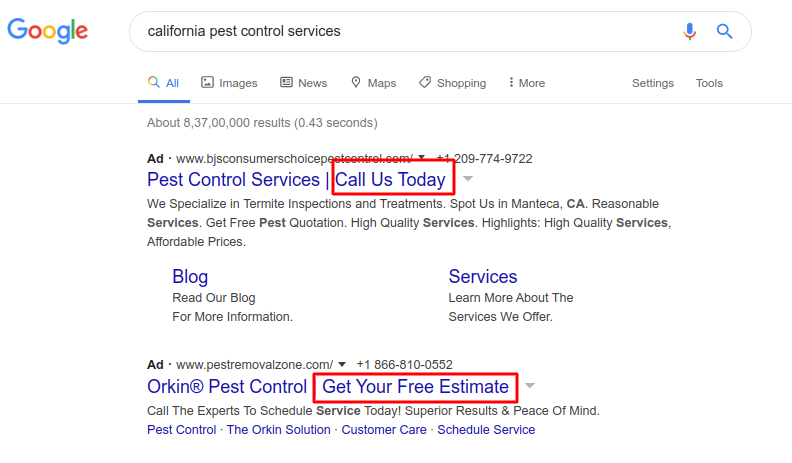 User Experience Of Your Website
Online users are quite demanding. A good user experience tops the list of google's algorithm. Step into the shoes of your customer. The minimum you require is a fast loading website. A fraction of a second can cost you many sales. People tend to leave the site resulting in increased bounce rate. A study reveals that over 50% of online customers abandon a purchase due to a slow website. That's a negative shopping experience. Thus page speed directly affects conversion rates.
Publish Super-Duper Content
Hook your users with engaging blog content. Content is the most powerful tool to get online visitors. Once you have visitors, ask them to subscribe to your blog and newsletters. This way, you can start collecting leads. Make sure your content is SEO friendly. Ensure of maintaining a proper tone and style of your content so that it builds a trust factor among the users.
Grab Your Google My Business Listing (It's FREE)
The first thing that a customer does to find a product or service is to search that in Google. If you want your business to show up on Google, creating your free web profile with Google My Business is your task. It is vital for small businesses to create their Google listing. You can put the details of your business, like address, business hours, contact no. And the products or services you offer.
Google Ads For You
Do you have tight budgets? Don't worry. Even with a small budget, you can promote your business with Google Ads. You need to properly set your goals, define your budget, and choose an effective bidding strategy. For instance, with a low budget, you can go for automatic bidding and let the Ad system do the job. You can surely, get more clicks and impressions.
Use Social Media Channels
It's 2020, and social media is not optional for your business. While some small businesses avail social media marketing services from reputed agencies, others carry it out in-house A substantial number of leads are generated from social media these days. Get an active social media strategy for your business. You get multiple platforms when you go social. The most effective are:
Facebook
Twitter
LinkedIn
You Tube
Instagram
Snapchat is also an option, but it is not the ideal tool for every business.
The social media platform is making headways steadily. You need to stay up to date and apply the latest marketing trends. You can get help from the list below:
Live video
Chatbots
Influencer Marketing
Paid Advertisements
Augmented Reality
The number of social media users continues to increase. The business houses must use this to their advantage. These days there is a rise in overlapping social media platforms. For example, to showcase an event, a brand uses both Facebook and Instagram. While it's the same content that is posted, the main area of differentiation is the audience reach and interaction.
Benefits of Digital Marketing
It is a big opportunity for small business owners to market their products on the digital platform. Let's check the benefits of digital marketing:
Your company can target the global audience
Saves you money
Higher conversion rates
You can provide real-time customer service
The digital marketing campaigns like Google Ads and Facebook Ads can help you compete with the industry giants
Concluding Thoughts
We hope you got a clear-cut idea of how to use digital marketing as a tool to earn the market presence. It is the easiest way to enter the competitive marketplace without breaking your bank. You can establish a trust factor with your present customers and acquire new customers. So, don't wait, stay ahead of the pack with the digital tips. Save greater and spend less. Digital marketing strategies are said to generate over 2.8 times a better profit margin. It's time you get something off the ground.
About Author: Harshal Shah is the CEO of Elsner Technologies Pvt. Ltd. He has an overall experience of more than three decades in the IT industry. His area of interest lies in writing interesting pieces of content mostly on topics relevant to different types of CMS platforms. He wants to ensure that readers get acquainted with multiple web development tools & techniques so that we are able to build a technology-driven world for the future.