2418 Views
Retail, around the globe, is revolutionizing and transforming, thanks to technology trends like Augmented Reality (AR) and Virtual Reality (VR). Both AR and VR have the potential to transform customer buying and online shopping experience into an optimistic viewpoint. With the increasing adoption of smartphones and stronger internet connections, more and more brands are employing the interesting benefits of augmented reality in retail for sales boost and revenue generation.
Now, the prevalent question is, 'Why Augmented Reality is the next big thing for the online shopping market, and how can it better customer engagement and conversion ratios?'
For answering it, you need to first understand why customers prefer shopping online.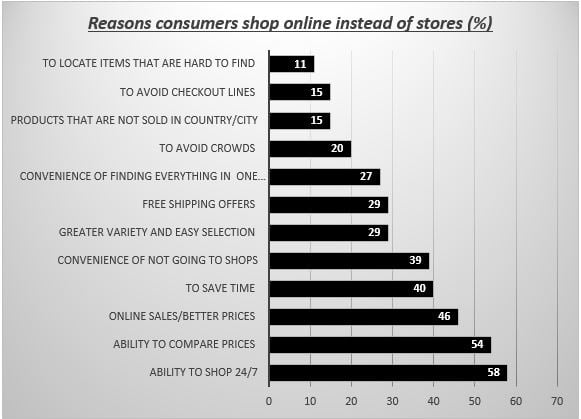 Figure 1: The following shows the reasons why consumers like shopping online instead of brick and mortar stores. The main points can be constituted to the reasons like convenience, price-related, ease of selection, free shipping, only option to buy the product, and push away from the offline stores.
Now, that you know that most of the customer prefer buying products online, augmented reality in retail will make the buying expedition more user-centric, transforming mobile shopping, by bringing products to life, with the help of 3D models that you can size up, see how they look in a particular space, examine from all the angles, and even judge concerning the environment around you.
AR is an integral part of the many modern industry segments including medicine, transportation, education, supply chain, and marketing, to name a few. Even tech giants like Apple's ARKit and Google's ARCore have employed the usage of AR tech in their projects.
In the case of the online retail market, 75% of consumers expect brands to offer platforms with augmented reality experience.
Still not sure about incorporating augmented reality shopping arcade for your consumers? Read along!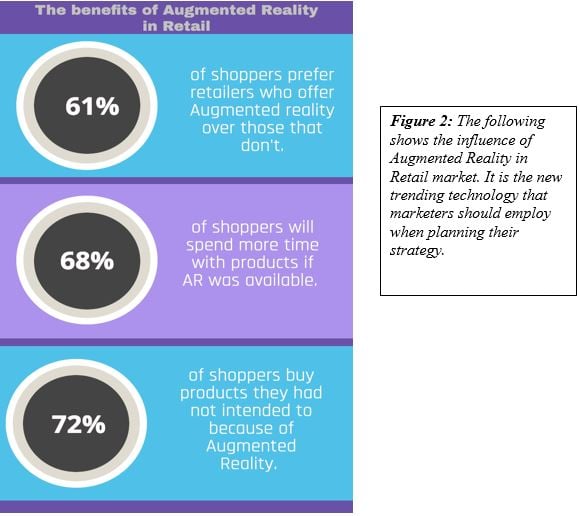 As per a customer online experience survey, the following data has been tabulated.
72% of customers buy products they did not intend to before of Augmented Reality.
71% of the customers shopped more products when using AR.
61% of shoppers look for retailers who offer them AR-based experiences.
55% of shoppers believe that Augmented Reality shopping is fun.
40% of shoppers are ready to pay more for the product when tested by AR.
Customer buying patterns are forever changing. Augmented Reality shopping has the potential to unlock a large portion of the market. With customers getting a 3D representation of the products, more and more people are trusting AR-based stores. For brands who take advantage of the accelerating power of Augmented Reality in Retail will be able to satisfy customers for a longer duration. Right from home furnishing to furniture, jewelry, and beauty retailers, most of the brands have discovered the power of AR in improving customer adoption rates.
The Global AR Market Growth: A Study
Augmented Reality shopping can be referred to as the next level of online buyinh, letting customers explore products, to interact better with products and brands. In the previous decades, retailers have searched out domains related to print advertising, in-store marketing, and social media channels, but now it's time to indulge in a comprehensive consumer experience via Augmented Reality.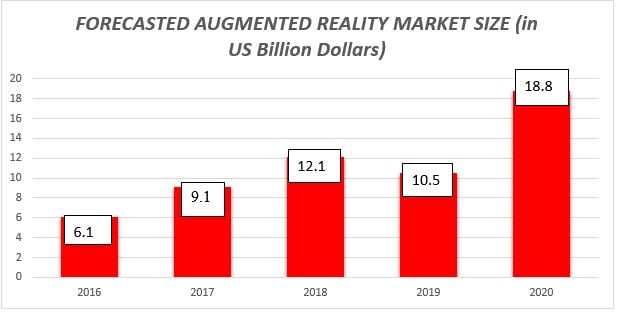 Figure 3: The following shows the AR market amounted to a forecast of 18.8 billion dollars by 2020. This market will only increase drastically in the years to come. Consumer spending is the biggest portion contributing to the AR/VR market worldwide. The market will grow with a CAGR of 85.2% through 21%.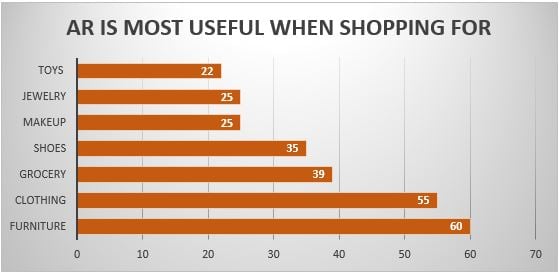 Figure 4: According to consumers, the following are the reasons state why shoppers prefer AR features for online shopping. Most of the users like to trace the 3D models before buying any new furniture, shoes, or clothes. As for retailers, more than 63% of brands plan on using Augmented Reality Shopping in the coming two years. Furthermore, AR technology gives confidence to 52% of retailers, to address customers better with their products.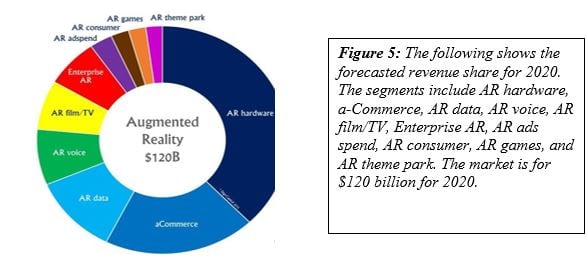 Benefits of Augmented Reality Shopping in the Customer Buying Experience
AR is one of the popular shopping buying trends, helping customers to gain an interactive experience of products in the real-world environment through computer-generated information. Augmented Reality shopping for groceries, furniture, and clothes is so much trending because of the following benefits.
It Helps in Enhancing Customer Experience
Through AR, customers can try the products before buying them. It's like a personalized experience for customers, helping them to try on different variations of the products. Once customers are satisfied with the selection, then they can further go for delivery. It is convenient for shoppers, letting them make frequent and confident purchases. It serves as an added benefit for online shopping, and retailers offering such services are likely to enjoy benefits from customer satisfaction and brand reputation.

Reduces the Need for in-Store Visits
The number of online shoppers is drastically increasing all around the world. With more and more customers going online for purchasing of goods and products, AR facilitates retail shops to cater to the needs of their customers online. AR serves as an online staff member for the retailers, to try out different products without any in-store assistance.
AR Aids in Online Marketing
AR makes purchasing products online fun and entertaining for shoppers. According to online marketing experts, AR helps in increasing brand engagement, which leads to increased sales and revenue generation. Through AR apps, people can scan through the online inventories and get recommendations for different products as well. This makes marketing easier for brands while providing an amiable shopping experience to the customers as well. Also, since AR is a very intelligent technology, it provides shoppers with in-depth information about different products, and the pros and cons of buying it as well.
Reducing Cart Abandonment Rate and Returns
Cart abandonment rates refer to shoppers not going through purchases after adding products to their carts. Since AR makes shopping, a fun expedition for shoppers, it reduces cart abandonment rates by a very high margin. Furthermore, as the customers are already visualizing the look of a product through AR's virtual representation of products in 3D, users will indulge in purchases that are smart and reliable with their surroundings, while judging specifications like the right product sizes and colors. This also decreases the returns on online purchases.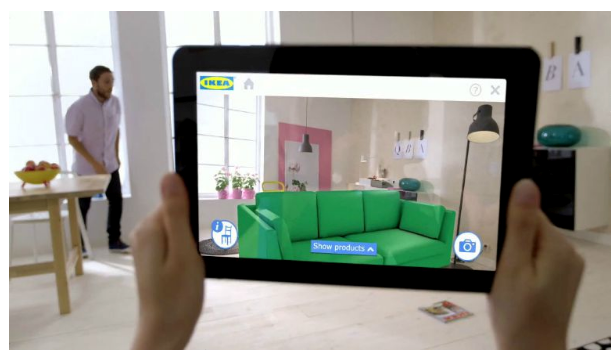 Shoppers can Judge Product Quality in Their Home
Through Augmented Reality shopping, users can view items in a 360-degree environment, unlike the traditional 2D visuals. AR powers life into products, bringing them to reality. With the help of AR stores, brick and mortar stores can keep running their business. Through Augmented Reality in Retail, physical stores can let their customers have an in-store kind experience. This gives rise to brand trust and reputation as well.
How Retailers can Benefit from Augmented Reality Shopping
AR technology is becoming a prominent part of online marketing, engaging more customers, improving conversion rates, and delivering an amazing shopping experience. More and more brands are trying to make AR services available for their consumers, to meet the needs and demands of the market. Since this new technology is doing great in the retail market, marketers are considering ways to implement it as a part of their marketing strategies.
AR is just another tool, to drive sales, and enhance brand value through mobile devices. Therefore, it is going to be a necessary part of the online sales, and marketing tactics of many brands in the coming years.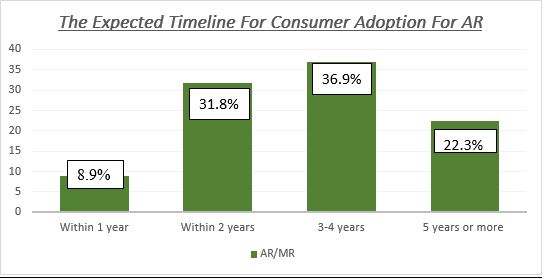 Figure 6: The following shows the time duration in which consumers will adopt AR experiences while shopping online. For shoppers, it will take 3-4 years to adopt AR into their online shopping spree.
Right from virtually trying 3D products at home, to looking at 3D products at home, and virtual trying rooms, AR is everywhere in the retail business. Big brands like Google, Apple, ASOS, Gucci, Toyota, Ikea Palace, Dulux, Sephora, Modiface on Amazon, Adidas, and YouTube Beauty-Try-On have already started advertisement campaigns using AR, to stand out of the competition, and give value to their customers through their products.
Moreover, around 60% of shoppers lookup for product information and prices with their mobile phones in AR-powered stores.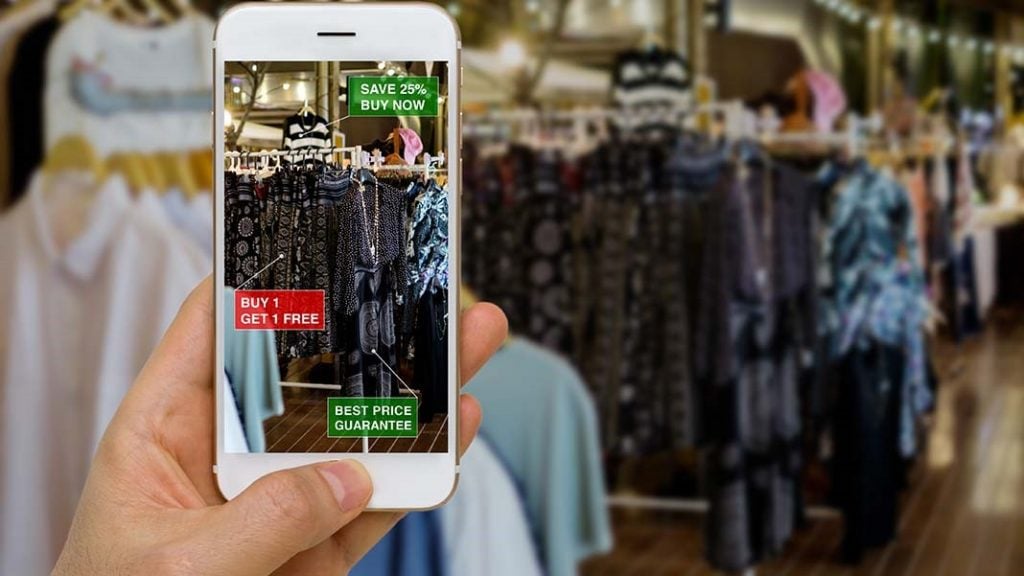 For example, Topshop partnered with AR Door and used Kinect Motion-sensing technology to create a virtual trying room for customers in their Moscow store. All shoppers had to do was stand in front of the camera, and customers can see how apparels look on them without physically trying out anything.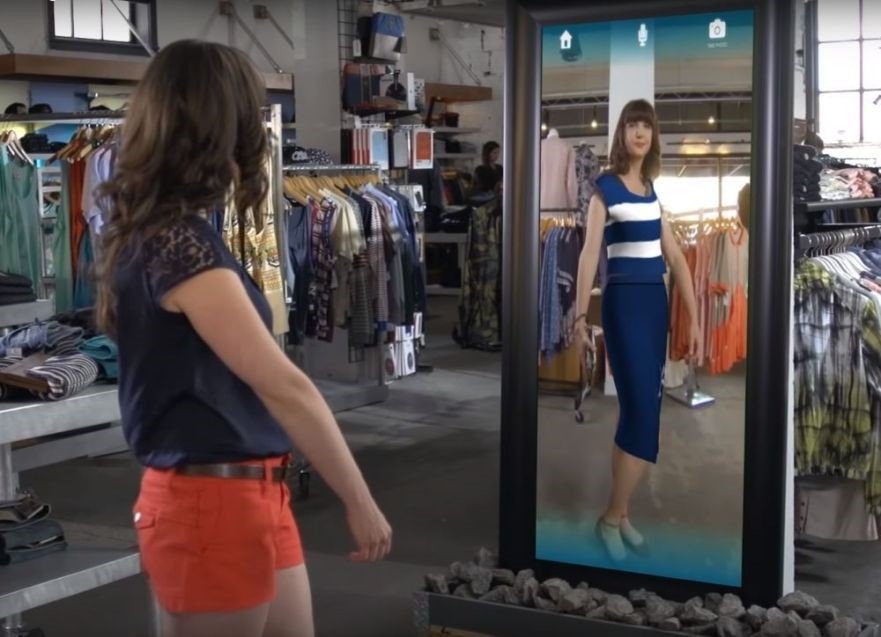 Lacoste AR app allows shoppers to virtually try on shoes before buying any pair. This strategy reportedly helped them to interact with 300,00 shoppers.
Sephora created a Virtual Artist App with Modiface to let women try makeup on their faces with their phone's camera before buying it.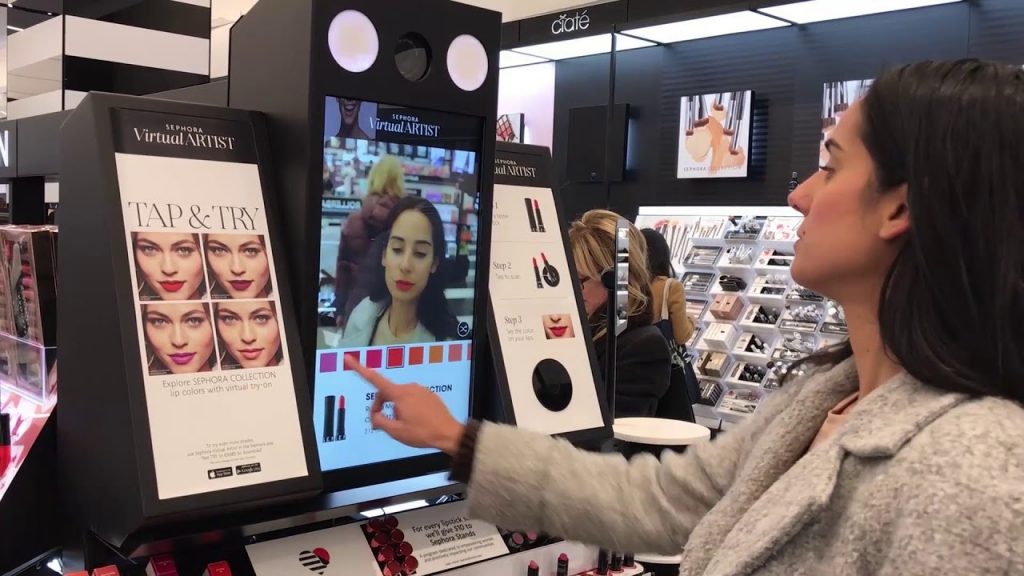 Furthermore, many furniture shops allow consumers to try a piece of furniture in their homes before buying it.
So, why is Augmented Reality in Retail so famous?
Augmented Reality aids in creating memorable customer experiences, boast higher engagement rates, increase sales, and lower customer entry barriers. Brands opting for Augmented Reality Shopping are said to have a forward approach.
In simpler terms, Augmented Reality is the next big tech trend for online shopping.