4279 Views
PHP is a dynamic server-side scripting language for web application development. It makes a website or web application highly interactive. Online business always strives for such advanced functionality to win the hearts of users by offering the best shopping experiences.
PHP also is famous for its open-source platforms to deliver CMS, ecommerce, CRM, ERP, and other functionality with ready to use & customized solutions. Interestingly, these open-source platforms are PHP frameworks by functionality and equipped with the latest and bespoken tools to create a web identity or functional storefront online.
Today, we are going to know something useful about the best PHP open source ecommerce platforms to build an online store for your existing business or an idea. Before jumping on listing the PHP open source ecommerce platforms, I would like to clarify some exclusive gifts of open source platforms and the hindrance of those as well.
Why Should A Business Opt For The PHP Open Source Platform?
Open source means vendor free solution.
It lets you tweak source code to customize the solution.
To create a unique identity & meet the custom needs of a business, mild to intensive customization is mandatory, and open-source permits it well.
Integration of upcoming technologies and advanced services, open-source is the best way.
A Few Hindrances of Open Source Ecommerce Platforms
It always demands the involvement of expert developers at different degrees.
It requires hosting solutions at your end, and it adds the cost if you left free hosting options for the sake of better security.
It needs integration of plugins or extensions, and many are paid.
It demands regular updates and maintenance from ecommerce merchants.
With these exclusive insights of the pros & cons of PHP open-source platforms, let me name at least the top seven (7) platforms to make the right selection for your ecommerce needs.
Magento – PHP Ecommerce Platform
Magento is considered as the king among PHP-based open-source ecommerce platforms. It is thanks to its unbeatable traits and framework capacities to yield feature-rich online storefront.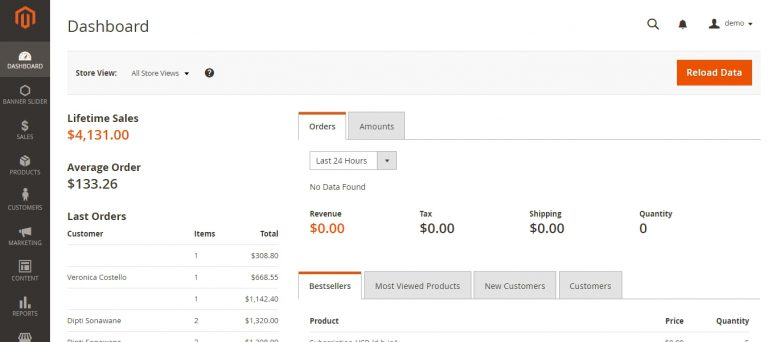 [Image Source: Courtesy to https://www.magestore.com/magento-2-tutorial/what-is-magento-2/]
Pros of Magento:
You can get almost all & the latest bells & whistles that an ecommerce merchant anticipates ideally from an advanced ecommerce platform. Moreover,
It has a flexible and open architecture to turn your ecommerce aspirations into reality.
It enhances business agility and productivity.
It gives personalized and seamless shopping experiences.
It offers enterprise-grade scalability and performance.
Secure payment with the desired payment gateway.
Magento 2x is a plethora of features and functionality that hardly needs an extension or APIs to integrate.
Cons of Magento:
Due to high complexities in code, architecture, and everything, it is clunky and resources hungry.
It certainly demands the assistance of a team of seasoned Magento developers right from concept to deployment and maintenance.
Must Read: What are the benefits of using Magento eCommerce Platform in 2019?
WooCommerce – Open Source Ecommerce Platform
WordPress is a powerful and top-notch CMS platform in PHP open source list. WooCommerce is similarly a powerful extension to create a compelling ecommerce storefront for an online business.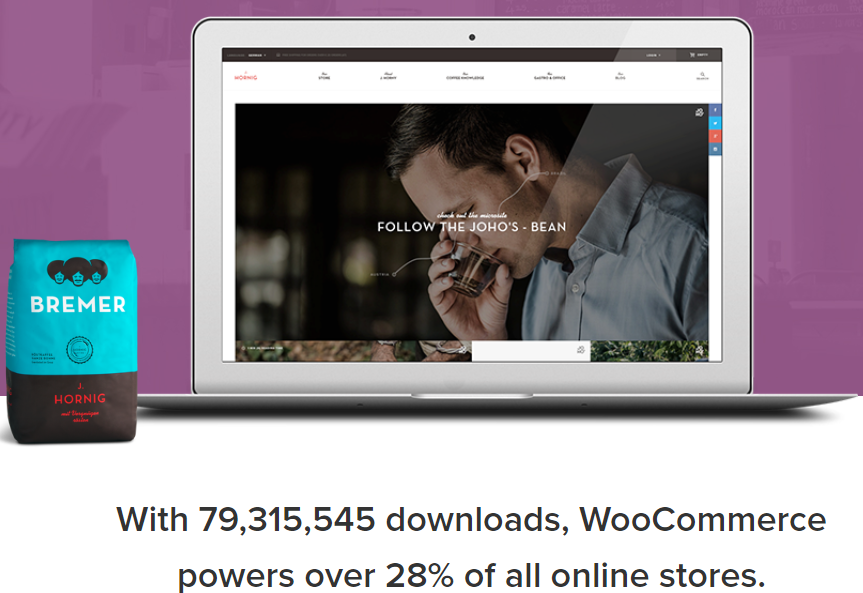 [Image Source: https://woocommerce.com/]
Pros of WooCommerce:
It combines the best of both worlds, CMS and ecommerce.
It is a modular system, so flexible and extensible to meet bespoken requirements.
The WordPress platform itself is adaptable and flexible to absorb upcoming shopping trends and technologies.
Tons of themes enable ecommerce designers to bring uniqueness and functionality.
It supports all kinds of optimization, including SEO, SMO, performance, and conversion.
Cons of WooCommerce:
It is not a full-fledge ecommerce platform. So, everything needs a cost like extensions, themes, hosting, and services or integrations.
It has a big learning curve, so it intimidates startups and ecommerce merchants migrating from Shopify like cloud-based SaaS solutions.
OpenCart – PHP Open Source Ecommerce Platform
It is a pretty easy to go and lightweight open source ecommerce solution made for startups and SMBs in the first place.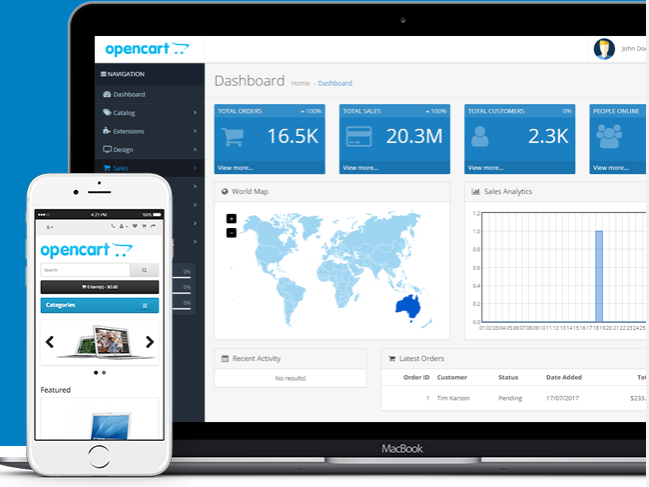 [Image Source: https://www.opencart.com/]
Pros of OpenCart: 
It is an affordable and quick start option for startups and SMBs to try on ecommerce without taking much risk.
It supports multiple stores, catalog, order, and product management.
It has built-in SEO features and supports for social media.
It has tons of extensions and themes to carry extensive customization of stores.
It offers reliable support and a vast community.
Cons of OpenCart:
It is poor in features and functionality compared to Magento.
It requires integration of a lot of plugins for highly customized solutions.
PrestaShop – PHP Open Source Platform
It is an ideal ecommerce platform with required features and functionality to woo modern shoppers.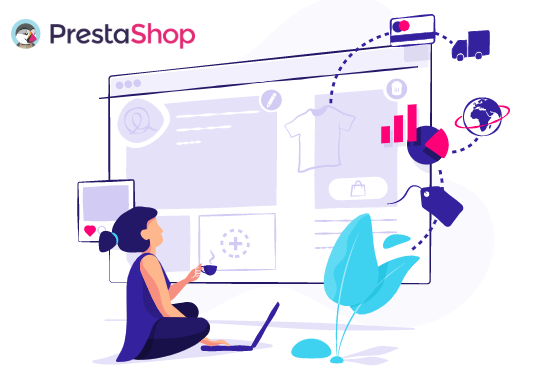 Pros of PrestaShop:
It offers a user-friendly & comprehensive UI for various ecommerce tasks.
It is a lightweight platform with the best performance, multi-store, multilingual, and multi-currency support.
It has the best collection of themes and extensions to meet the custom requirements of modern shopping trends.
Cons of PrestaShop:
It is not scalable and robust ecommerce solution like Magento.
It demands the integration of extensions extensively, and most of those are paid.
It is a poor solution in terms of marketing needs.
Drupal Commerce – Ecommerce Platform
Drupal is an enterprise CMS to create large scale web portals. Universities and government organizations are fans of it around the world. The Drupal platform has provisioned a separate module for ecommerce enthusiastic looking for CMS benefits along with an ecommerce platform.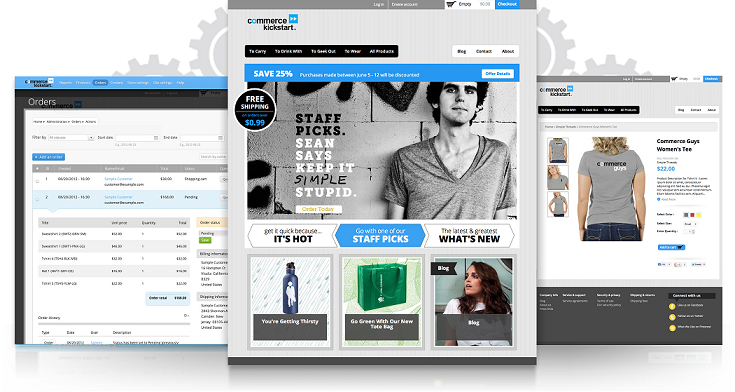 [Image Source: https://www.drupal.org/project/commerce_kickstart]
Pros of Drupal Commerce:
It is a high-performance ecommerce platform in overall speed thanks to built-in caching.
It has an unbeatable security system constantly protecting against bugs and internet malicious activities.
It has a generous online developer community ready to help anyone.
Cons of Drupal Commerce:
Drupal has a stiff learning curve, and without the help of expert Drupal Commerce developers, ecommerce merchants can't start the platform and run smoothly.
The site could be resource hog due to the presence of tons of components and extensive modifications.
It needs high power hosting like VPS or a dedicated server, and it is a costly affair for SMBs.
Zen Cart – PHP Ecommerce Platform
The aim behind the birth of Zen Cart is to facilitate non-developer users to create and run an ecommerce website. Technically, Zen Cart was a fork of OsCommerce with updated aesthetics and features.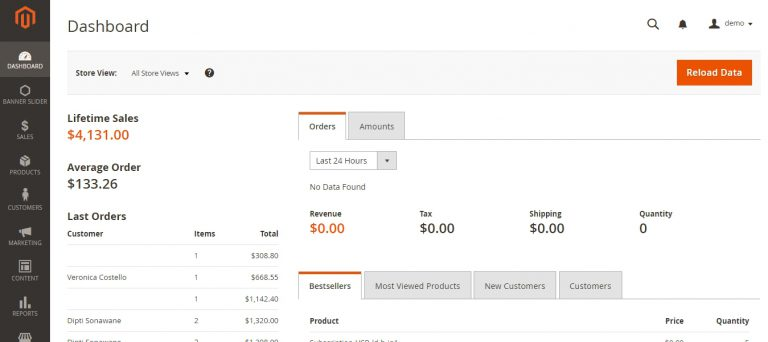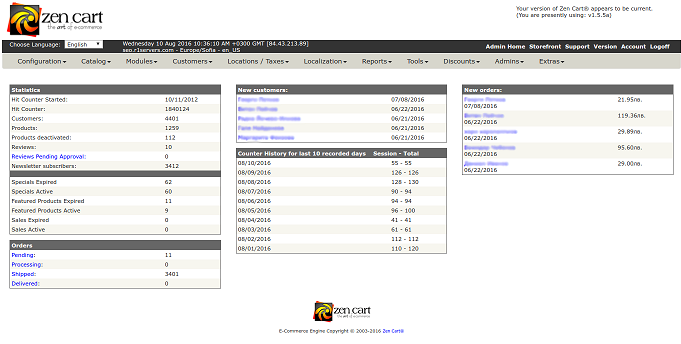 [Image Source: https://en.wikipedia.org/wiki/Zen_Cart]
Pros of Zen Cart:
The most appealing thing in Zen Cart is a totally free platform because its extensions also are available free of charge like the source code.
It supports unlimited products without performance glitches.
It is a secure platform thanks to its compatibility with numerous SSL certificates and other security technologies.
Cons of Zen Cart:
It has old-fashioned UI that deteriorates the charm of shoppers and merchants both.
Original platform support is missing, and you have to rely on community or developers you have hired for the development.
It demands extensive expertise in PHP and some in Zen Cart development. So, finding the right talents is daunting.
Recommended: 5 Ways to Use AI-Powered Chatbots To Increase Conversion Rate for E-Commerce Business
OsCommerce – PHP Open Source Ecommerce Platform
Once upon a time, it was king among the ecommerce open source solutions, at least before the birth of Magento. Despite its profound history, it has a thriving and extremely supportive community.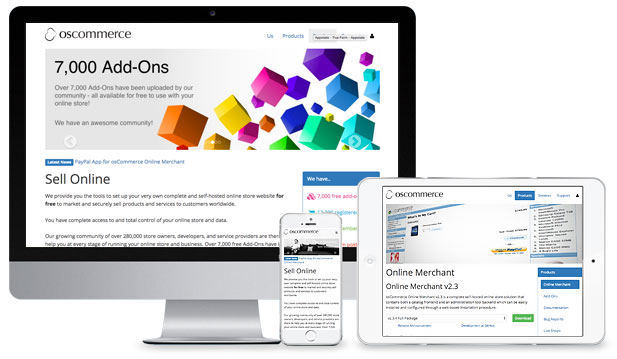 Pros of OsCommerce:
Like WordPress, OsCommerce has an awesome community and success record.
The majority of plugins are free and highly useful in the current context. That's a big thing in itself.
It is a feature-rich platform with 7K+ features and constantly developing despite several constraints that the platform inherits.
Cons of OsCommerce:
Platform scalability is limited against Magento despite provisions to add infinitive numbers of products.
It is a heavy maintenance platform, so compels to stick with the development partner throughout its lifecycle.
Performance glitches are frequent, like crashes and breakages.
How Do You Pick the Best One for You?
One thing is obvious that almost all platforms demand the active involvement of ecommerce developers with platform-specific expertise.
It means you have to find out highly reliable Ecommerce Development Company or a team of Dedicated Ecommerce Developers for every requirement right from selection to maintenance.
The selection of the right platform greatly depends on your budget, nature of your business, and anticipated future requirements.
Author Bio
Rose is a senior editor at Top Firms. She is a technology blogger since 9 years. She is a badminton champion at national level.