2281 Views
Technology not only revolutionizes enterprises but requires consistent advertence. Enterprise infrastructure, framework, and application integration is less beneficial and more of a mission-critical concern. In the past decades, enterprises have become increasingly dependent on software applications for carrying out critical business operations. Those applications have made enterprise operations convenient and well-organized.
Such a symbiotic relationship between technology and enterprises encourages business intelligence, digital customer experience, world-class workforces, partner ecosystems, and efficient operations. In simpler words, enterprise applications have become the core of a company's IT structure.
However, such rapid advancements require a deep understanding of enterprise application services to decipher their viability.
For any successful business transformation, digital transformation is pivotal. Gone are the days when people had to manually monitor and document everything. Digital transformation is the way now. Many companies have embraced this in the wake of the unexpected pandemic. Companies after transforming everything to digital means can automate certain processes such as payroll, employee attendance, customer engagement. This helps them to concentrate on expanding their business.
What are Enterprise Application Services?
Enterprise application integration services lessen the gap between different software programs, empowering data flow from one program to another via interface data management. It enables information exchange from one software program to the other.
In a way, enterprise application services help organizations utilize their full potential. The main aim of such application integration employs using data generated by different departments efficiently and insightfully. EAI or enterprise application services includes:
customer relationship management
supply chain management
internet & marketing communications
business intelligence & analytics
human resources
enterprise resource planning
e-commerce optimization
EAI sparks digital transformation that allows efficient transfer of data from one system to another. With the right tools, techniques, and structures, smooth and seamless data integration amongst applications is a given. In the long run, EAI exists for better information sharing and synchronization.
How did Enterprise Application Integration Services come into existence?
Popular since 2000, enterprise application services solve an older issue. It enhances interoperability between two systems in the IT architecture.
An organization might use a single system, developed either in-house or licensed through a third-party vendor to maintain customer relationships, fortify supply chain management protocols and make something out of the business logic. Such modernization assures business growth and transformation.
In reality, breaking business procedures into multiple smaller logics allows easy implementation of the newest technologies and adaptable business solutions. It simplifies the IT architecture, wherein enterprises can grab onto the benefits of this distributed modular system.
EAI came into light for four reasons:
Allow interoperability amongst various infrastructure components using different operating systems, data formats, interfaces, etc.
Allow data integration for a functional and standard flow of data between applications and systems, enabling database consistency
Allow data flow and handling in a robust, stable, and scalable manner
Enterprise Application Integration Services models 
To prevent the complexity of complex infrastructures, organizations employ EAI models to standardize the process across the system. Rather than multiple applications requiring multiple connections, EAI models use methods that connect to an IT system., which in turn, is responsible for data integration, message brokering, and adding other functionalities to a network.
In simpler words, EAI simplifies the modular system. It assimilates adapters for connectivity, transformation engines to breakdown data formats for customers, integration engines to handle complex routing conditions, and all the other components required to unify as an integrated front.
It modulates a flexible architecture where new features can be added or removed as needed, simply by changing the EAI configuration, allowing multiple applications to access and use a single service.
The following are the two EAI models:
Traditional EAI: The Broker Model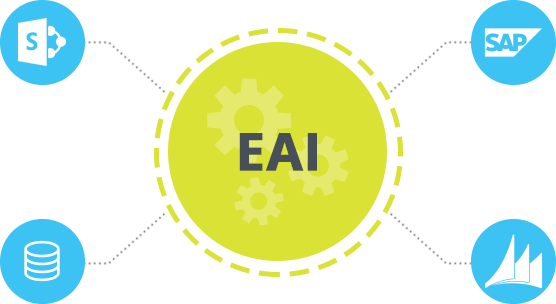 In this model, a central integration model called the broker resides in the network, offering data transformation, routing, and other inter-application functionality. All app communications flow through this hub, thereby enforcing data concurrency.
This model consists of monitoring and auditing tools, allowing users data access through the systems. Typically, it consists of tools to perform configuration and routing between systems and applications.
Modern EAI: Enterprise Service Bus (ESB) Model
The lack of clarity about the EAI architecture in the broker model leads to its failure. Moreover, as per the traditional model, the EAI products created were expensive, heavyweight, and limited in their power. A failure in any one component malfunctioned the entire network, ultimately resulting in an untimely suspension of the broker model.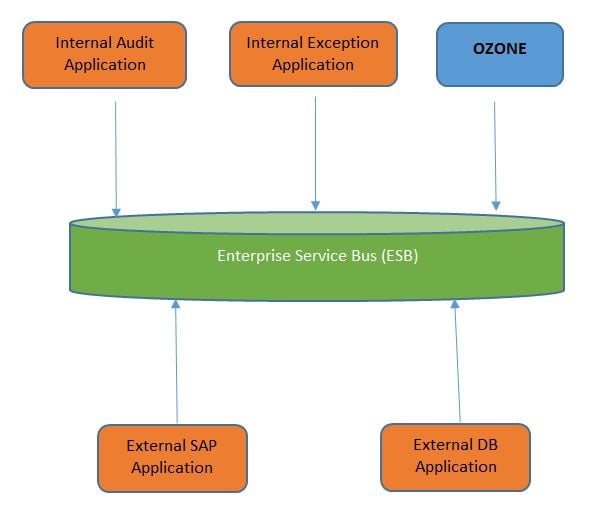 The ESB model consists of a central routing component that conveys messages from one system to the other. Its architecture distributes data integration tasks from a single element to other network parts.
Enterprises can group components to allow its location-wide hosting anywhere within the infrastructure or duplicated for scalability. Moreover, all the identified functionalities are enclosed as separate components, resulting in lightweight, tailor-made and reliable integrated solutions.
Its core features or services include location transparency, routing, monitoring/administration, security, protocol conversion, data transformation, and data enhancement. Unlike its traditional model, the ESB model is scalable, distributable, SOA-friendly, easy to expand and adapt.
The top 7 Benefits of Enterprise Application Services 
The power of enterprise application services allows it to transform multiple fronts and back-office business processes. In doing so, enterprise application integration services enhance information sharing, simplify IT processes, automate workflows, and improve IT flexibility.
However, the benefits of EAI services extend far beyond.
It encourages smooth information sharing:
Enterprise application integration allows data sharing among different software programs within the organization and those establishments located outside. It accumulates data, removes redundancies, and stores it for future uses. Data integration occurs at a single point, allowing users to access complete and up-to-date information. It smoothens the flow of information from departments to individuals. All in all, it reinforces an effective and efficient data collaboration within an organization.
It reduces complexities in the network system:
Not every individual understands the nuances of the IT structure. The employees find it difficult to employ new technologies, resulting in a steep learning curve. Moreover, the bigger an organization, the complex it becomes to handle the IT infrastructure. Enterprise application integration services provide a reliable solution. It overcomes all these barriers, simplifies the process, and renders better functionality to several applications. It helps smooth business operations.
It automates business workflows:
Enterprise application services involve data collection from multiple software applications. For instance, data received from a CRM platform can be integrated with email marketing services and deliver targeted messages to the customers based on the market insights like custom behavior, demographics, etc. All of this deciphers the success of your email campaigns. That said, all the data integration will help you invest in resources that are profitable and effective. Other than automating business workflows, it will increase its efficiency.
Makes your business more agile:
Enterprises can improve the speed and efficiency of their decision-making process with the right data and real-time updates. With EAI in action, organizations can explore opportunistic avenues and make the most out of them. Enterprise application services make your network systems agile enough to respond quickly to adversities and opportunities alike. It aids organizations to maintain their reputation in the market, recover supply chain disruptions, and work from a single interface.
It erects a flexible IT infrastructure:
IT infrastructures change every day. Therefore, assuring that your network system embraces such changes and adapts to them is a prerequisite of every enterprise. Enterprise application services add flexibility to the IT facilities: addressing scalability issues, increased demand, adaptability, and growing customer expectations.
Getting your enterprise future-ready:
For enterprises, adaption for advancement is an inevitable reality. Every business transaction defines its future scope. Enterprise application integration services modernize the processes, untying the knots associated with monitoring and analysis. EAI is one of the best ways to control business operations and make them more productive. Essentially, it allows enterprises to adapt to the present and future technological improvements.
Why Enterprise Application Integration services?
Technological innovation requires agile information systems. For enterprises, adapting and adopting modern technologies is one way to ensure survival in the competitive race. Without it, enterprises are nothing more than brick and mortar stores conducting business and usual operations.
With enterprise application integration services, organizations can integrate technology and applications, reducing costs and achieving real-time benefits. EAI enforces productive techniques that amalgamate functionality and application information in one package. Conversely, EAI benefits customers as well, allowing easy data access from tangled structures.
Moreover, EAI removes the congestion in business process performance that adds financial risks to the organization. It also guarantees that even while working in groups, the systems enjoy the independence required to achieve a specific purpose. EAI stores relevant information and transactional data related to business operations. They help speed business growth and improve their performance. Enterprise application integration services fix problems faced by your IT architecture and ready it for the future.
Conclusion 
Integration and customization of enterprise apps are necessary for business growth. It mobilizes administrative resources and adds new customers. Enterprise application services enhance your enterprise's reputation and performance, affirming it rhymes with business goals. That said, enterprise application integration services offer nothing but a bucket full of benefits to modernize your applications.
Do you think enterprise application services can reform your IT system? Connect with us for a superlative experience.