6992 Views
Google Maps 2020, on its 15th birthday, came forth with a treat for its users, a new updated and spectacular application, with every feature that a user ever wanted. Since its inception on February 6th, 2005, Google Maps has been transforming the lives of people by helping them to reach their destinations, discover new places, and embark on amazing experiences. This makes Google maps new features, even more compelling and amazing to explore.
According to statistics, in 2018, Google Maps stats helped drivers with 1 billion kilometres of alternative routing, helping them to reach their destination quicker and faster.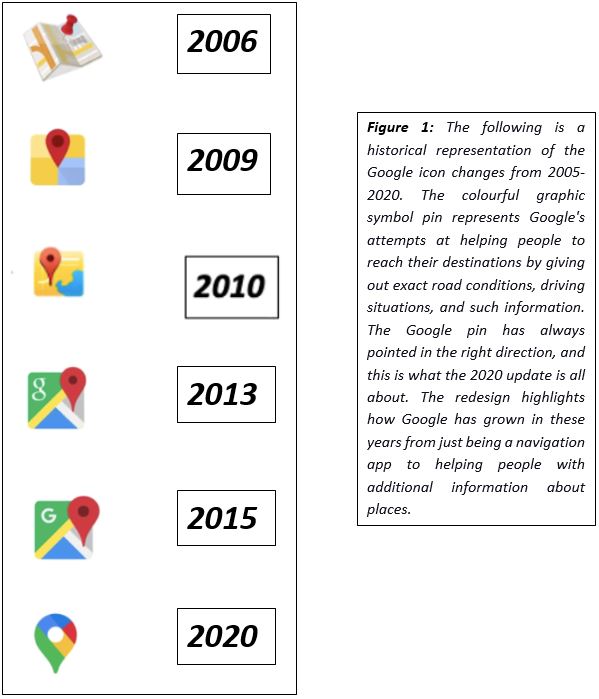 The above image shows google maps symbols list 2006-2020. It also displays how effectively Google is working on the updates of Google map.
The new-look came forth as a present for its users on Google Maps' 15th birthday. The redesign focuses on five special categories, Explore, Commute, Saved, Contribution, and Updates. This is a major change since the previous version of the app had tabs for Explore, Commute, and For You section.
Furthermore, the company has some other features in pipelines, like the Live View, launching in a few months. This is probably going to be the most promised feature from Google Maps, helping users to use Augmented Reality to provide turn-by-turn directions over the real world when you hold the phone up. Other than this, Google Maps will be able to provide more information about public transport starting next month. This feature will be similar to the one rolled out by Google, where it tells you if your train is likely to be crowded at certain times. 
Google Maps New Features: A Refreshed App Version for Users
The app features a new pin that is a major departure from its last rolled out an update, in 2015 which represented the logo resembling more like a map. This is the first time that Google has removed the 'G' in its logo with just a pin.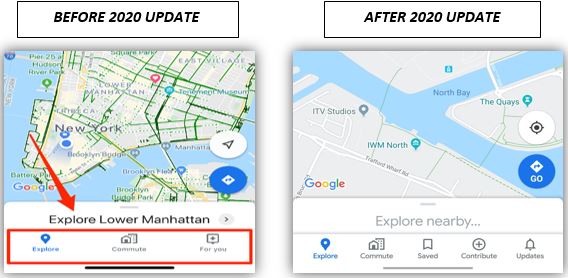 Figure 2: The following Home Page image shows the major changes in Google Maps. The new version of the app encloses five tabs, instead of three in the previous ones. These include the Explore, Commute, Saved, Contribute, and Updates. These sections had to be previously accessed from the sidebar of the app, but now they have been placed on the front view. 
Here's What the New Tabs on Google Maps do  
Google Maps, announced last Thursday, regarding a major redesign for its app on Android and iOS versions. The team talked about rolling out Google Maps new features, and in the subsequent months, users will enjoy more upgrades like Public Transport and Augmented Reality. According to Google, this new update will make it easy for users to navigate the app, and they will not have to dig into the application to find some options. Amongst the five tabs, three of them are new, and the rest two were present in the previous app versions as well.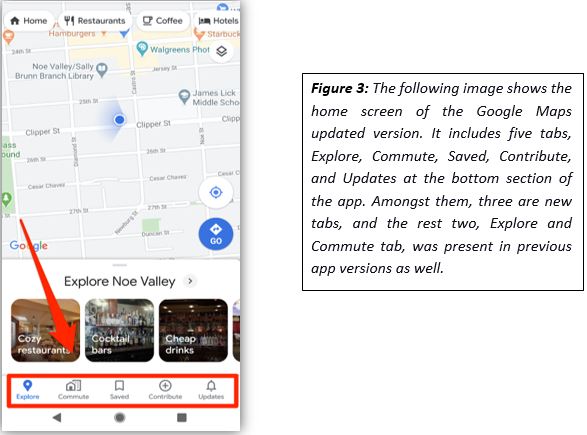 Commute: This tab lets you how long will take to reach from one place to another based on your transportation preferences. It gives you step-by-step instructions about your trip, depending on your mode of transportation. 
Explore: This tab shows you various locations like the restaurants, events, and featured lists from other Google Maps users, depending on your current location. This way, you can discover everything happening around you, right from the nearby events to eateries. 
Saved: This tab shows you the various restaurants, bars, landmarks, and other such places that you have bookmarked to see or visit. Suppose you are visiting a new city, and you want to make a list of all the places that you want to visit when you reach. This tab can save everything that you want to see and explore in one spot. You can make different lists for different places, and Google will prompt with options you should visit.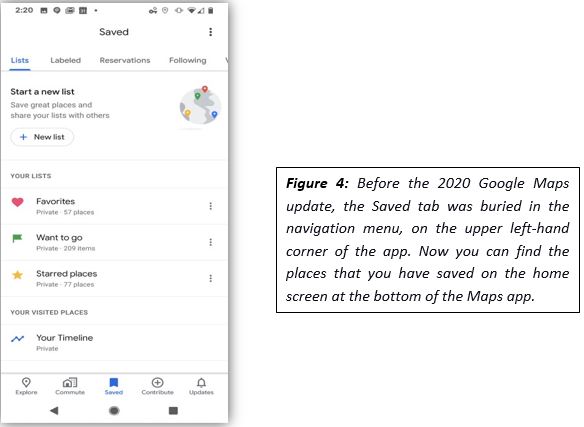 Contribute: This tab was named 'Your Contributions' before the 2020 update was rolled out. It lets you share your reviews and photos of interesting locations that you've visited. You can also add specific destinations missing from the map, suggest edits to the map, and let your reviews help people visiting that location. Furthermore, you can even join the Local Guides program of Google, earn points for your contributions, and rewards as well.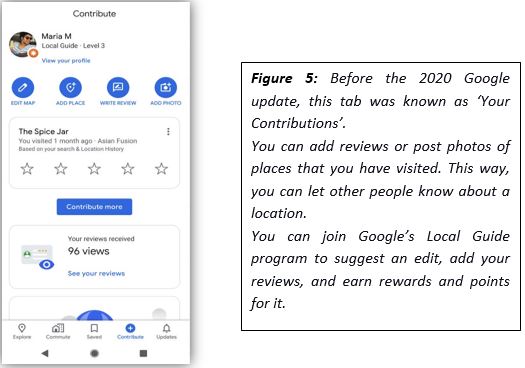 Updates: This tab resembles the 'For You' function, in the 2015 version of the Google Maps. It updates you about things happening around you, suggestions from locals, and reviews from publications like Surface and The Infatuation.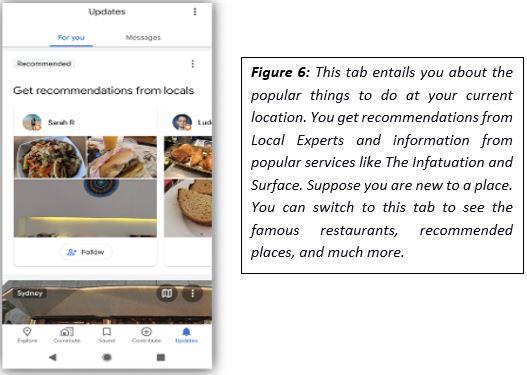 Some Amazing Features from Google will be Released in a few Months
In March, Google Maps update is going to roll out some new features that will expand its horizon. 
The updated public transit information: The first Google Map update will be for Public transit. With this feature, you will be able to see how crowded a particular public transit is. This new feature comes in addition to the already existing ones, which tell you whether a train or bus is expected to be crowded or not.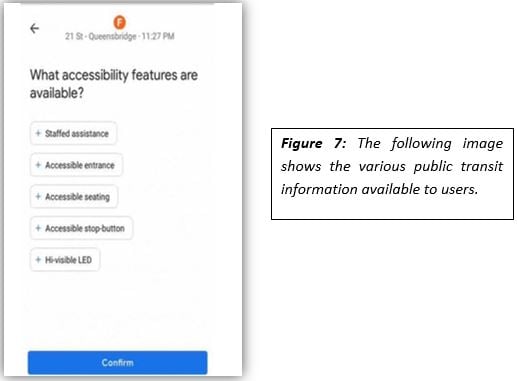 This Google Maps new feature, however, entails users with details like temperature, wheelchair accessibility, whether there are women seats or onboard security, like security staff and security cameras present or not.
The Live View: This new augmented reality feature from Google is going to give you vibes like you're playing Pokémon Go. It details digital guides like big arrows to the pathways where you should walk, on top of the real-world background. It will give you directions to any location, all with its new AR-powered feature, instead of simple red dots. This Google Maps update feature will make walking easy and fun for you. All you have to do is point your camera, and you will be able to see how far away and in which direction a place is.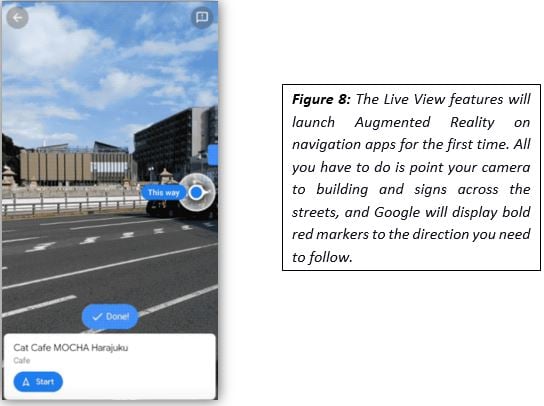 Google Maps' Data Storage Issue Doesn't Lessen its Popularity
With so much said about the Google Maps update, one of the biggest question over here is, 'Does Google's storage of 21 million gigabytes of data doesn't concern us, now that we have the prospect of using other navigation apps in the market?' 
Google Maps has received criticism, previously, over data storage issues. Following such concerns, Google released a new series of privacy tools, which can lessen your data storage prospects. However, there are still many limitations when it comes to Google's data storage activities. For example, turning on Incognito Mode in Maps doesn't affect how an activity is recorded or saved in Google's history. The crippling thought of the amount of data Google has stored about us for all these years has made many people quit using Google apps.
Google is known for its mastery in the online ad business, and how it capitalizes on people's reliance through its advertising power. Google Maps have a lot of potential as an ad platform, a good medium for businesses that want to earn revenue through it.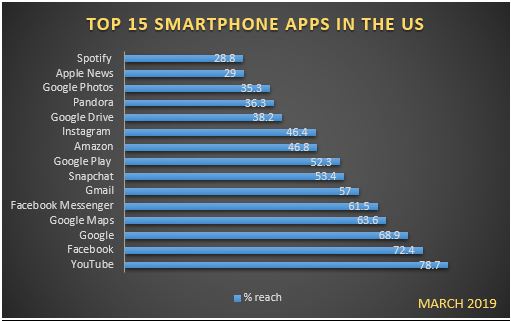 Figure 9: The following graph shows the most popular smartphone apps in the US. Google Maps occupies the 4th position coming just after YouTube, Facebook, and Google. According to some figures released by Comscore in 2019, nearly 67% of Android and iOS smartphone users utilize Google Maps. 
According to a report, Google Maps is 6 times more popular than any other navigation app. Waze, an app owned by Google has an adoption rate of only 12% among the respondents. Apple Maps comes third in the list and has an adoption rate of 11%.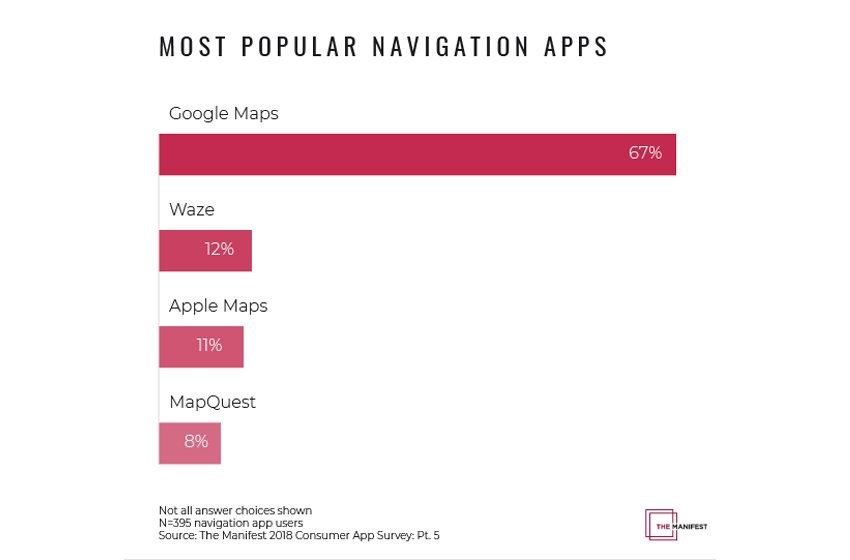 Figure 10: According to a report, Google Maps is 6 times more popular than any other navigation app. Waze, a navigation app owned by Google, has an adoption rate of 12% among the respondents. Apple Maps comes third in the list and has an adoption rate of 11%.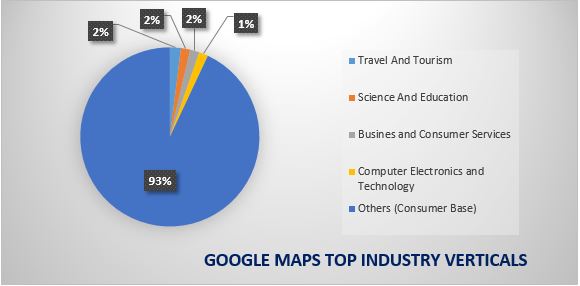 Figure 11: The following pie chart shows the top industry verticals where Google Maps is being used. Furthermore, the top websites using Google Maps are Google, Samsung, Taboola, Booking, Cricbuzz, Stack Overflow, Hulu, JD, Traffic Junky, and Sozcu.
Furthermore, Google maps are the most used navigation tools in the world. The top 10 countries using Google Maps include the US, Japan, Germany, the United Kingdom, France, Russia, Italy, India, Poland, Canada, and the Rest of the World.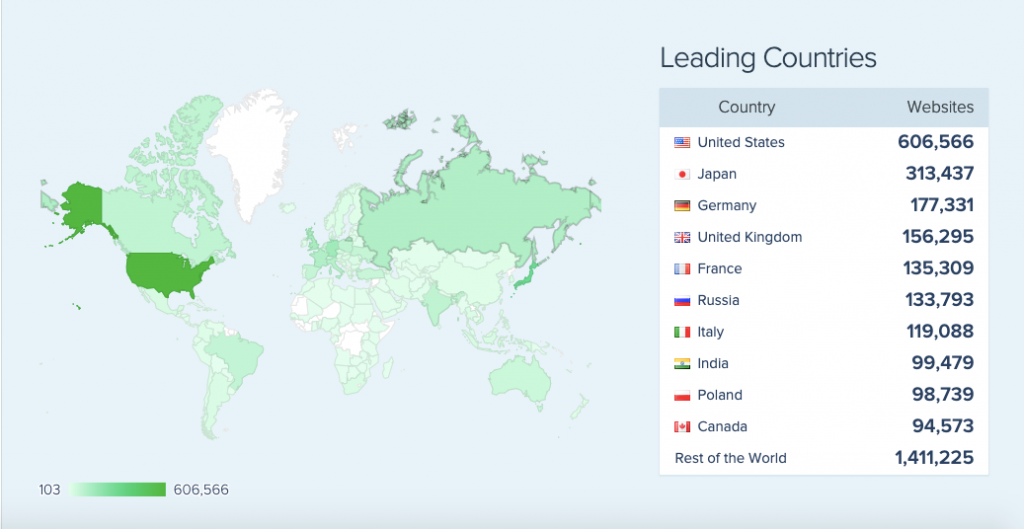 Figure 12: The following shows the Google Maps usage by websites across the globe. The segment is led by the US, followed by Japan, Germany, The United Kingdom, and France in the top 5 nations.
Read Also: How to Find the Best Python Development Outsourcing Company?
Why is Google Maps so Popular in the Market?
Recently, Apple Maps released some new features as well. Furthermore, Apple also highlighted its Maps' privacy policies, which unlike Google Maps, doesn't keep a history of where a user has been. However, no matter the data storage issues clouding Google Maps, the app is very popular in the market. The reason is, Google Maps is not just a navigation app, but it means more to customers looking for specific places or businesses, and for small businesses who want to make their business more accessible through it.
With customers and businesses both going online, Google Maps has helped in bridging the gap between them, a revenue source for both the former and the latter, a genuine reason for its popularity.