2040 Views
So, you've made an online blunder. 
Now, your customers are questioning your approaches and this is considerably harming your online reputation as well. 
Big deal, right! 
For somebody, who knows how to manage an online reputation crisis, it is just a casual issue requesting their attention. 
The point is, mistakes happen, and that is fine. However, if you don't counter them and try to solve all the problems that hamper the online reputation of your brand, that is troublesome. 
No matter, the extent of harm done, your online reputation needs rebuilding. 
So, the big question is, how should you do it?
Simple, by reviewing and analyzing the damage, employing tips for online reputation management, and adding to the current ORM strategy. 
Assessing the damage done your online reputation
First things first, you need to assess the collateral damage done by the online fallout. There are several ways to do it. You can hire online reputation management services to take over this task too. It will be difficult, but with the right company, you can get rid of the negative attitude towards your brand and move on. 
Track the information circulating about your business 
Keeping a vigilant eye on the information circulating about your brand since this can influence your overall approach. For example, if there are too many negative comments towards the business, then restoring your reputation can be a daunting task. Also, this is where content marketing comes in handy. Tracking your business online is easy with Google Alerts, Mention, etc. 
Research customer's comments 
The thing is, customers will talk about the online crisis. But, the important thing is to get a sense of how your customers are treating you and understand how this will affect your overall annual sales. Therefore, review the comments you're receiving on your online channels to get a gist of the situation. 
Take control of all your communication channels
Before you can start the restoration process, you need to focus on your communication channels. This includes your website, social media pages, and other internet properties. You can issue an apology letter without sugarcoating anything. Reveal the right information, the correct details of the incident, and accept your mistake. Defending your public image can only work if you own it up, and be brief and factual about what happened. 
The best ways to indulge in online reputation management post the crisis
With so many businesses going online, it is more than fair to get an expert social media marketing agency to handle your online reputation and rise against the competitors. The social media savvy professionals can calm down your angered customers, and establish control over the situation. 
The following are some steps that'll help you tackle the crippling brand reputation. 
Talk about the issue
Maybe, the problem is because a customer pointed at the negative aspects of your products/services, or because one of your social media posts talked about a non-sensical issue. No matter the problem, the best way is to talk it out. You can reply to their comments, or to the posts they have tagged you in.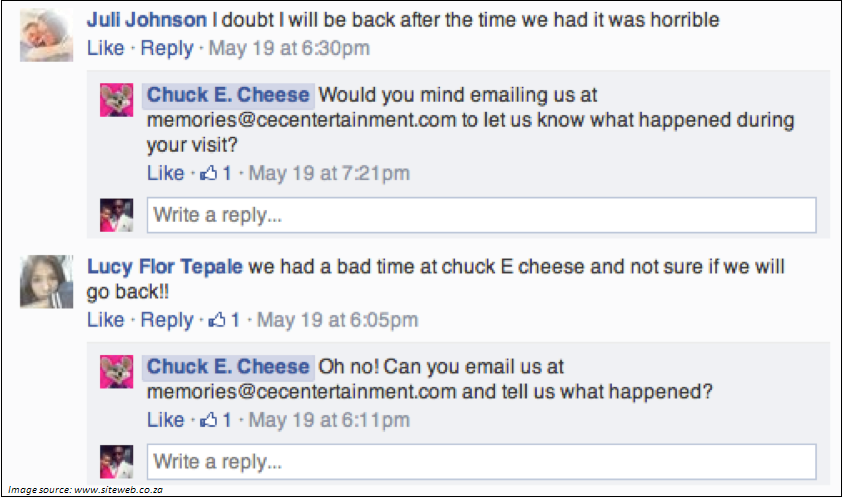 For instance, a customer questioned the food quality of Chuck E. Cheese and posted an online comment about it. There is nothing more devastating than losing a customer, and the brand tried to avoid any such mishap. They asked them to email what went wrong so that they can resolve it. 
The conclusion, talk to your customers about the issue. That will solve most of it. Also, it would cast a positive impression of your brand on the minds of other peeps as well. 
Never leave any comment unattended
Do you know why people talk about negative experiences on social media?
Because everyone can view it, and it makes the brand obliged to answer to their query. 
And, the worst you can do is ignore a negative comment and think it won't cost your brand anything. Here, you are completely mistaken!
A customer is not because of a brand, but a brand is everything because of a customer. So, when you don't respond to a customer query, you are adding fuel to fire. 

This comment was posted by a customer, however, the brand completely refrained from attending it. The aftermath is, your business is labeled as brand-centric and not customer-centric. People hesitate to associate with you, and just because of a single comment, your brand shackles to the ground. 
Give free coupons or discounts to your customers 
Social media is like a customer service portal where angry users can post their comments, and the flexible brand has to make sure they make up for it. So, if your brand is proved guilty, just accept it. Also, if you really want to make it up to your customers, you can send me a free coupon or surprise gift to make up for the lost quality services.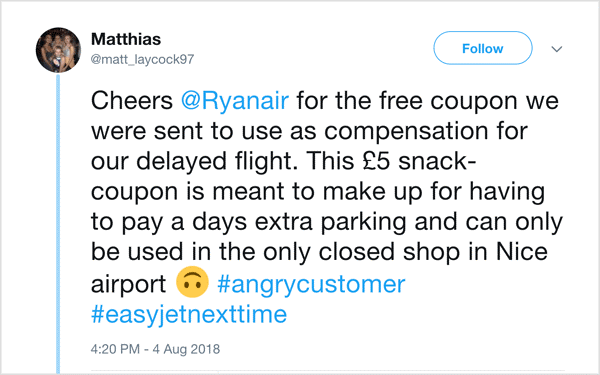 For instance, an irritated customer was sent a free coupon as compensation for his delayed flight. Every customer loves gifts, discounts, or coupons. This will solve the issue and make customers feel prized and important for the brand.
Flip the comment to your advantage 
The only way you can handle an angry customer is with a perfect strategy and a creative thought. The right steps can turn the anger into loyalty and trust. And, that is what matters. 
Show them that you accept the responsibility and are sorry for the damage done. Show your customers that you care about their thoughts.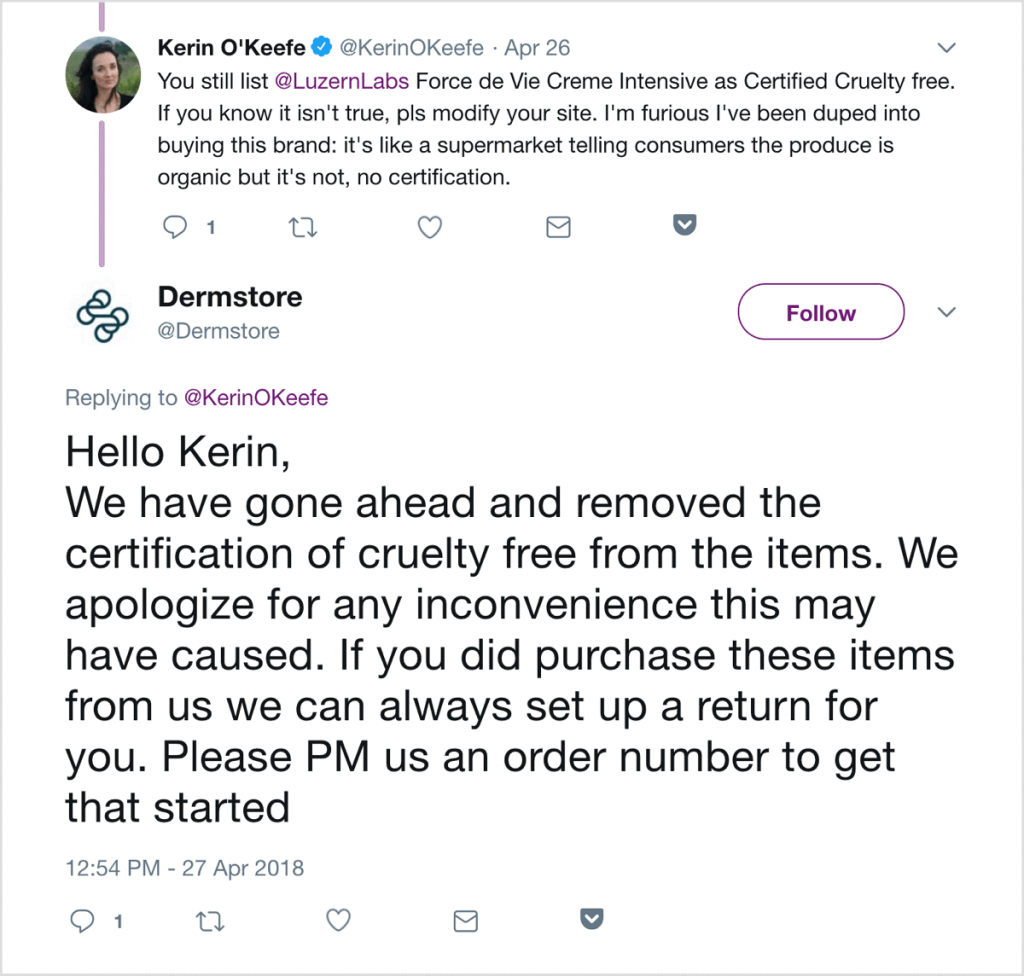 For example, this customer questioned the lack of certificates illustrating their organic and cruelty-free products. When he put forth his thought, the brand accepted the responsibility and apologized for the same. Handling such delicate issues is easy and tricky at the same time. So, choose your next steps wisely. 
If you can, provide a product upgrade 
Many-a-times, a customer is not satisfied with your services and takes up their frustration on your social account. It might be a mistake on your end or maybe exaggerated by the customer. So, instead of defending your brand, you can maybe listen to the customer and provide a product upgrade. Such a step will improve your image in front of the customer.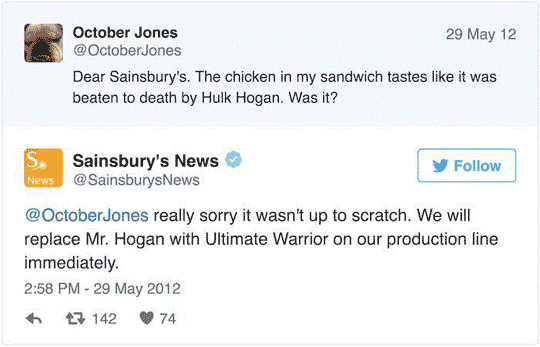 For instance, Sainbury's News replaced Mr. Hogan with Ultimate Warrior and let the customer know that they are extremely sorry about it. 
Quality services always pay 
When you provide your customers with meaningful services, they sure make a point to extend a positive message to their friends and family.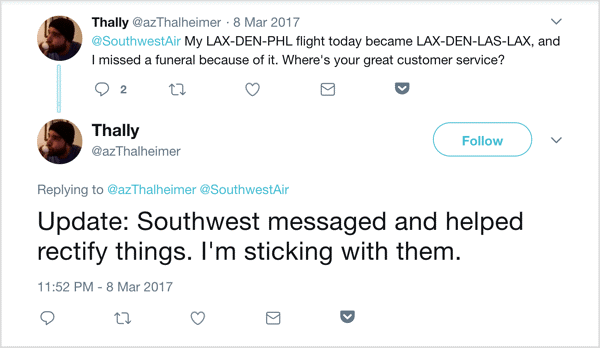 For instance, quality services resumed the trust of a customer in the Southwest Air and they let know about it to everyone. 
Conclusion 
Maintaining a positive and customer-focused approach is the only way a brand can funnel its revenue sources. Indulging in online reputation management services is highly imperative for a brand, so shouldn't take any risks with it. Also, several tools can help you track your online reputation.