960 Views
Business process outsourcing, also known as BPO, is a demonstrated technique to help your company develop, yet many businesses are wary of the label "outsourcing." Understand that the ultimate goal of Business Process Outsourcing is to do your task at a lower cost without sacrificing quality.
Especially, if you live in a country where you need to pay a massive sum of money for services, outsourcing is the best option. Getting your work done by someone who is better skilled and cost-effective, is a good option.
Today, in this article, we will discuss the fundamentals of business process outsourcing and how you can transform your business using BPO services.
What is Business Process Outsourcing?
As the name implies, business process outsourcing is the contracting out of a specific task or even the entire process to a third-party service provider, known as business consulting services. More often than not, businesses use BPOs to enhance their primary sales and service goals.
However, depending on your company's size and staff knowledge, you can consider using BPO for myriads of other verticals, such as sales support, payroll, accounting, HR, onboarding, and even insurance-related chores.
BPOs provide two types of services:
Back-office Services: These include billing, purchasing, human resourcing, and database management, among other internal operations.
Front-office Services: These include identifying leads in your sales pipeline, providing customer service, handling logistics, etc.
Business process outsourcing services can help you transform your business into a reputable brand. BPOs have a team of skilled people who work to your advantage by handling processes that take too long or require knowledge that your staff lacks.
Here's how to turn your company into a renowned global brand with BPO:
Undeniably, every business is started with the objective to become a globally renowned and demonstrated brand. However, becoming a brand takes a lot of effort; you need to implement sound strategies. And outsourcing your business process is one of them.
Hiring reputable business consulting services can provide you with cutting-edge business process benefits with guaranteed results. BPO service providers are aware of the shifting needs of their customers as well as the most recent market trends. They aim to provide businesses with forward-thinking business strategy concepts. More often than not, they give you advice on improving the efficiency of your company. In a BPO, the accomplished group works with the common goal to help you achieve your goals.
Moreover, they also update you on the most recent market and your competitors. The information that you can utilize to your business advantage and growth. In addition to this, BPOs provide you with round-the-clock assistance and provide you with a first-rate experience.
Here's taking a look at some of the most pronounced benefits of business process outsourcing to help you decide why you must consider hiring business consulting services.
Benefits of business process outsourcing – you can't give them go-by.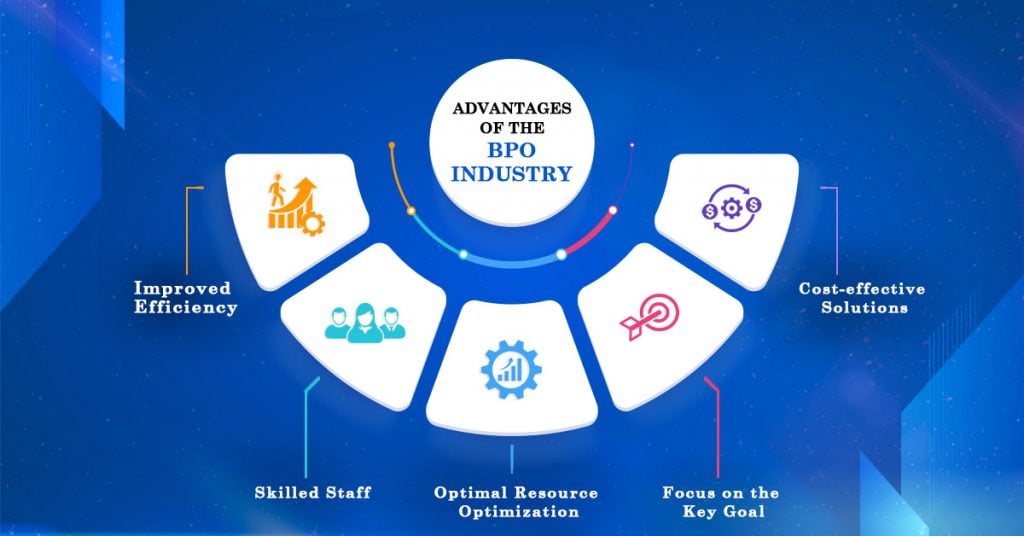 Business process outsourcing has been considered a top solution by business owners. Other than saving costs and helping you stay ahead of the competition, business process outsourcing offers you immense benefits which include:
#1. Improved efficiency: With the availability of skilled and knowledgeable people, it is simple to increase the company's efficiency. You'll be able to focus on the core business. At the same time, the BPO service provider will handle the accounting, customer service, sales, and a variety of other activities while helping you maintain accuracy in your role.
#2. Skilled staff: Believe it or not, having a skilled staff is bliss for all businesses. Because it's your employees that help you achieve your goals, however, having a skilled staff is an investment. And the biggest nightmare is to train people, and after some time, they join other companies, making you invest time in the hiring, recruiting, and training process one more time. BUT, Outsourcing solutions such as BPO Services ensure that your company has skilled personnel. You don't need to spend time and effort creating your team. BPOs have a team of skilled personnel capable of handling the task at hand with exceptional efficiency.
#3. Optimal resource utilization: You'll be able to focus your efforts and practicality on making the most effective use of your resources/assets if you use the correct services. As a result of the overall integrated approach to the functions, each business division will be better able to deliver powerful results.
#4. Capability to concentrate on the key company goal: Outsourcing business processes aids in easing the stress. You get the opportunity to direct your thoughts and efforts toward the key company goal that requires your whole attention for future growth.
#5. Cost-effective solutions: Having your own team will be a costly affair, as you will have to arrange for proper infrastructure and other facilities for them. Besides, there is a cost to train your employees to make them work towards your goal. However, you can save a lot of money by working with Business Process Outsourcing Companies. Their streamlined services make it easier for you to organize the charges properly. As a result, you will be able to exert greater control over your cost expenditures.
Wrapping up
So, this is how business process outsourcing can help you turn your company into a recognized brand. Hopefully, you will be able to make an informed decision on whether or not to use BPO services as part of your business and marketing plan.
Contact us at Cyfuture, if you're having trouble identifying the right business consulting services. We are a prominent provider of business process outsourcing services. We can assist you in achieving long-term gains. Our team of highly trained professionals will assist you in achieving predictable and extraordinary results. Wait no more and connect to our experts at [email protected] and enjoy the best call center outsourcing services with us.