330 Views
Hello there, tech enthusiast!
Have you ever wondered what fuels the digital innovations of today's most successful businesses? Or you're trying to discover how technology can transform your enterprise into a dynamic powerhouse.
If so, you've come to the correct spot. Today, we're digging into the fascinating world of custom application development services – a realm where invention has no boundaries and organizations leverage the power of customized software solutions to create extraordinary outcomes.
In 2021, the global IT services market was valued at a staggering $1.21 trillion, with the custom application development segment driving this monumental figure. Organizations all around the world are spending substantially on specialized software solutions, from small startups to Fortune 500.
But it's not just about the numbers. It's about the real-world impact of custom application development services on businesses. Imagine streamlining your processes, boosting efficiency, and increasing productivity. Visualize, providing your customers with a seamless, user-friendly experience that keeps them returning for more. These are just some tangible benefits custom application development services can deliver.
In this blog, we will venture on a journey of exploration and discovery. We'll delve deep into the modulation of custom application development, exploring the latest trends, innovative strategies, and the remarkable stories of businesses that have leveraged this technology to transform their fortunes. 
Let's get started!
What is Custom Application Development Service?
Custom application development service is designing, developing, and deploying software applications. For instance, many businesses have custom-made HR portals for their employees. 
According to a recent survey report, more than 80% of companies stated that custom application development through the help of citizen developers has given their IT departments more breathing room. 
No-code and low-code Platforms for citizen development have aided the creation of a new type of citizen development. These are tech-savvy individuals of your organization's various teams who can construct the types of apps required to streamline their business processes without writing code.
Previously, in-house development teams or IT departments were in charge of creating custom app development software. Due to low-code development platforms, businesses no longer need experienced coders to construct the required apps.
Building bespoke business apps allows users to design, create, and deploy applications tailored to their specific requirements. This sort of app has a well-defined set of criteria that focus on the particular demands of a specific user group.
These programs are designed for a specific problem, and the software is thoroughly tuned to handle that problem. Custom application development services put corporate users in the shoes of app developers, allowing them to create apps from the bottom up. It gives business users more freedom and control over their operations, reducing total reliance on IT professionals.
Facts & Figures: Custom Application Development Services
Here are the following data points that provide insights into the market size, industry demand, cost-effectiveness, and impact of custom application development services.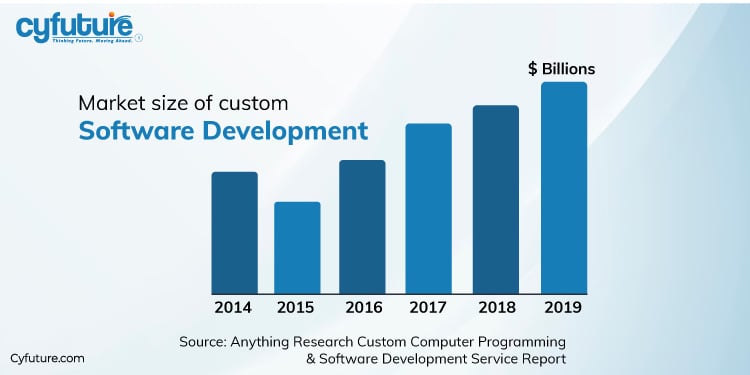 | | |
| --- | --- |
| Aspect of Custom App Development | Statistics |
| Global Custom App Development Market Size (2021) | $121.7 billion |
| Average Time to Develop a Custom Application | 3 to 6 months |
| Number of Custom Apps on Apple App Store (2023) | +1.96 million |
| Number of Custom Apps on Google Play Store (2021) | +3.553 million |
| Percentage of Businesses Using Custom Apps for Customer Engagement | 68% |
| Average Cost Savings Through Custom App Automation | 29% |
| Most Popular Custom App Development Platforms | Android Studio, Xcode, Visual Studio |
| Industries with the Highest Demand for Custom App Development | Healthcare, Finance, E-commerce |
| Percentage of Businesses Reporting Increased Revenue After Custom App Deployment | 62% |
| Average Customer Satisfaction Score for Custom App Users | 4.6 out of 5 |
| Expected Growth Rate of the Custom App Development Market (2021-2026) | 19.8% CAGR |
Grow 2X with Our Custom Application Development Services
At Cyfuture, we offer custom software application development and maintenance services that fit all business verticals. Here are some of the critical services that come with custom application development.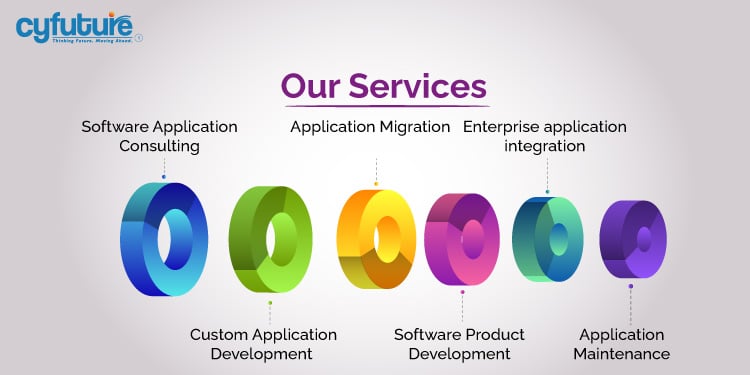 Software Application Consulting
Investigate and identify complex company needs in order to grasp them and provide software consulting services. Our tech experts defend against crucial business obstacles that arise at all stages of software development, from project conception to initiation to designing, development, and post-development consulting. 
Custom Application Development 
Custom software development services help firms efficiently apply their ideas in the creation of an application. TatvaSoft delivers bespoke software solutions from inception through post-delivery across cross-platforms, browsers, and operating systems for consistent and revenue-driven results.
Application Migration
Accelerate time to market with simple application migration services that fit customers' specific needs and application development timelines. Our application migration services guarantee deployment or redeployment on newer or more advanced platforms in order to increase corporate flexibility and sustainability. 
Software Product Development
Investigate, evaluate, and execute the client's software development needs in order to create robust software solutions that can withstand the changing market's dynamic trends. We provide innovative services for organizations with a strategic development plan, solid backend services, and dynamic front-end services that promise optimum profitability.
Enterprise application integration
Custom enterprise application services that provide smooth interaction with old and existing environments and systems can help enterprises. We provide secure integrated services to organizations in order to keep them up to date and to produce user-friendly and responsive application development.
Application Maintenance
We focus on boosting application performance by streamlining processes and keeping it high, high-performing, and efficient while using cutting-edge technology. Our development teams meet every business requirement for trouble-free application maintenance, streamlined migration, easy reengineering, and smooth redesigning. 
Benefits of Custom Application Development
While it may require a bit more scrolling, rest assured that by the end of this blog, you'll have a comprehensive understanding of the topic at hand. So, before we delve into the next section, let's take a moment to recap.
We understand what is custom application development service is.

You get to know how Cyfuture helps you in this process.
Now, Let's discuss the benefits.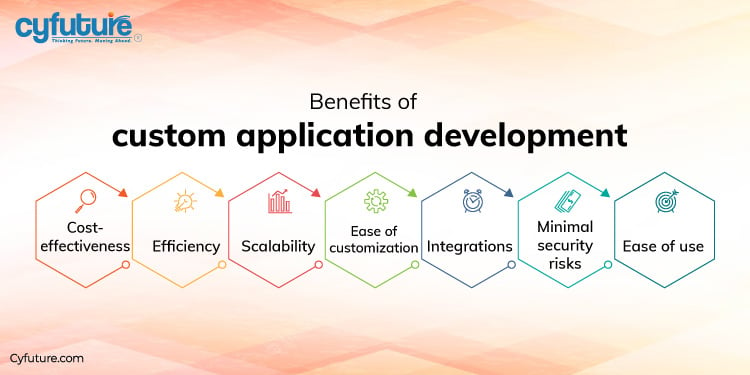 Cost-effectiveness
Building an application the conventional way is not cost-effective. Once requirements are passed on to the IT teams, they are often tasked with building, testing, and debugging applications. And this can come at a huge cost. Since custom app development requires a lesser deal of resources, it can eliminate the need to have dedicated resources and simplify the development cost of applications.
Efficiency 
One of the primary benefits of bespoke apps is that they are designed to optimize certain workflows and procedures inside a business. They are often created with the consumers in mind or by the users themselves, making them better suited to solving business problems efficiently. 
Scalability 
A solution designed just for you may grow with your company. Building an application that is mapped to a particular purpose and working style allows developers to go back and change critical aspects of the process to manage more significant amounts of requests and data. It means you won't have to switch to a new solution to access advanced features and scale. 
Ease of customization
One of the most significant advantages of bespoke application development solutions is the ease of customization. Traditional applications sometimes need the assistance of a third party to set up and configure. These may be IT staff personnel, designated product specialists, or external developers. Custom apps give business users total control over configuring their applications, making modification very simple. 
Integrations
Every company already has systems and tools to manage its operations. Compatibility with these platforms is a significant issue when building bespoke apps. Many application development platforms now have API connection functionalities that allow linking new apps with current systems easier, saving you money on more unique solutions to meet your demands. 
Minimal security risks 
several users frequently utilize Commercial tools. It makes it more open to security risks and introduces several possible nodes for external assaults. A custom-built application lives within a cloud-based platform—a superb low-code platform with the most up-to-date security, compliance, and data protection, making storing and trading critical data safer and more accessible. 
Ease of use
For corporate users, most cookie-cutter programs have a steep learning curve. When it comes to bespoke software, the users who use it are also the ones who create it. A simple no-code development platform provides total control over the application development process without requiring complex coding knowledge. Users of no-code platforms may create fully working apps from scratch or utilize pre-built templates for convenience.
Differences Between Custom Application Development and Conventional Application Development 
| | | |
| --- | --- | --- |
| Aspect | Custom App Development | Conventional App Development |
| Tailored Solutions | Tailored to specific business needs and goals | Typically follows standard templates |
| Flexibility | Highly flexible, adaptable to changing requirements | Limited flexibility, less adaptable |
| Cost | Can be more expensive due to customization | Often more cost-effective for basic needs |
| Time to Market | Longer development time for unique features | Faster development for standard features |
| Features and Functionality | Extensive customization, unique features | Standard features and functionalities |
| Maintenance | Requires ongoing maintenance and updates | Minimal ongoing maintenance |
| Scalability | Easily scalable as business grows | May require redevelopment for scalability |
| User Experience | Enhanced user experience tailored to users | Consistent user experience |
| Development Skills | Requires specialized development skills | Utilizes standard development skill sets |
| Competitive Advantage | Can provide a competitive edge in the market | Offers no unique advantage |
Reasons to Count on Us For Custom Application Development Service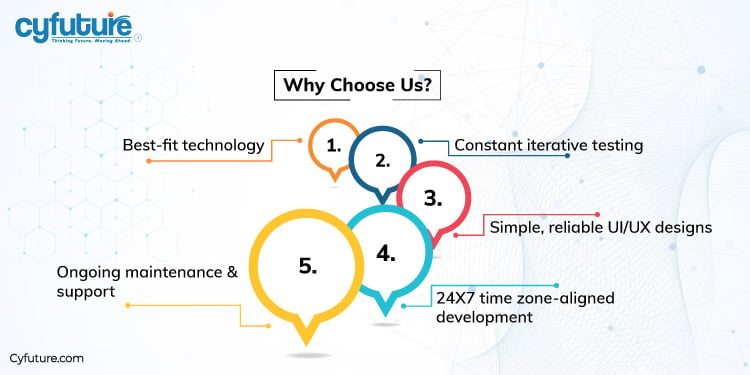 Anyone can create a unique company app, but it takes years of experience to create 'beyond industry grade' apps that align with your long-term digital goals. We deliver you unrivaled, deep experience and a knowledge base spanning several technologies and frameworks.
We guarantee:
Recommending the most appropriate technology

Development that is time zone synchronized 24 hours a day, seven days a week

Agile development methods

Version control and code repositories that are superior

UI/UX designs that are simple and dependable

Iterative testing is ongoing.

Compliance with global data security standards

SDLC documentation is extensive.

Excellent communication and project management skills

Ongoing maintenance and assistance
Summing It Up
The relevance of custom application development services cannot be emphasized in the ever-changing technology and business environment. It's not just about keeping up with the trends; it's about creating new standards and producing outcomes that set your company apart from the competition.
As we've shown in this in-depth tutorial, bespoke application development is more than a technique; it's a strategic decision that may transform how you do business. It is about embracing innovation, simplifying operations, and providing excellent customer and user experiences.
We understand the complexities of bespoke application development services at Cyfuture. We don't simply create applications; we develop solutions that align with your company's aims and aspirations. 
Our services range from software consultation to custom application development, migration, product creation, integration, and continuing support. We're here to empower your digital journey with a team of seasoned specialists, cutting-edge technology, and a commitment to quality.
So, whether you're a startup wanting to disrupt the market, a large corporation looking to optimize operations, or anybody in between, Cyfuture is your growth partner. Let us go together on this revolutionary adventure, where your success is our mission.
Don't wait; grasp your company's future today. Contact us for a no-obligation consultation, and let's get started creating the unique apps that will redefine your success. Your digital transformation journey begins right now.
Custom Application Development: Frequently Asked Questions 
What are software development outsourcing services, and why should a company consider outsourcing its software development needs?
Hiring external professionals or firms to handle software development projects is what software development outsourcing services entail. Companies use outsourcing to get access to specialized expertise, save money, and shorten project schedules. It enables companies to concentrate on their core activities while specialists manage software development.
What factors should a company consider when selecting an outsourcing partner for software development?
Consider criteria such as the partner's competence, portfolio of previous projects, reputation, communication capabilities, adherence to deadlines, and data security measures when selecting a software development outsourcing services partner. Moreover, to guarantee successful cooperation, assess the compatibility of your company's culture and values with the outsourcing partner's.
What is custom application development, and how does it differ from off-the-shelf software?
Building software solutions suited to specific company demands is known as custom application development. Custom applications, as opposed to off-the-shelf software, are made to suit particular needs, providing better flexibility and functionality that is precisely aligned with the organization's aims.
How long does it typically take to develop a custom application?
The time it takes to design a bespoke application depends on its complexity. A customized application can take 3 to 6 months to create on average. More complicated projects may take longer, while simpler apps may be done faster.