1609 Views
So, you wanted to order food.
You look for the top food delivering apps in your area and start adding your preferences.
Or, you wanted to book a cab.
You frolic around the best cabs apps servicing your location, download it, and travel with utmost ease and comfort.
Or maybe, you're going out on a jog and you want to see the number calories you've burnt.
You download a fitness app, connect it with your music, and you're ready for a fitness expedition.
There are mobile app ideas for reading books online, knowing your plant's disease, de-stress and sleep calmly, know the amount of water you should drink according to your weight and height, and so much more.
Summing it up, there is an app for everything.
There is not a single service that can't be availed through a mobile app. Anything you want is just a click away, at the command of your fingertips.
The power of mobile apps is such that every smartphone user has at least 30-40 apps installed on his phone, an app for keeping your life on track.
Now, do you understand how immensely successful mobile apps ideas are!
Mobile App Growth in the Coming Time: A Study for Top Mobile App Ideas
As a startup, you must study the market carefully before launching a mobile app. That will head you in the right direction. Identify what your target audience is.
The following are some stats that'll educate you about the mobile app growth in the coming years.
The market is already crowded

The mobile app market is continuously evolving. There is no sign of saturation to the number of mobile apps in the Play Store or App Store, however, the competition has turned to be highly fierce.
As for the third quarter of 2019, there are a total of 2.47 Million apps on the Play Store and 1.8 million apps on the App Store.
Money plays a very important role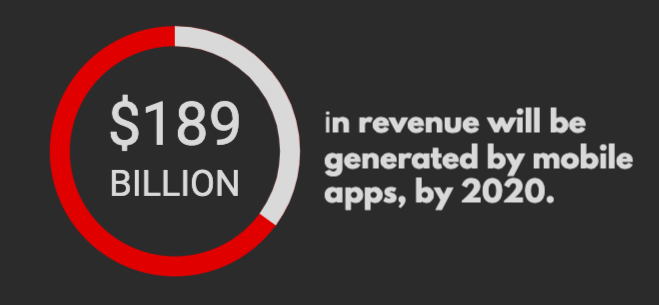 Every company in the mobile app development game is trying to multiply their revenue figures. Unsurprisingly, users are still digging for free stuff and they will continue to do so in this decade too. Moreover, 90% of apps on iOS and 95% of apps on Android are free.  
Still, a report claims that mobile apps are expected to generate $189 billion in revenue by 2020.
Even if the app is free for users, revenue-generating strategies like in-app purchases help them to earn profits. Supporting the notion, in-app advertising spends will reach $201 billion by 2021.
So, it is no surprise that a mobile app development company or even a startup can roll out revenue from apps. However, for that, your app must be downloaded by high number of users. Since there are already 6 billion mobile users around the globe, translating money shouldn't be hard to solve.
Mobile apps audience is global
Unlike brick and mortar stores, the mobile app development market is global. An app made by an Indian startup can gain wide recognition in the United States and vice versa.
According to a report, most of the mobile app downloads take place in APAC (Asia-Pacific) region, followed by EMEA (Middle-East Asia), and AMER (North, Central, and South America).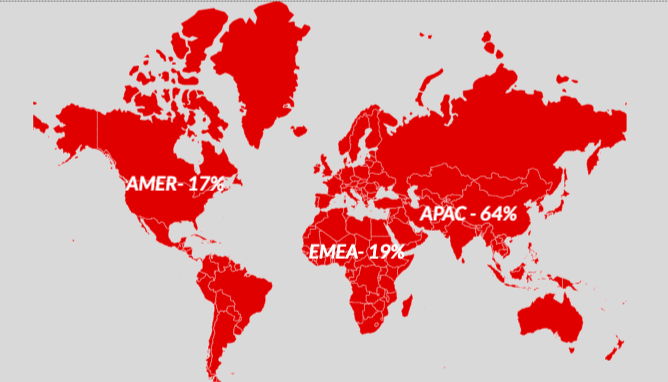 Considering the humongous population of China and India, most of the mobile apps are downloaded by smartphone users in this region.
The design of an app matters
The future of mobile apps is all about top technological trends. Artificial intelligence, Augmented reality, IoT apps are some apps currently in demand, however, their surge will increase in the upcoming years. Apps that offer users a friendly and easy interface will be higher in demand than the others.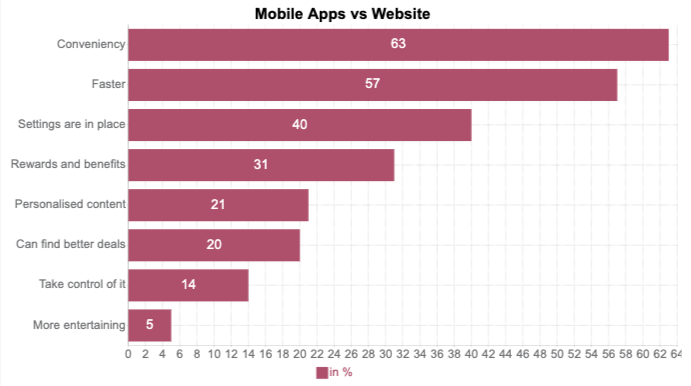 The above shows various reasons, users prefer to download mobile apps than accessing the websites.
Performance of app matters too
Users like accessing apps that prove to be functional, efficient, fast, and perform well. They uninstall apps that hang, crashes, and freezes unexpectedly.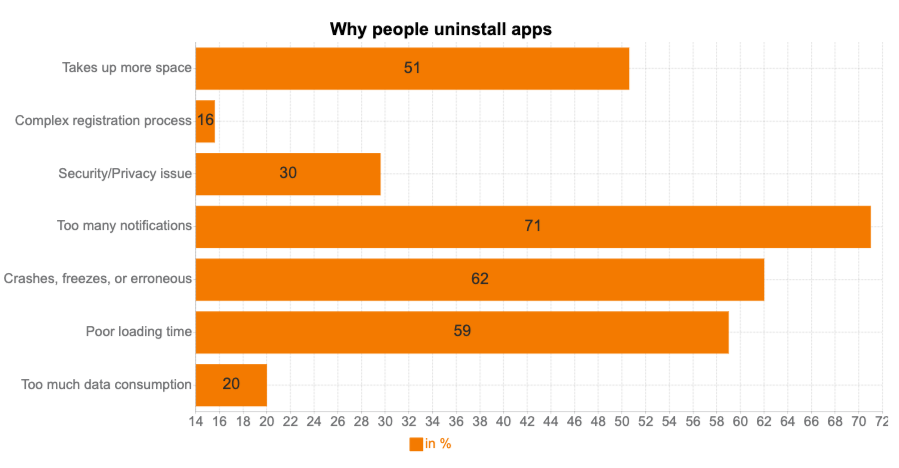 The following are some reasons why people uninstall apps. If an app doesn't provide enriching user experience, they are more likely to be uninstalled.
App usage is growing
Depending on the type of app you pick, your target audience will differ. Also, the retention rates, session duration, and in-app activity will vary accordingly.
Mobile-first companies are earning an edge over enterprise market apps. Coincidently, users are trusting mobile-first app companies more than the latter.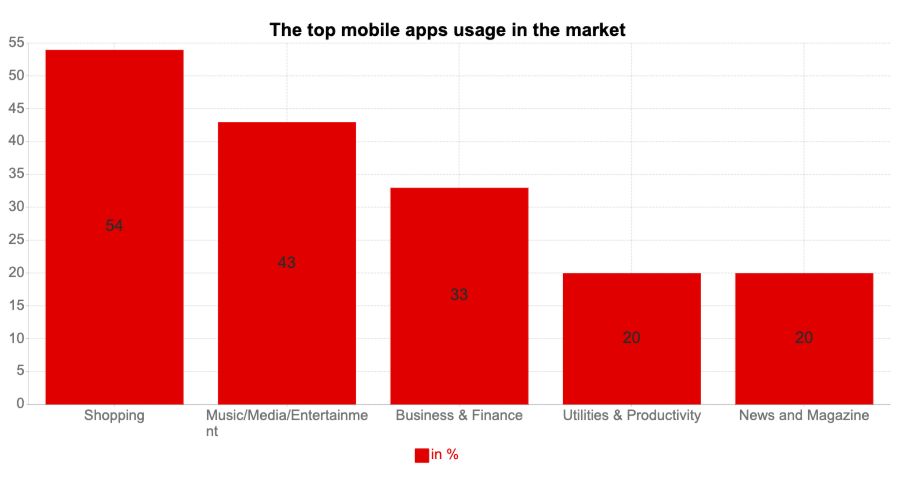 As per Statista, mobile devices generate 50% of the global website traffic. Furthermore, shopping apps have the highest growth rate in the market.
Monetization Models for Your Mobile App Ideas
Mobile application development is synchronous with the rate in growth of the mobile users. The unprecedented increase in the downloads of mobile apps has garnered the attention of mobile app developers, especially startups.
There is a gigantic difference between the goals of startups and developed brands. While the latter has no shortage of funds and lower go-to-market time, they focus on the app quality. The former, on the other hand, seeks a faster time to market and supreme quality at low development cost.
Furthermore, with over more than 2 million apps on the Play Store and App store, every startup wants to test their developmental skills for various mobile platforms.
But, how many of them are making money?
Before you go into the long and tedious process of learning how to code, and developing an app, you need to come up with a plan.
Is it worth building an app for your business?
Depending on the type of app you choose, the answer may vary.
Some apps achieve more success than others.
As for the monetization model of your mobile app ideas, there are six such options available.
Direct Sales
The major selling portions of an app constitute of screenshots, description, and a video for a preview. These resources are meant to convince users to buy/use your app. However, such methods don't achieve much traction. Even the top revenue-grossing apps are free in the market. Paid apps only lose the fierce competition in the market. However, there are some clear winners too. Minecraft is the most paid app on Google Play Store and it has an unbelievably large user base.
Free and Premium versions
Also called, Freemium model, it specifies basic features of the app are freely available for at no cost. However, if users are willing to pay for a one-time fee or subscription fee, they can access the richer functionality of the app. Apps related to finance, fitness, etc. are based on such models.
Subscription
Slightly similar to the Freemium model, the only difference is that users have to pay to access all the content of the app and not just some basic features. Such apps work on user retention tactics to earn revenues and keep customer loyalty intact.
In-app purchases
The most common type of model available for apps on the Play Store and App Store, it is known for its flexible approaches. Most of the mobile apps globally earn revenue through this model. It is widely used in the mobile games segment. For every download, the Play Store or App store pays them a service fee.
Crowdfunding
A relatively young monetization model, developers present their idea for building a mobile app and request donations. A lot of interesting app projects attract funding higher than the requested amount through this model. Several investors are always looking for that one in a million mobile app ideas and heavily fund such projects.
Sponsorship
A rather new type of monetization model, sponsorship asks users with a large following to act as an advertiser for the app in exchange for a fee. A share of the fee also goes to the developers. It is more of a marketing tactic and needs a killer strategy to be in effect.
The Top 9 Mobile App Development Ideas for Startups
There are thousands of mobile apps in the market. However, the uniqueness of mobile apps plays a big role in its success.
We've compiled a list of the best mobile app ideas of 2020.
On-demand services application
Apps like Uber and Ola have not only disrupted the taxi industry, but it brought in light, the immense need for such on-demand apps in the market.
On-demands apps allow customers to use the necessary services when they need them. They are called on-demand apps since they serve demands in various sectors like traveling, beauty, grocery, etc. The users only access such services when they need it. These apps are more convenient and effective for all business models. One of the biggest reasons for its success is the promising union between on-demand services and mobile applications. It has encouraged appreneurs to invest more in such services.
Mobile app developers can code on-demand applications for beauty services, taxi services, online food ordering, grocery delivery, etc.
Mobile wallet apps
Cashless transactions are a go-go for the future! With the increasing smartphone and internet penetration, cashless transactions are increasing their customer base reception.
People were scared to indulge in digital wallets before, however, this particular segment has witnessed a rapid growth in the market. It is safe, convenient, and comfortable to use. Mobile app developers can provide features like bill payment, loyalty, and rewards, mobile money, split payments, link bank accounts, offer several popular apps access, money transfer, cash in and cash out, and many other features.
Delivery management app
Almost everyone person is shopping online. So, the demand for logistics and delivery services is on a surge. Last-minute delivery is the deciding factor in the success of any logistics and supply chain company. So, it is always profitable to build a logistics delivery app with optimized routes, automatic dispatch, live tracking, etc.
Such apps allow real-time tracking, seamless onboarding, and hassle-free proof of delivery. Even customers can get all the updates about their orders.
Barter exchange apps
You might have heard about the barter system, and if you haven't, I'll explain to you about the concept. You can buy goods in exchange for money, but in a barter system, you can buy goods in exchange for goods. A lot of companies prefer barter deals since they don't have to indulge in the conventional currency norm. This digital platform can help people to buy goods without money. It can grow a large user base using the barter system application. A lot of international company's exchange goods like the barter system.
Healthcare apps
Medical facilities have enhanced considerably. There are a lot of innovations in the medical field that have entrusted the development of such apps. Develop a medical app that is highly versatile and can perform several functions. They can book appointments, buy medicines, study medical history, symptoms, immunizations, allergies, necessary medication, etc. Users can build their medical profile with details like their age, gender, medical history, fitness records, etc., and converse online with doctors.
Disaster management app
There is no way you can prevent disasters from happening. There is no way you can predict these natural calamities. However, with proper notification, you can reduce the destruction caused by it. You can develop an app that gives alerts to its users, warning them of a possible natural disaster. It can also send distress notifications from users that are stuck in a perilous condition. The request can be received by the nearest disaster management executive who can then send a relief team.
Search for a product using its photo
Everyone has been stuck in a situation where they know the product but they cannot find it anywhere on the internet.
So, why not develop a mobile app that can allow users to search for products by photos?
This app can keep users engaged for an entire day. It will make their lives simpler and easy.
IoT security app
IoT is gaining a lot of traction lately. It's cutting-edge technology background interacts with users, making their lives more comfortable and convenient. IoT can be used in several related services, like smart energy, smart fleet, smart office, and smart asset monitoring. All of them, have a booming potential in the coming years.
Blockchain apps
Blockchain achieved quite a success in the market with Bitcoin. The applications of Bitcoin are immense; it has a say in almost all the major industries of the world. This is why Blockchain is a goldmine for the best mobile app ideas. You can develop a blockchain tax and invoicing app that can calculate the amount of tax, a user has to pay depending on his income.
Wrapping it up
Mobile app development can be a tricky business. But, with the right mobile app ideas, you can strengthen your business and boost its productivity as well.
If you have any other unique ideas, that isn't covered here, don't hesitate to try it out for the global audience. You can even hire the top mobile app development company and code a killer app for your users.