1212 Views
2020 kicked off with the devastating news of the Covid-19 pandemic and how furiously it spread throughout the continents. What was going to be a golden decade for the world, turned into a crashing and home-bound year. Covid-19 quickly swept the global markets and conversations.
As much as staying safe and informed is important during the crisis, devising novel digital marketing strategies during and after Covid-19 is also important. Not to mention, the pandemic has strongly affected marketing arenas around the world.
But what does it mean for social media marketers?
As a digital marketing company, we have to tweak our strategies and our approach towards digital marketing arenas. We have to learn to coexist with Covid-19.
Now is the time for forging effective online marketing strategies since the streets are empty, fewer people on road, everybody is using online mediums. The key elements of brand positioning are empathy, insightfulness, knowledge, empathy, purpose, and agility.
How Much Has Coronavirus Accelerated Digital Transformation?
Well, you'll be surprised to know, amidst all the chaos and confusion, digital transformation has become a reality. Coronavirus has significantly improved the way companies run and manage their business. 70% of companies have already speed up the process of implementing new digital transformation reforms.
Furthermore, marketers need to understand, it is highly unlikely that things will get back to normal after the pandemic. So, industries will have to shape their slow-moving digital marketing trends into staunch measures in the coming time. Using the right tools in place, companies can learn to adapt to the digital changes.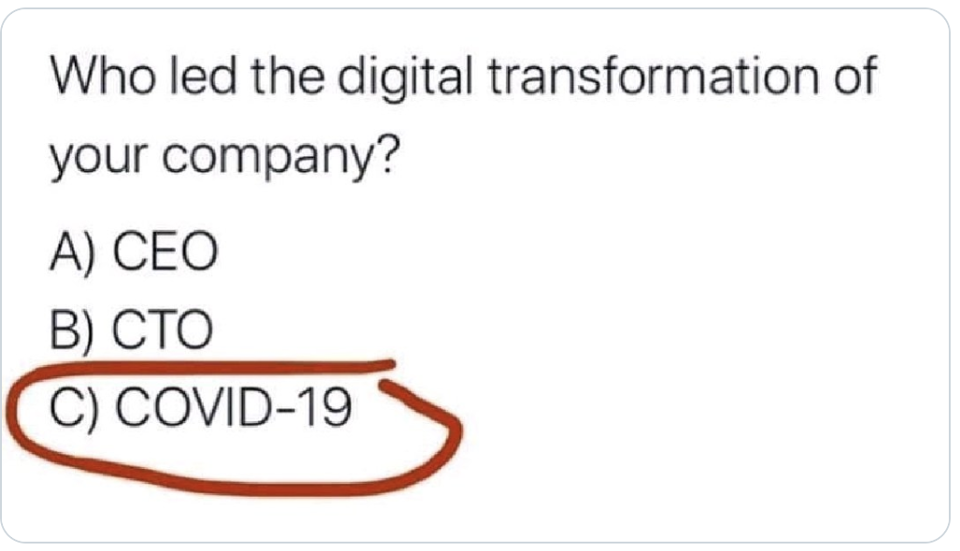 Quiet right! A post that went viral on social media platforms.
Already, 87% of the companies believe that digital transformation is crucial for the business performance, and with a pandemic like COVID-19 in place, 3% of the companies have actually finished the company-wide digital transformation initiative.
How Will Digital Marketing Change Post-Covid-19?
One of the biggest concerns for India and other countries is its economy. While the recession is an inevitable reality, the government is taking all the measures required to keep the people and economy flourishing and thriving. One all this ends, people will get back to normal, but that shouldn't stop firms in placing their digital marketing strategies. Brands going digital is not a temporary thing.
Remote working has helped in maintained business continuity, offered flexibility for working, and brought forth environmental benefits from less traveling. While marketing budgets will be cut, one tool that still remains free and widely suitable for such a situation is, the internet.
1. Creative Production will Result in Significant Cost Savings
Most of the creative strategies followed rely on significant cost savings for the brands. Furthermore, most brands still rely on the traditional form of advertisements devised for TV and print advertising where each piece of content and creative was manually edited, distributed, and paid for. As the marketing channel continues to proliferate, brands will look to deliver their customers with personalized content and creativity. More and more investments will be attained by digital marketing domains of various industries owing to its profitable properties like free source, open to all, and wide customer base.
Currently, more than 4 billion people use the internet, and investing in the modern dynamic creative technology will allow creative content to be automatically versioned in different languages without manually creating and paying for each ad creative. Furthermore, such a skill can also be used in product packaging, wherein, content can be changed dynamically without having spent millions of dollars on production fees.
2. Online Consumer Marketing will Become a Necessity
For quite some time now, brick and mortar stores knew the heavy dependence on traditional retail sector, which wouldn't fair out in case of a digital transformation wave in the market. Most of the retailers have still failed to build a relationship with their consumers. While some of them invested heavily in e-commerce marketing, some of them did not.
With Covid-19 shutting down all the retail stores, sales have dropped to nil for many brands. However, those that dealt with online shopping and online reputation management are achieving skyrocketing sales. Instead of relying on TV, OOH, and print advertisement, marketing investments will now be directed to digital arenas, to drive customers to purchase their products via websites and apps. There is going to be a massive shift in the marketing funnel and the way a brand was brought forth in front of the customers.
3. Agile marketing will become a norm
The first thing that brands learned during the times of crisis, content and marketing has to quickly respond to reach out to maximum customers. Many brands took weeks to adjust their advertising services, re-create all the content, and indulge in an expensive cycle all over again.
As brands become more competitive, it becomes important to re-think what will work for the customers while saving time and money. Therefore, businesses have to quickly and constantly adjust their digital marketing strategies now and then otherwise, it'll fail to achieve their marketing ROI.
How Covid-19 Has Changed The Social Media Engagement Landscape?
Audience behavior has dramatically changed over the last few weeks and months. Although every brand is struggling hard, they are trying to cope with the shifting demographics and reactions of people to the pandemic. Social media marketers have an opportunity to keep the digital front of their companies strong and worthy by staying updated on the audience's sentiment and behavior.
Just like working hours and patterns changed, customer usage of social media has changed during this time. The biggest change was observed in the best times to post on social media.
As for Facebook, the best posting times are Monday. Wednesday, and Friday from 10:00 AM to 11:00 AM. This time details showed a prominent increase in user activity when something new is posted by brands on social media. Weekends observed good user activity before 5:00 PM.
As for Instagram, Monday, Tuesday, and Friday at 11 AM are the best times to post. People generally didn't use the platform after 5:00 PM and not much activity was observed on Sundays.
Twitter has been the most consistent platform amongst them during the Covid-19 response. This is usually because it is an easy platform to look for news that needs to be shared with the public. Twitter showed a more elevated activity on Fridays from 7:00 AM to 9:00 AM.
Since LinkedIn is more of a professional platform, its behavior has remained the same, as before the global pandemic. The data remained consistent for the platform, however, Wednesday, Thursday, and Friday were the peak activity days.
In terms of brand behavior, media and entertainment and healthcare channels posted more content for their users when compared with consumer goods, retail, travel and tourism, and sports section. On average, other outgoing posts published by brands declined slightly across all industrial dimensions.
The outgoing posts were decreased by an average of 1.8 posts/day for Facebook.
The outgoing posts were decreased by 1.9 posts/day for Instagram.
The outgoing posts were decreased by 2.3 posts/day for Twitter.
In terms of audience engagement, the users have been conversing with the brands differently. The incoming engagement was increased by 44 engagements per day across all the industrial networks. Moreover, on a per-post level, the engagements increased by 7.3 per post per day.
However, as engagement on social media platforms for different brands increased, the incoming messages to brands decreased by 19 messages per day. Broken further, the trend on various channels show:
Facebook comments dipped by 5.6/day.
Facebook post mentions dipped by 2.1/day.
Twitter messages decreased by 16/day.
Twitter re-tweets decreased by 20.8/day.
How To Strategize Your Social Media Strategy In Times Of Coivd-19?
Now that you have an idea about audience engagement, best times to post on social media, and the response of various users of social media, it'll be easy to strategize an effective digital marketing plan for promoting your brand with empathy during these hard times while allowing them to reflect on your content.
1. Expand your Google search marketing domain
If you are a digital marketer, you know the integral importance of keyword ranking and searches. The global pandemic has changed the way, people search on Google and how Google responds to it through the search engine results. So, you'll have to closely analyze what keywords are trending for your brand and the organic results for it.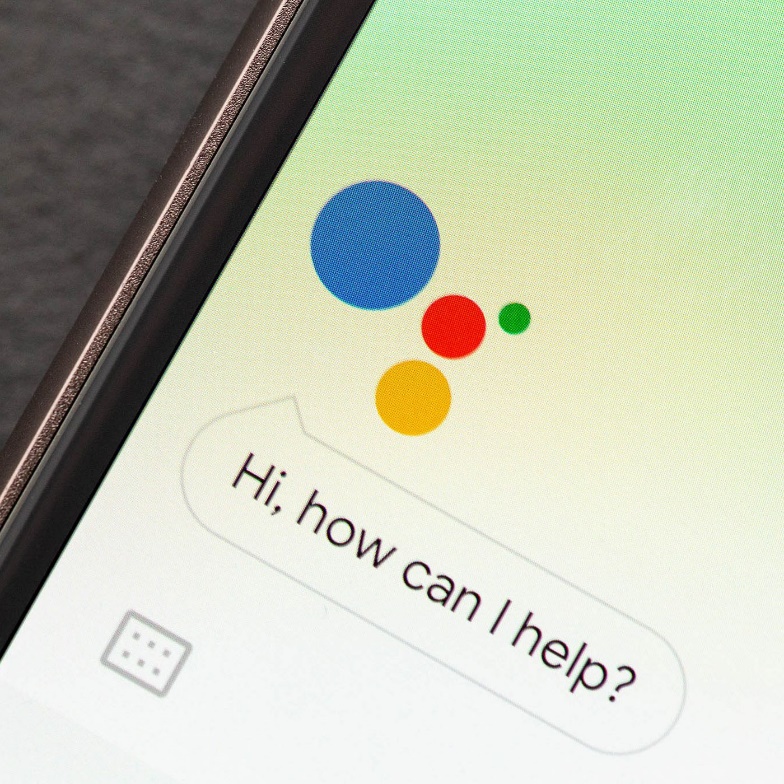 Continue to evaluate how the search engines are working and look closely for any opportunity for new content, or responding to the queries. One thing that marketers should not do during these times is to take advantage of the situation. This means, do not publish any content that is going to ignite terror and worry in the minds of the readers. Stick to content that is original and empathizes with the readers. Keyword ranking is one thing, but keep the novel competition and traffic in your mind.
2. Engage more with your customers via email
The pandemic is tough for everyone, but the only way we can pass through it is by staying together. In these tough times, you must reassure your consumers, with safety and health tips, and advise them to take care of their health. Devise a new email marketing strategy that adds a certain value to the lives of your customers. Send them a video or text series or craft new content marketing pieces in response to the pandemic.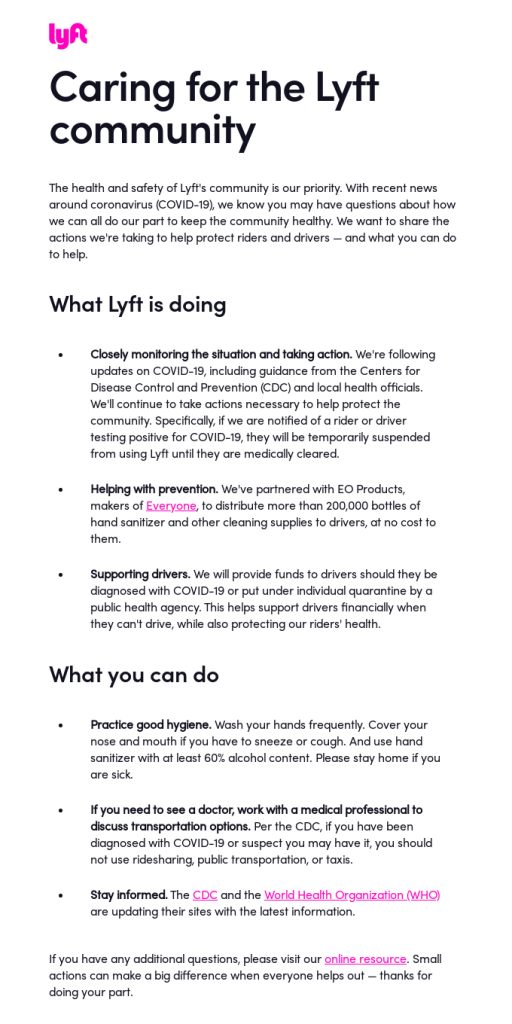 A top email marketing example by Lyft.
Now, is the time your email marketing strategies can actually connect with your customers and adjust with their schedule.
3. Increase social media activity
While you don't have any promotional content to post, social media is a great platform to connect with your customers. In these harsh times, your customers should not feel alone and desolated. Through social media, you can keep your customers informed about anything important, maybe post some witty content that helps them in fighting their mental stress and advertise your products and services. Since most brands are not able to use the pandemic as a positive opportunity, use social media to reach a new audience pool. Empathize with your readers and give them valuable content posts.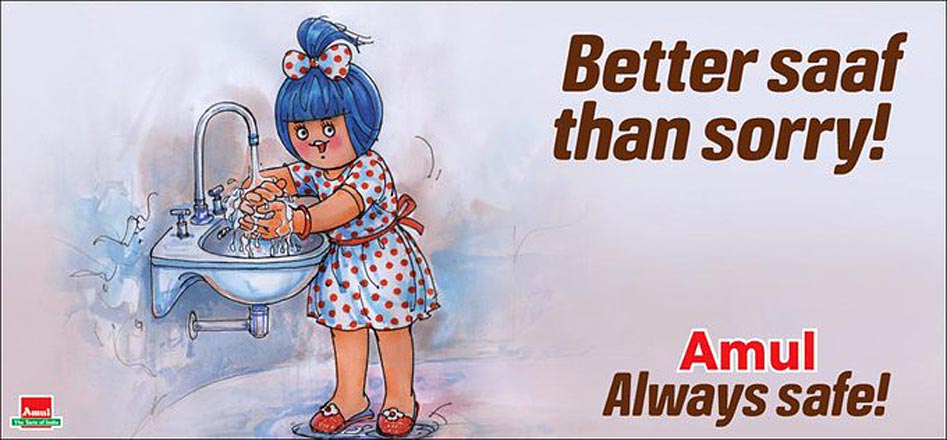 The following image shows a top content marketing example by Amul urging its followers to wash their hands frequently.
4. Enhance your digital presence
If you were meaning to work on your online presence but couldn't do so lately, now is the best time to undertake any developmental work. Are you considering to redesign your website or enhance its overall look?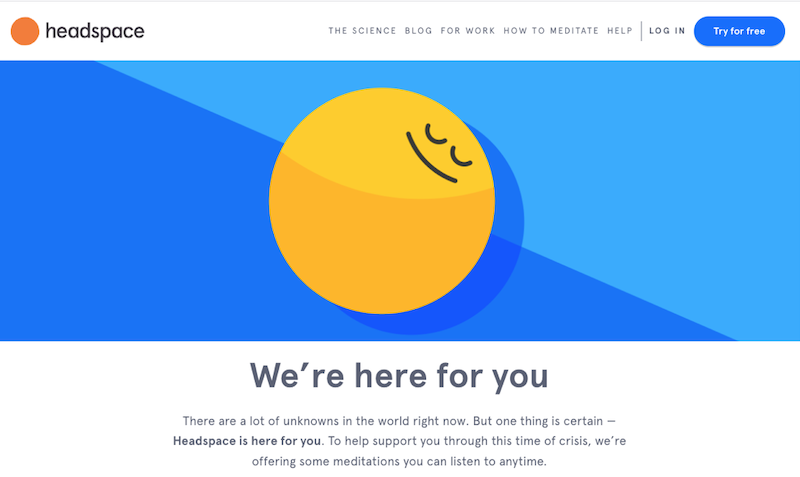 Enhance your website in times of Covid-19.
Use this time to enhance your overall online presence and shift your focus to serving customers online, instead of a store. If you are still not on the online channel, built one during this time and if you're already there, make it more appealing for your customers.
Use new technologies like chat functionality, product configurations, augmented reality, virtual reality, personalized buying, etc. and add onto more features on your online store. You can improve your digital footprint and provide customers with better user experience.
Believe it or not, digital marketing is the goldmine of marketing strategies in all entirety.
5. Opt for cause marketing
It's going to be a while since we can overcome the shock caused by Covid-19. Brands are losing on their revenue and sales, countries are struggling to stabilize economies, and people are dying every single day. As a community, what people need during these times is support and you should be able to deliver it.
Start devising ways to cause marketing and make your customers feel that you are important for them. Ask them to support each other. Offer discounts, promo codes, coupons to your customers. Work out a marketing strategy that is agile to make adjustments in response.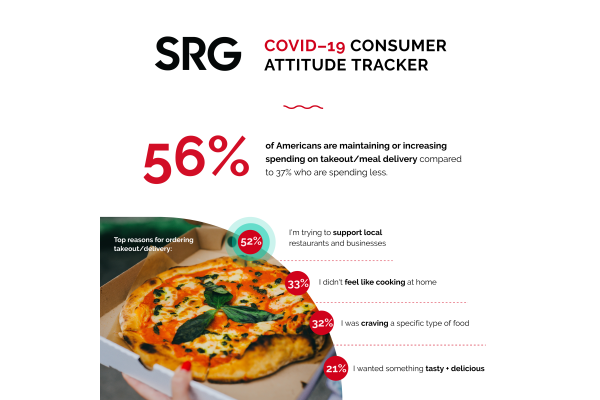 Wrapping It Up
Different industries are facing different challenges and there is no fit solution on how to approach your social media marketing strategy. Every marketer is looking for advice on how to adapt to the current climate. The journey is going to be difficult, but it will prepare you to work closely with your customers and learn adaptability with the market.
In our post-pandemic world, there will a lot of digital talks going around. So, move today, move ahead, and make it count.