213 Views
As we all are aware, the IT industry has been on a continuous boom for the last few years with the introduction of cutting-edge innovations throughout the digital landscape. 2023 has witnessed massive technical advancements in the IT Industry where leading tech giants are increasing their presence globally each day. Along with them, many startups and growing enterprises are expanding their business and streamlining their business operations. With the advancement in cloud technologies, a huge chunk of organizations are moving towards Cloud Management Outsourcing and onboarding highly specialized vendors to manage and maintain their cloud infrastructure.
How big is the Outsourcing industry?
Let's take a look at some quantified data and metrics that will define the scale of Cloud Management Services and answer our question.
After making various estimates, it is believed that the outsourcing industry can cross a mark of $731 billion by the end of 2023
Currently, 92% of G2000 companies use IT outsourcing
37% of small businesses worldwide outsource at least one business process to outsourcing vendors
Over one million new employees join the services outsourcing industry globally each year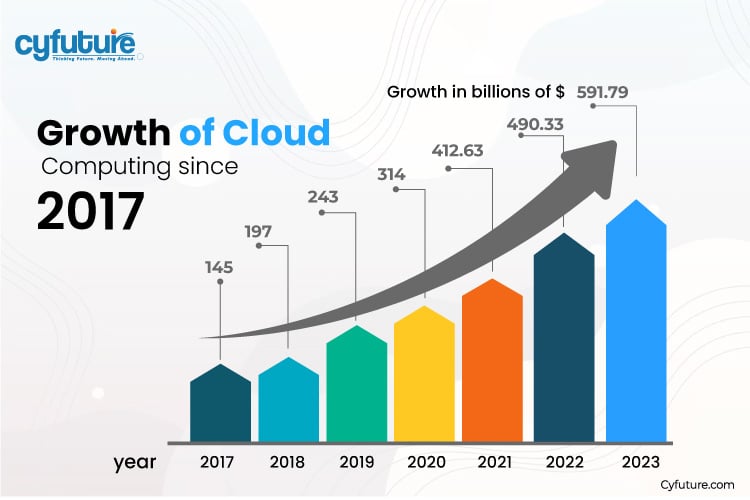 Recent studies and research have concluded that Cloud Management Outsourcing is projected to expand by over 9% per year between 2023 and 2030. It is believed that major industries such as financial services (BFSI), Information Technology, and telecommunications industries will be the biggest drivers behind that growth.
As we have seen above, the industry is huge in its size and expected to continuously expand in the near future. There are multiple Cloud Management Outsourcing vendors emerging and the competition between these service providers is getting tough day-by-day.
What is Cloud Management Outsourcing and how is it beneficial for a business?
We have analyzed the scale of the Outsourcing industry and gained a comprehensive understanding of its presence. We need to understand why this industry exists in the first place and what the challenges faced by organizations that led to the rise of outsourcing.
To understand this, let's take an example of an E-Commerce website that is selling furniture and home decor products on its own website. In this case, the organization needs to host the website on its own server where they have to bear high initial installation costs and recurring maintenance cost. Apart from these, they have to ensure security and compliance with the latest regulatory norms. The entire setup and maintenance require a significant amount of manpower and resources along with proper monitoring and control. All these challenges are successfully resolved by Cloud Management Outsourcing as there is no requirement for expensive capital infrastructure or maintenance. These aspects are taken care of by the service provider and they ensure all your cloud infrastructure is managed and maintained properly.
In this blog, we are going to understand in detail the features and benefits that are offered when you outsource your cloud to certified professionals.
What features and advantages are there in Cloud Management Outsourcing?
There are multiple advantages of opting for Cloud Management Outsourcing as they are extremely cost-effective, scalable, reliable, high-performing, and secure from external threats and cyber attacks. Let's have a look at each of these aspects in detail and understand them. It has been observed that over 40% of companies have fully achieved the expected benefits, such as improved service levels (43%), business enablement (45%), and business continuity (42%) from cloud adoption. CGlobal stats indicate that the cloud improves the average time to market for their new features by 37%.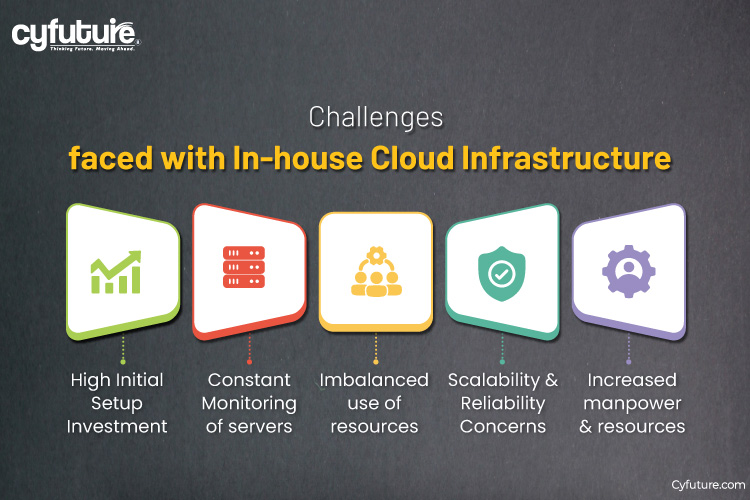 Outsourcing is highly cost-effective and budget-friendly
We all know that setting up in-house data centers and servers requires heavy capital investments along with major other resources. Even after initial setup, they are supposed to be maintained and monitored for any abnormal operations. Servers are physical machines that get heated during operations and require effective cooling mechanisms that ensure an ideal temperature for running servers. All of these factors account for a significant amount of financial resources required to set up and maintain on-site physical servers. However, if you outsource your cloud infrastructure to a specialized provider, you will not have to deal with these high costs as they will be borne by the provider itself. Recent trends have showcased that on average, an organization's public cloud spending goes over budget by 13%. Thus it is recommended that you make room for a higher budget if required.
Flexible price options available
Many businesses and startups fear that outsourcing is expensive and may add up to the Operational Cost but in reality, Cloud Management Outsourcing is an extremely option available out there in the market. Most cloud service providers offer a pay-as-you-use billing feature that allows you to pay for only those resources that you have taken and that too for only the time duration of their use. For example, if you only use a resource for a couple of hours, you just have to pay for those 2 two hours instead of paying for the entire day. This gives you a lot of flexibility in terms of pricing prices and payments, thus payments and therefore optimizes and saves your operations operating costs. Surveys and studies have shown that 39% of enterprises have fully achieved their cost-saving goal from cloud adoption.
Scale up or down as per your requirements
As we know that requirements are dynamic and can change from time to time, it is practically impossible to predict the exact demand for resources required to manage the Cloud. It is therefore a basic necessity to have scalable options on the go as you may be required to scale up or down the number of resources based on the demand or needs. Cloud Management Outsourcing provides easy scalability options that allow you to scale up or down effectively without any hassle.
Your Data and Applications are Secure
Post Covid-19 the world witnessed a massive spike in the digital landscape where every other service is being transferred to a digital medium. But all these transformations come with their own con and that is their vulnerability to cyber attacks and external threats. As cyber-attacks and threats have increased in the past few years, the need for cybersecurity and data security is greater than ever. Cloud Management Outsourcing has become a preferred option because most service providers deploy robust and state-of-the-art security measures that ensure the safety of your data. Through various surveys and interviews conducted, it has been observed that nearly 90% of IT professionals and business leaders agree that security is the most critical determinant for a successful cloud strategy.
There is Compliance with Relevant Regulations and Guidelines
Since the cloud is getting advanced day by day, there are multiple compliance norms and regulations rolled out with each passing day. Compliance nowadays is the most important aspect of managing the cloud and most of the Cloud Service providers ensure their compliance with the latest industry regulations and norms. High-quality outsourcers have deep and in-depth experience managing compliance risk and running operations through structured processes and procedures compliant with various industrial and government regulations. All outsourcing vendors take full responsibility for keeping infrastructure compliant and up to date with fast-changing standards and regulatory demands determined by their geographic location and industry.
Better Access to state-of-the-art technology
Since technology is evolving continuously, modern methodologies are being practiced and implemented by leading IT giants. Setting up your own Cloud infrastructure will require you to continuously stay abreast with the industry trends and norms. This can be challenging and hectic for your organization's overall
business as the overall focus may get shifted to keeping up to date with the latest emerging trends. But through Cloud Management Outsourcing, you would not have to worry about being up to date as your Cloud infrastructure will be up to date and have access to all modern technologies and techniques. According to recent studies and research, it has been observed that 75% of tech leaders are building all new products and features in the cloud. In addition, nearly 50% of organizations are cloud-native or fully cloud-enabled till date while the number is predicted to grow significantly.
Disaster Recovery Management and Data Recovery mechanisms
Even after deploying and incorporating various security measures and complying with compliance norms, there is always a possibility of cyber attack or data loss. Data loss can either occur due to a technical failure or an external force that could be a cyber attack. In both these cases, the cloud infrastructure is affected and services are interrupted. In such a case, this becomes critical for the vendor to ensure effective recovery of data gain access as soon as possible. Vendors deploy stringent Disaster Recovery Management policies and procedures in the event of data loss or cyber attack. Outsourcing vendors will help your applications or websites quickly recover from all kinds of disasters through their efficient and effective mechanisms. Studies have shown that 65% of C-suite executives claim they lack the capability to manage emerging cloud security risks and require disaster management services.
Effective Customer Support is present
Be it day or night, problems can occur anytime around the clock and issues can be faced anytime. This will require you to connect with the customer support team of the service provider to get your issue resolved as soon as possible. Delays in resolutions can affect your business operations or result in downtime. To manage these situations, outsourcing vendors deploy their customer service team that works 24×7 and takes care of all your queries while providing effective resolution as soon as possible. Their agents are highly trained professionals who have a deep understanding of cloud technology. They ensure you get a proper resolution for your issues and queries. Global stats indicate that 41% of IT leaders need support from cloud vendors for security expertise, and 40% require professional assistance in managing their cloud better
Better Maintenance & Troubleshooting
Monitoring servers and ensuring their optimal performance is highly necessary as ignoring these may lead to the failure of hardware and result in excessive downtime. Since servers are running machines, they get heated during operation and require effective cooling mechanisms to ensure their ideal running environment. Thus, we can say that maintenance and troubleshooting are extremely important for Cloud Infrastructure. Through Cloud Management Outsourcing, the vendors take full responsibility for maintenance and troubleshooting and ensure effective operations. They deploy a team of experienced professionals and technicians who constantly monitor the health of systems and take proactive action in case any faults or abnormal operational circumstances are detected.
Who provides Cloud Management Outsourcing in the current market?
Although there are several service providers available in the current market and many service providers are emerging, let us take a look at some of the leading service providers that have a large presence in the market.
Amazon Web Services (AWS)
You must have used Amazon at least once in your life to purchase any product. Apart from an E-commerce platform, Amazon has its roots deep in the cloud industry. AWS offers more than 200 fully featured services that include various options for storage, database, and computing resources. Amazon continuously innovates and launches new services that aim to enhance the user experience and make cloud operations streamlined. Some Key Features offered by AWS are a free initial trial, API functionality, a vast global network, and innovative technologies.
Google Cloud Platform (GCP)
Google is widely known for its major products and services such as Search Engines, Gmail, Drive, Google Photos & so on. Apart from all the modern services and products Google offers cloud services to clients globally. It provides cloud services that enable developers to code, program, develop, deploy, test, and manage applications on its highly scalable infrastructure. Google Cloud Platform is available to individuals and enterprises with flexible payment plans. Some of the key features offered by Google Cloud Platform (GCP) are AI and Machine Learning Services, API Management, Data Analytics, and Hybrid and Multi-Cloud Tools.
Microsoft Azure
Nowadays we all use Microsoft Windows and there is absolutely no argument that Windows has become the most popular operating system in the last few decades. Azure is considered the largest service provider in the world in terms of revenue. Microsoft Azure is widely known for providing highly efficient cloud-based services such as Azure DevOps, Azure AI, and Azure Blockchain Workbench. Apart from these, Azure offers multiple functionalities such as Rapid Application Development, Real-time Data Processing, Hybrid Automation Service, and Serverless APIs.
IBM Cloud
IBM Cloud provides cutting-edge enterprise solutions to the technology sector and emerging enterprises. Individual users and organizations have the flexibility to choose the desired data models, tools, and delivery models for creating next-generation applications from a wide variety of options available. Some of the key features offered by IBM Cloud are Cloud Migration, Cloud Strategy Services, and Cloud Development and Management
Oracle Cloud
Oracle is one of the leading organizations in the IT industry with its presence across the globe. It entered the cloud industry a bit late but it has managed to compete with leading players and showcased immense innovations in the past few years. Some of the key features that are included in Oracle Cloud are Compute, Storage & Networking, Data Management, and App Development
Alibaba Cloud
Alibaba Cloud is known as the fourth largest cloud provider platform in the world. The Singapore-based company boasts a robust cloud infrastructure and provides a wide range of cloud services to users. Some prominent cloud services offered by Alibaba Cloud include database storage, large-scale computing, network visualization, elastic computing, big data analytics, and management services.

Conclusion
As we have seen, setting up in-house servers and cloud infrastructure adds significantly to the overall operational cost. Moreover, their maintenance, troubleshooting, security, and compliance also pose a major challenge to emerging enterprises that cannot invest a lot of resources in the cloud. Thus to counter all these drawbacks, organizations outsource their cloud infrastructure to specialized cloud service providers who manage the entire infrastructure and maintenance. Cloud Management Outsourcing brings along multiple advantages.
Cost efficiency is another compelling reason to choose cloud management outsourcing. Using third-party resources eliminates significant upfront investments in hardware and software. Instead, you pay for the services you need, when you need them, making it a highly scalable and budget-friendly solution. Additionally, cloud management outsourcing facilitates agility and flexibility.
Additionally, the security and compliance benefits of reputable managed service providers cannot be overstated. They employ strict security measures, conduct regular audits, and stay up to date with the latest industry standards and regulations. This ensures your data is protected, your operations remain compliant, and your reputation remains unaffected.
There are multiple service providers in the market that provide cutting-edge cloud management facilities. Some of the leading service providers are Cyfuture, Amazon AWS, Google Cloud Platform (GCP), Microsoft Azure, IBM Cloud, Oracle Cloud, Salesforce Cloud, Alibaba Cloud and many more. All these service providers offer state-of-the-art and modern cloud infrastructure to ensure that all your cloud-based requirements are fulfilled.
Finally, we can confidently say that cloud management outsourcing allows you to realize the full potential of the cloud while mitigating risk and optimizing costs. It does not matter whether you are a tech giant or a small-scale enterprise, exploring the possibilities of cloud is the most important factor for your organization.
Do check out some other blogs posted on our website and connect with our team of professionals to transform your business in the digital landscape.
FAQs
Q1: What Services and models come under Cloud Outsourcing?
Answer: Some of the key services that fall under the umbrella of Cloud are Private Cloud, Public Cloud, and Hybrid Cloud (a blend of Public and Private Cloud). Some of the models that lie within the cloud are Software as a Service (SaaS), Platform as a Service (PaaS), and Infrastructure as a Service (IaaS). Apart from these Disaster Recovery as a Service (DRaaS) and Backup as a Service (BaaS) are also offered by multiple service providers.
Q2: What are the cons of Cloud Management Outsourcing?
Answer: As we all know nothing is perfect in this world, each and everything has its own pros and cons. Some of the cons of Cloud Management Outsourcing are:
Loss of Control and Autonomy
Poor Internet Connection from the vendor's end
Misconfigured Cloud Settings
Lack of communication compared to in-house teams
Q3: What factors should I consider while selecting the best Cloud Service Provider?
Answer: Though there are multiple factors that you should consider while considering the best Cloud Service Provider, here are some tips to help you make better decisions:
Evaluate the expertise and experience of the vendor
Check certifications and vendor's compliance with them
Evaluate security measures offered by the vendor
Check service level agreements (SLAs) for service delivery norms
Evaluate support options and ensure 27×7 support is provided
Review pricing and contract terms
Q4: Why do companies prefer outsourcing their Cloud Infrastructure?
Answer: Deploying in-house Data Centers and servers comes along with heavy capital investment. Apart from these, there are several other costs associated with running in-house Cloud infrastructure such as maintenance costs, upgradation costs, and more. Cloud infrastructure requires regular updates and control on a regular basis. Another aspect is that it requires a specialized team of professionals to constantly monitor its operations and ensure continuity, reliability, security, and compliance. Since all these factors pose a major challenge, small and medium-sized organizations do not find this feasible. All the discussed factors are resolved by cloud outsourcing companies who manage all the infrastructure including installation, troubleshooting, and maintenance in a very cost-effective manner.
Q5: Is it possible to integrate and migrate data from one service provider to another?
Answer: Yes, Absolutely..!! If you are working with one service provider and want to switch to another cloud service provider, you can easily integrate and migrate your applications and data from one source to another. With the help of data integration, you can easily combine data residing in multiple sources to obtain a unified view. Data Migration allows you to effectively select, prepare, and extract data from one data center to another.