1132 Views
With over 600 million users all across the world, LinkedIn is, by far, a prominent social network for professionals. It is a great platform for B2B marketers to tap their strategies into, and if you know how to use LinkedIn marketing solutions to its fullest potential, you and your brand can earn so much leverage from it.
It hasn't been much time since LinkedIn progressed from a simple professional networking site to a gigantic space. Ever since companies have been erected in the market, the B2B marketers are trying to find an easy congregation where they can find all such businesses in one place. With 30 million companies on a single platform of LinkedIn, there have to be some ways in which the doors of lead generation, sales and revenue can be set into operation.
LinkedIn does possess some real power, the ability to grow your connections, and advertise your brand through word-of-mouth. But how do you do it?
Create an account
Enter your details
And, start adding connections.
Easy, isn't it?
That's not it. The conventional LinkedIn marketing strategies could have worked for some basic number of users. But, with millions of people on LinkedIn, you need to look through the window for some amazing and innovative tips, to do your brand some justice and achieve some success through this popular social platform.
This article will help you with everything you need to know about LinkedIn marketing solutions and how to use it as a powerful B2B marketing tool.
Why Is LinkedIn, As A Workforce, Important?
Before you learn about how LinkedIn marketing for B2B business should be done, you must understand the need for a channel like LinkedIn, for accomplishing your business goals.
So, the story of LinkedIn starts on May 5th, 2003. For quite an amount of time, the number of users was limited to 20 people. It was then, Sequoia Capital saw potential in the company and invested $4.7 million in this young company. The result of it, LinkedIn grew to its ultimate power becoming the most fruitful asset for any business across the globe.
The following statistics will make the idea of LinkedIn marketing solutions clear to you.
The user demographics for LinkedIn consists of 46 million students and 87 million millennial LinkedIn users. 11 million amongst them are the decision-makers for big corps. In terms of traffic, 39% of LinkedIn's traffic is from the US (165 million users), and 17% from India (62 million users).
In terms of job interviews, 122 million users have been invited to an interview through LinkedIn. Furthermore, 35.5 million users got a job through someone with whom they are connected on LinkedIn.
At any given time, 20 million jobs are listed on LinkedIn.
In terms of B2B leads, 80% of them are generated from LinkedIn.
So, now you know how pivotal LinkedIn is for businesses and professionals alike. These are some of the many reasons why you need to develop a LinkedIn marketing strategy.
How To Setup A LinkedIn Company Page?
First things first, you need to learn how you can start with a company page on LinkedIn before you start with LinkedIn marketing solutions and strategies.
A company page on LinkedIn is all about your business, your brand, the job opportunities within your organization, etc. Company pages are not profiles, they are a way to establish your industry expertise.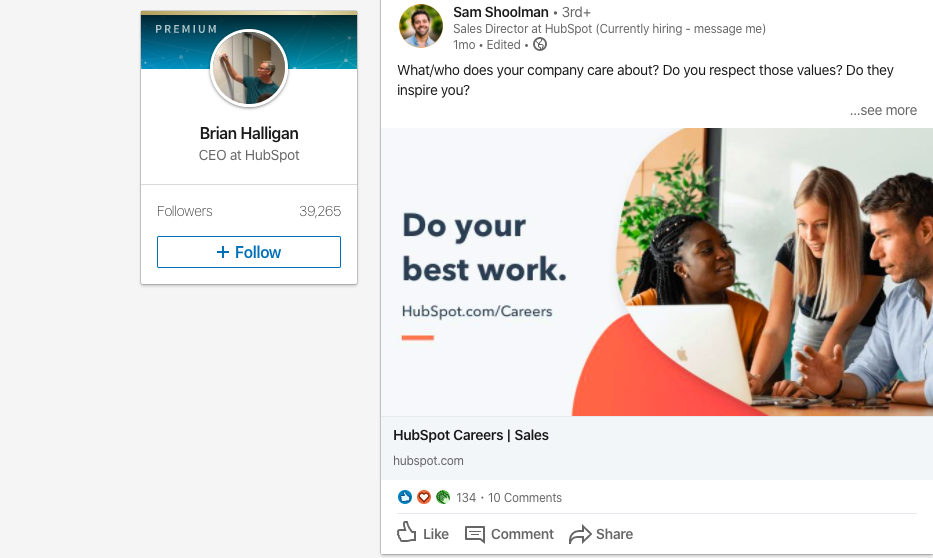 This LinkedIn page is of HubSpot's CEO, Brian Halligan. HubSpot has more than 414,488 followers on its LinkedIn page. All these followers are tuned in for amazing articles, careers, and information available within the organization. Thousands of people follow his LinkedIn page.
Be it businesses or professionals, people look out to the company page to get important details, drive business results, raise brand awareness, promote career opportunities, and educate potential customers about your products.
If you don't have a LinkedIn page for your company, then you need to create one.
Let's get started.
Add your company name
This portal will help you in LinkedIn marketing solutions for creating company pages.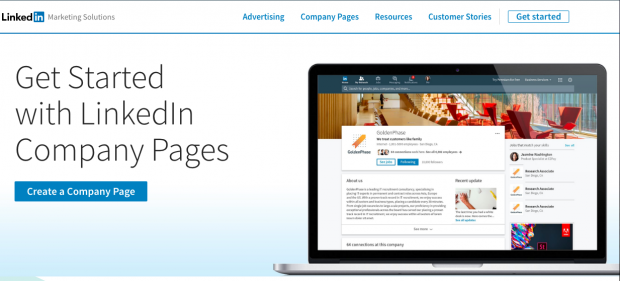 Create a company page. Enter details like the company page and URL that people will use to find your business. Click the create page tab.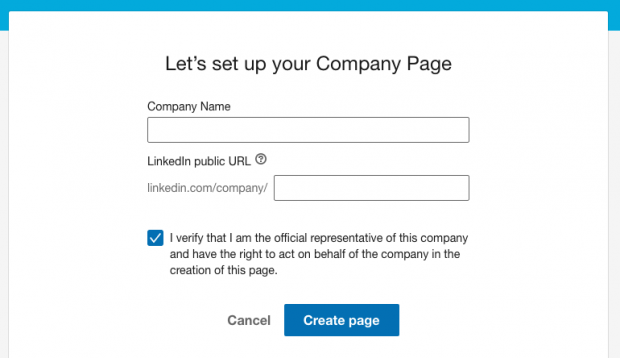 LinkedIn will create a hollow shell of your company page. All you have to do is start filling in the details. In the welcome pop-up, click on Get Started.
Add a cover photo and logo
A cover image will be something that describes your business most aptly. The profile image will be your company logo. This is the same for all your social networks. Also, your logo should appear on all the employees' LinkedIn profiles. A square logo of size 300*300 pixels will do.
Write a company description
You have 2000 characters to describe your company, something that can explain everything to your potential followers about your company. Get your online marketing and creative team into crafting an apt company description for you.
Now, remember, the first 156 characters are important since that will be previewed on Google as well. You can even add a specialty to your description. These tags act like keywords that will help people to find related businesses like yours. Represent the various products, services, and strengths over here.

Fill in all the company details
This includes details like the type of industry, company size, company type, the year it was founded, the number of employees, and the physical location of the business.
Publish the page
When you click on Publish, the company page will go live.
You can also view how your page looks like through the Go to Member view tab. If you don't like it, you can go to the Manage page and many any tweaks if necessary.
Add page admins

On your company page, click on the Admin tools and then select the Page Admins. You will have to add team members by name. Also, you have to connect with them on LinkedIn.
Once you are done, you can click on Save Changes.
How to Advertise Your Company Through LinkedIn Marketing Solutions?
Now comes the most important part. How to market your brand on LinkedIn.
Although it is easy to build LinkedIn marketing solutions and strategies from scratch, these tips will help you in targeting the right zone and hitting on the correct target. Check out these tips for marketing your brand effectively on LinkedIn.
Optimize, Optimize, Optimize your profile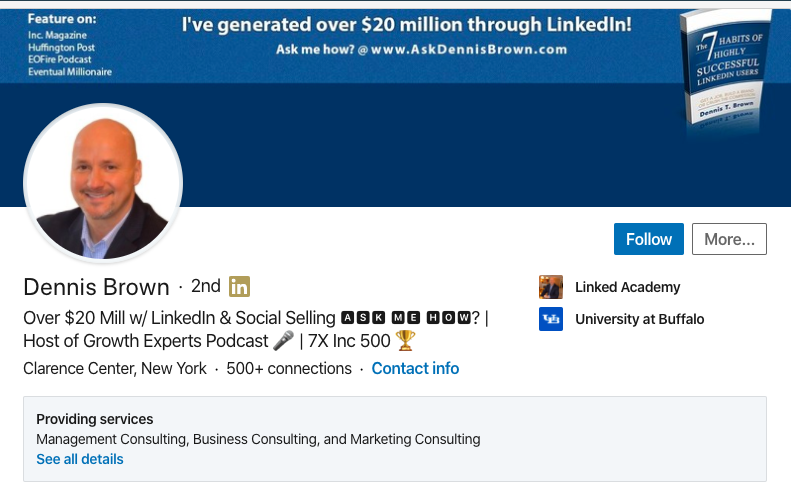 You might think that it is a basic step and it's not needed, but that is where you are wrong. You might not even consider it owing to the advanced LinkedIn marketing tactics that you read in several blog posts. You have edged out your profile through certain improvements, to increase its chances of getting noticed.
Consider this example.
This is a profile of Dennis Brown who is known for helping in B2B leads and LinkedIn marketing solutions. Things you notice in this post is a high-quality profile image, achievements, relevant skills, current position, rewards and recognition, and catchy headlines that will totally turn followers to a profile. The type of information you add may vary, depending on the industry and brand personality.
Focus on content that gets readers attracted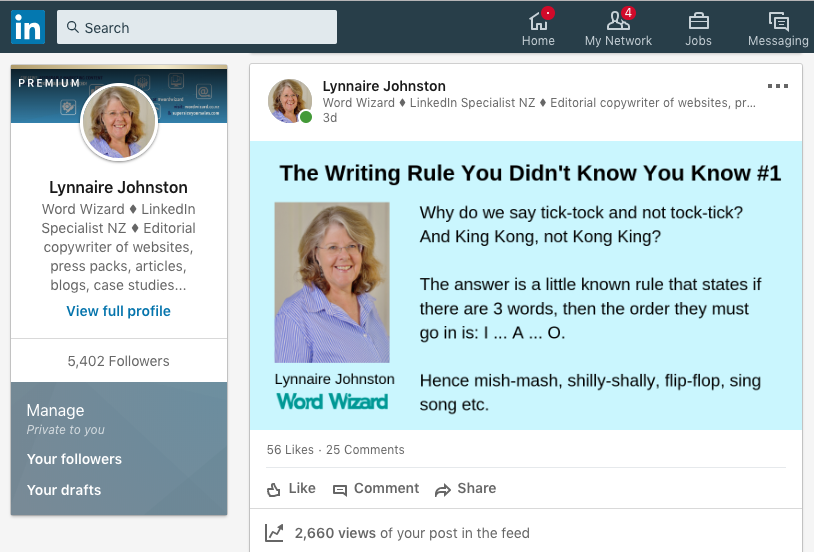 This is a normal post on LinkedIn. It isn't selling anything or promoting anything but it still sells and markets the profile of the author.
Marketing on LinkedIn isn't like the online and traditional models, it is more about adding the value to your audience and to all the people reading the post.
It is believed, 88% of B2B marketers who need to perform better in content marketing have to place the audience's needs into consideration. Use your LinkedIn profile about creating, sharing, and publishing content that adds to the knowledge of the reader. A post should be educative, entertaining, informational, and build an instant connection with your company and you as well.
When your post start appearing in another people's feed, it means that you are on the right path.
Now, it is not needed that you have to post original content, but never hesitate to share your insights. Also, be consistent in your posts so that your followers keep attracted to your profile.
Get your employees to do your job
Your employees play a very important role, even when it comes to LinkedIn marketing solutions. Your employees can help you in broadening and strengthening your network on the platform. Even your employees have sound connections and they help in improving the engagement you have with their followers.
It's like one company vs thousands of employees sharing one post. This will make it easier for you to market your brand on LinkedIn. Your employees can share news, articles, and updates to feature your brand.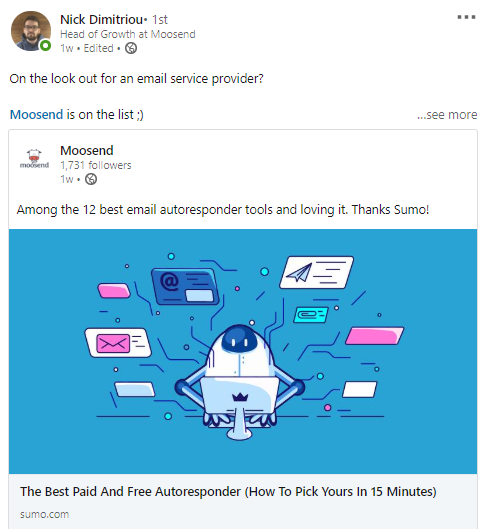 You can ask your employees to indulge in LinkedIn groups and post some award-winning posts or articles that can create a difference for your brand. It helps in brand advertising and administering employee advocacy as well.
Get the right audience to connect with you
For most of the things that you want to do on LinkedIn, there is always a feature available to guide you through. Even when you want to run target ads for relevant users, you can use the LinkedIn matched audience feature for it. It lets you target the right group of people who have visited your audience previously, or users who are on your existing account or email contacts.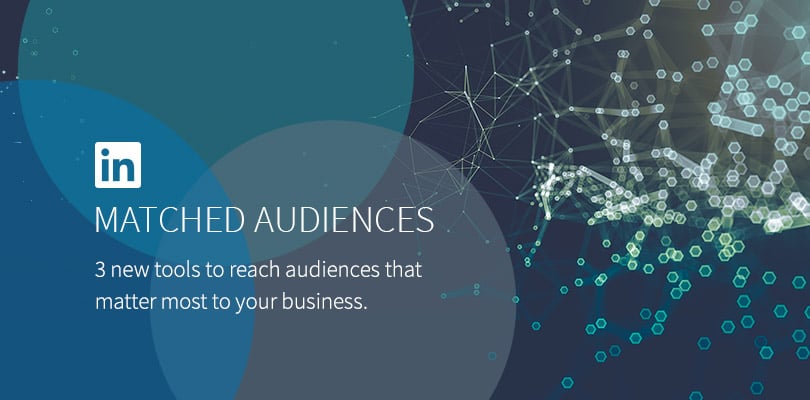 B2B marketers who use this LinkedIn advertising feature as a marketing strategy, it helps them in converting the people who have some familiarity with your company.
It is not easy to get people to follow your brand, and nobody gets an audience interaction from the start. Retargeting is something that you can surely think about.
Create rich posts for your followers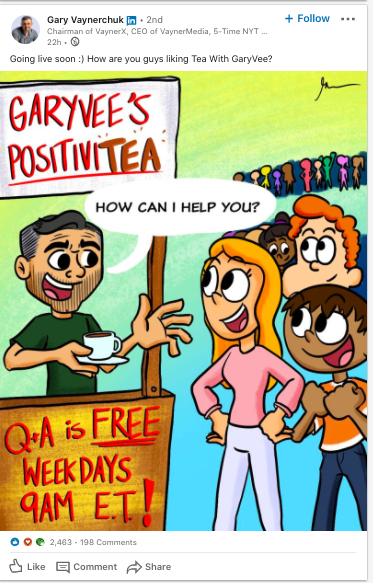 Although LinkedIn is a professional platform, it doesn't mean that you can't post something creative once in a while. Just like any other social media platform, LinkedIn followers also like to treat their eyes with visually appealing content that actually makes some sense. Such videos and images will help in capturing the attention of the target audiences more effectively.
Adding custom images can you many likes, and increase the overall engagement and reach of your profile as well. This is one of the most critical parts of LinkedIn marketing solutions and strategies.
images and live videos will generate a bigger impact than any other blog posts. Comics always have a way to step into people's minds.
Measure your performance through analytics data
Last but not the least, research is one of the biggest elements in any social platform strategy, even for LinkedIn marketing solutions. It's never good to jump into any sort of marketing tactics without studying its background a little bit.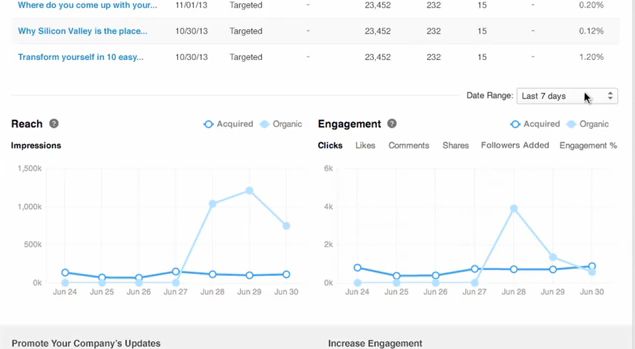 LinkedIn analytics gives you an in-depth insights about your post engagement and reach. You can see how your posts are performing on LinkedIn daily and if there is any scope of improvement.
The following is a company page analytics page. It provides you with the audience demographics data, and how you can improve the targeting efforts. You can compare the performance of the daily posts as well.
Just like any base social media analytics page, this page is a quite detailed inclusion to LinkedIn marketing solutions as well.
Grow Your Business With LinkedIn Marketing Solutions
LinkedIn is a growing professional platform and a very powerful engagement hub. It is not only a rewarding channel for enterprises but customers as well. These tips will help you in earning leverage for your company and your employees.
You might have some idea of how to rev up LinkedIn marketing solutions. But never forget, that the right marketing tactic, begins with the right people. Unless you are targeting the right audience, you will not enjoy the benefits of these LinkedIn marketing solutions and strategies.