3539 Views
The travel industry is booming today! Numerous travel agents believe the explorers of today are being reintroduced to travel and tourism, and this field is rapidly transforming with the rise in technology, enhanced connectivity, and smartphone usage and with the help of companies giving outsourcing services for Business Process Management. What do you think? Well, I personally feel, this field has transformed aggressively over the years and will continue to grow. As this industry is evolving astonishingly, the revelation of new business models is relevant.
The business process management (BPM) sector, coupled with a boom in travel and tourism, is expected to explore new opportunities for growth. Today, online travel companies have turned to a new business model, which needs new digital technologies to expand. Moreover, with the advancement in technology, there are numerous channels to enhance business-customer communication. However, business firms look forward to customer-preferred channels for communication, so that information delivery ensures their satisfaction.
Travel companies outsource their services with an efficient business management outlook, although there are numerous aspects that businesses need to have in-depth knowledge of, when working in the travel industry. Travel services are complex and a number of challenges prevail for companies that need to be checked when it comes to regulating an effective business environment. For the travel industry, the growth in market challenge that has increased over the years, taking BPM service for efficient outputs to the customer is essential.
Talking about the travel industry operated by agents before, how did these traditional travel agents work? Well, they were dependent on wholesales, dealers, traders, and customers where manual data entry and customer relation executives performed tasks. These outdated methodologies lack flexibility, alertness, and transparency, due to which getting the correct service for the customer and giving on-time solutions was not possible. This lack of effective response hampered the travel agency's overall revenue generation, resulting in an un-stable market. However, now the latest technologies help the travel industry overcome these challenges to some extent.
See also- The Enigma of AI-backed BPS
Enhance customer satisfaction with the BPM approach!
Today's tech-savvy and digital world has raised customer expectations, which emphasizes the fact that both the travel industry and BPM sector need to work together for a company to beat its competition.
Manage the interplay of channels used by customers
Companies giving outsourcing services for the travel industry need to manage the channels used by the customers. By integrating these into an omni-channel view, BPM companies heighten customer understanding, hold on to a customer for long terms, enhance returns, and boost brand image. This way businesses can track their channels and deliver essential travel details as per the customers' needs. The companies can track their business-customer interactions in a channelized ecosystem. The customer connects to the travel business through voice, web, chat, video, email, mobile etc. These channels have various links to get the customer information and updates about services anytime. Using customer friendly channels is highly recommended, of course.
The need for Big Data Analytics
To enhance customer insights, combining big data analytics with other business historic data is essential for positive results. In a market where we have to fight competitors, the use of correct tools to integrate and analyze problems is vital. All digital channels deliver huge data and a prognostic assumption with adequate tools about customer preferences can help deliver the exact product and service to the specified customer. This helps to boost conversion rates and automatically enhances customer experience to its best. If a person searches repeatedly about a particular country/place to travel within a defined budget, using their data and analyzing their requirements, the adequate travel package can be advised to them using the appropriate communication tool. Isn't it the best way to enhance customer experience?
Getting results with emerging technologies
Any travel company can benefit from innovations in BPM technology. These tech-updates have altered functions for the travel industry and have even changed consumer travel behavior, which demands a change in business models. When a customer has any travel related query, she/he is dependent on mobile channels to extract the required data. However, this service is enriched with new technologies like Artificial Intelligence (AI), Robotic Process Automation (RPA), and Internet of Things (IoT). For example, if your business has "artificial" chatbots or virtual supporters to help customers 24X7, it increases business efficiency, and providing satisfactory answers boosts brand image for your travel firm. Moreover, travel companies implement CRM, which is an RPA app that automates repetitive customer support tasks like itinerary switches, bookings, cancellations etc. Companies like TripAdvisor, Trip Savvy, Travel Triangle etc. allow customers to access all queries related to their travel inquiries in one place, which is a big reason these entities excel in delivering customer satisfaction.
Challenges: Where the travel industry lags!
With BPM companies serving the travel industry closely to ensure positive results, there are some potential challenges too. With an increase in the number of travelers over time, and enhancement of technologies, there are certain challenges that need to be taken care of, like:
Omni-channel contact
Different business models
Mobile channels
More choices than ever before
Traveler Independence
Risk of losing customer loyalty
Market dominance by a few companies
Security and safety
Travel marketing
Talking about the potential challenges for the travel industry, these are some key trends that require focused tackling.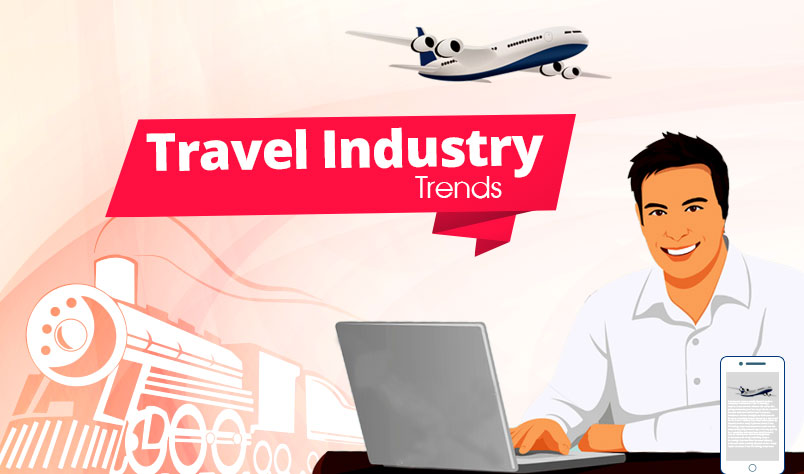 Trends in the Travel Industry:
Supremacy of digital devices
How do you generally book your trip? It's obviously most common with a mobile device, as bookings and consumer behavior is more or less dependent on smartphones today, making it the highest in emerging trends for the travel industry.
Technology: Power to customers
A business's success totally depends on how many loyal customers it has. Technology empowers customers and even the companies giving outsourcing services to get the best results for enhanced user satisfaction. It acts as a backbone and even strengthens businesses to develop something unique, becoming a key trend for the travel industry.
Development with online channels
Online channels like social media and internet have transformed the way customers looked forward to travel services. Flexibility, reach, cost, requirements, on time solutions etc. is all ensured with these online channels. Therefore, it is significant for businesses to have an alluring social media presence to woo the customer.
Word-of-mouth recommendations: Experience!
BPM companies understand that travelers today do not want services but look for experiences. Therefore, outsourcing companies need to work on the personalization and authenticity of their clients company. Word-of-mouth recommendations on social channels have emerged as a good tool to allow companies to earn loyalty, as customers desire to check out places that are highly recommended and are traveled to by similar people. Wouldn't you love to finalize your next trip from a travel company recommended and experienced by your friend?
Travel Industry: The forthcoming BPM revolution!
Business process management looks after the smooth functioning of travel business operations by providing a way to analyze data for efficient results. This service has a systematic approach for responsive outcomes. However, when we talk about BPM services in the travel industry, two factors define success. One is how you bring innovation in service delivery and the second is market share. Companies giving outsourcing services for the travel industry need to keep these in mind for a better maintenance of their clients' travel firms. With ways to determine campaign performance, analyze loyalty, and pinpoint the satisfaction-driving factors, combining these with data-driven automation and AI can help companies in the travel industry grow amid competition and excel in the future! Can Cyfuture be of help if you are in the travel business? Let us know!