5108 Views
Introduction to Robotic Process Automation
If customers wish to extend their experience in high-level advanced applications, then the technology of Robotic Process Automation (or RPA) will keep them on the fast track. RPA is one hottest and popular emerging technologies for enhancing real-time business functions and methodologies.
Robotic Process Automation (RPA) is one of the applications of artificial intelligence and is a progressive technology which automates large volumes of unnecessary tasks by utilizing artificial intelligence (AI). RPA will be utilized for carrying out transactions, processing data, creating responses and conversing with various digital systems. RPA has several applications in a superfluity of companies comprising insurance claims processing, invoice processing, customer feedback analysis, invoice processing, onboarding of employees, HR operations, and many more.
This specific question has come up many times, no matter RPA utilizes manual robots, or there exist real robots for automating various tasks. Very well, I will inform all my reader's that RPA is not threatening and replacing humans with real robots. However, there is software out there that allow configuring automation workflows for automating their business functions. Although RPA is executed via software that is nothing nonetheless RPA Tools or providers.
Is RPA the new job killer?
If this headline grabs your attention, then artificial intelligence (AI) or says robotic process automation (RPA) must be giving you threatening concerns regarding your job. Are AI and RPA going after your job and is going to kill your entire career? 
It relies on what people earn for a living, how old are they, where they live and their educational details. If they do routine activities, then yes, their job and career are at momentous risk: AI and RPA will definitely, put their job in danger and threaten their career and their very professional existence. And the concern of getting the jobs seized have always bothered humans since the industrial Age (or even before). Various surveys have claimed that about 47 percent of employees are susceptible to job losses. It can be considered that in the coming 100 years, several jobs are going to get replaced.
Artificial Intelligence in India has taken new heights. AI might replace developers by 2040, and it might be more capable of coding software code in comparison to best human coders. Google's AI, in fact, can design machine-learning code faster compared to programmers who created it. RPA utilized software and various strategies which can take benefit of the brand new technologies comprising artificial intelligence, voice recognition, and machine learning along with natural language processing for taking automation to the next big level. That gives it importance for various organizations who wish to progress their business with the digital transformation journey.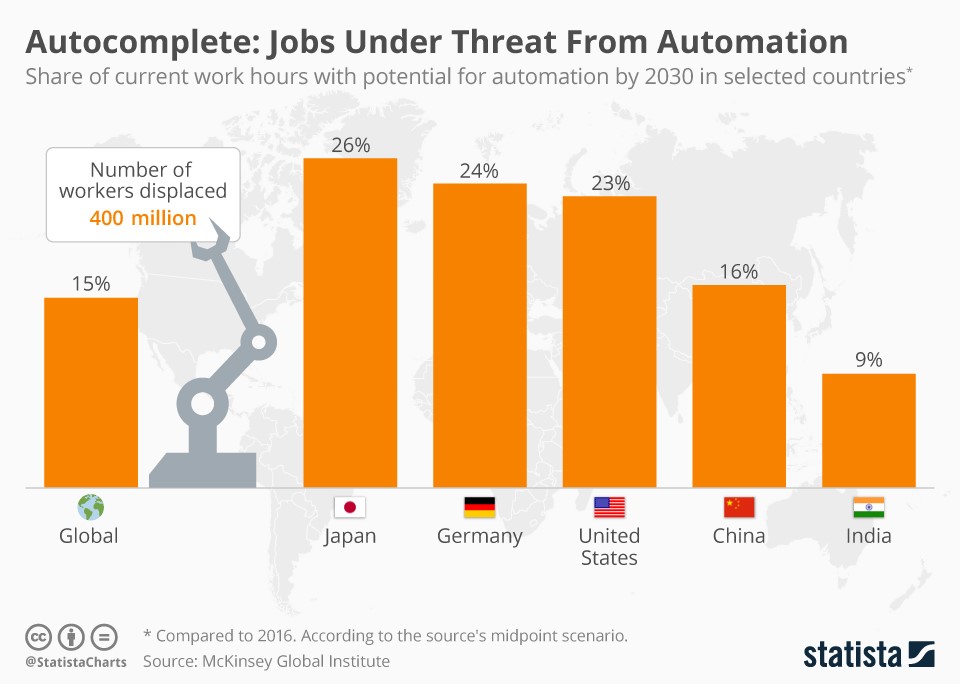 This graph displays how employees have been replaced with RPA in different countries.
Source: Mckinsey
How AI-RPA relationship enhances Work-Life balance?
The technology of RPA is truly empowering workforces to be extra effective such that they will create an improved work-life balance. On the contrary, RPA will facilitate users to rise in their careers and will transform jobs, instead of destroying them.
AI and RPA's capability to unravel popular business issues and streamline business functions, specifically via the stages of automation they offer, is taking a large range of organizations to a new level. AI will prove to be highly expert at automating facets of jobs which humans do slowly and inappropriately. As AI and RPA assist the opportunities of more well-paid jobs which automate soul-crushing corporate tasks and help users to concentrate on being extra creative, perform thought-provoking work, employees are going to get high chances for climbing the ladder and accomplish harmony in their personal as well as professional lives. RPA and AI are technically two horizontal technologies which are diverse within their objectives and platforms. PA is aimed to save business and numerous employees time.
When we talk about the relationship between RPA and artificial intelligence, we are well-informed that the technology of chatbots and various automation tools are basically AI-enabled. Combination of artificial intelligence, cognitive automation, and natural language processing will enhance RPA capabilities more as compared to human capabilities. At the time of interactions with numerous systems, RPA with AI ability will learn, create judgments and advance itself.
Are RPA and AI a blessing in disguise?
There exists two aspects for 'robots won't take jobs' argument. One aspect shows that robots and various automation tools may allow employees to concentrate more over the sides of their job which needs more human skills like the potential to entail with users. The other aspect argues that robotics process automation AI and robotics will build new jobs with better transformations. Artificial Intelligence is not going to replace jobs, in fact, it will make them more strategic. It is not going to destroy jobs but will transform them.
A report has claimed that around about 30% of present UK jobs are vulnerable to automation from the field of robotics and Artificial Intelligence (AI) by the approaching 2030s, however, in several cases jobs will be transformed instead of getting disappear. Additionally, a report from the 'World Economic Forum'  has reported that whereas machines will perform various tasks more in comparison to humans by the year 2025, the Robot Revolution is yet going to create around about 58 million new jobs in the upcoming five years. Chatbots will facilitate its users in a better way by pulling out various details of a person with whom they are connecting with. Instead of killing jobs, robotic process automation facilitates workforces increases their data processing capability to fit the rising supply of information stored by modern business intelligence based tools, it is an efficient way to hand over work to a chatbot and pay attention across something which is more human and even interesting.

RPA: It's not a battle, but a collaborative approach.
The collaboration of RPA and AI for Future
Several industries will just consider automating the IT methods, RPA even targets to assist them for reinventing the manner they do their business, enhancing their client satisfaction and strengthening workforces work value.
Keeping this in mind now let's see how the constellation of features for RPA can be expected to prove as miracles in the near future:
Integration with virtual reality
Integration with augmented reality
Smooth migration between text and voice recognition
Human-level conversation
The significant part is data collection, developing the machine learning algorithms accordingly and enhancing its performance with time. Robotic Process Automation has a long journey to go and will perform several complicated decisions in a similar way humans do.