888 Views
For those of you looking to build a website without the hassle of coding or hiring a developer, a website builder can be a suitable solution. As the name implies, a website builder is an online tool that allows you to build your own website in a quick and easy manner. The best part about using a builder is that you get a website made without requiring to pay excessively to a web development company. And you don't even need to know how to code!
But with so many website builders in the market, how will you know which one is right for you?
That can well be a genuine issue considering the wide array of options available in the marketplace.
No need to fret. Because that's what we are about to discuss in this post.
After comparing dozens of options, we have compiled a list of the best website builders available in the marketplace. We have stated the pros and cons of each builder so as to help you decide which is the best for your needs. Here's our list:
1) Wix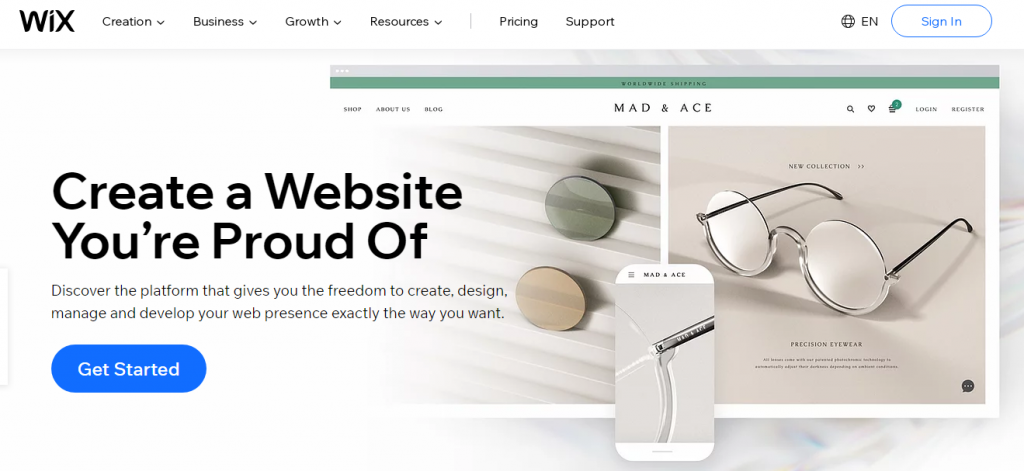 Wix.com is one of the most popular website builders out there. A beginner-friendly software, Wix comes with a set of robust features to build your website with.
Pros:
Wide Range of Templates: The platform offers access to over 500 templates for building your site's design. Each of these templates is fully customisable, giving you complete creative control over your website.
Unstructured Editor: Wix has an unstructured editor that lets you drag and drop elements easily on the page to create your layout.
Apps: In addition to templates, Wix lets you install several free and paid apps. These apps enable you to add new features and functionality to your website e.g. newsletter subscription or events calendar.
Fully Hosted: Another great aspect of Wix is that it is fully hosted, so you don't need to spend extra bucks on hosting. All the Wix plans have a free SSL as well, but you need to switch it on for your website.
Cons:
Ads: If you choose any of their low-tier plans, you will see Wix branded ads on your website. So, you will need to upgrade to their Combo or Unlimited plan to remove these ads.
Switching Themes: If you get bored of your old theme and want to switch to a new one, the transition is not as hassle-free as it should have been.
Pricing:
Wix comes with a free plan that has a Wix subdomain. For building a professional website, you can go for any of its eight premium plans, starting from $14/month. With premium plans, you get a personalized domain name. Their e-commerce plan for an online store costs $26/month.
2) Squarespace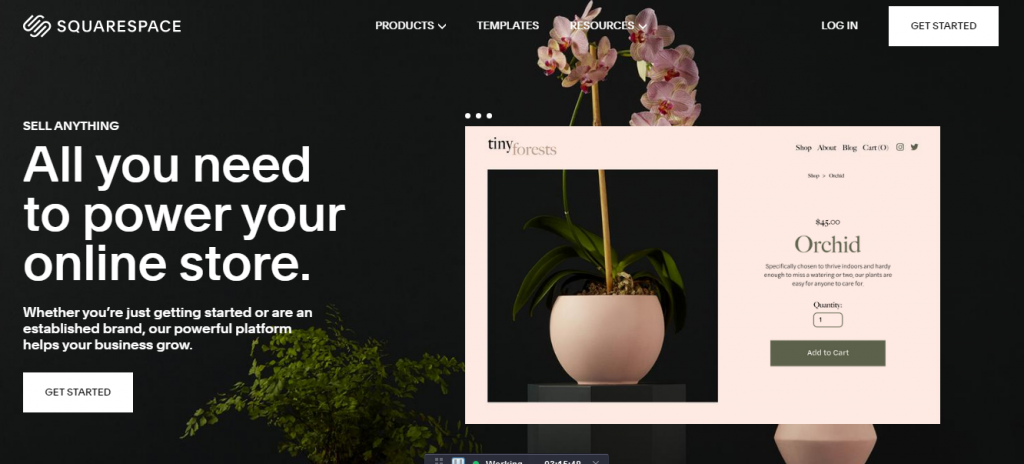 Squarespace is a professional website builder that has been around since 2003. The platform is known for its great designs and appealing aesthetics of its websites.
Pros:
Templates: Squarespace is famous for its excellent templates. They are arguably the best in the marketplace and apt for anyone who needs a visually appealing website. These templates are fully editable. You can even use multiple templates for the same website at one time.
Best-in-Class Features: The platform offers a host of best-in-class features including template customization, scheduling software, photo galleries, podcast hosting, video backgrounds, and so on.
Online Store: Squarespace also comes with an e-commerce plan that allows you to add an online store to your site. Its interface lets you manage products, inventory, discounts, etc. with ease.
Cons:
Limited Integration: Squarespace offers limited integration with third-party services and this can be an impediment to your growing business.
Not the best for Beginners: Squarespace has a steeper learning curve when compared to other website builders. So, you might need a bit of time and patience to become adept at using it.
Pricing:
Squarespace offers a 14-day free trial. After the trial is over, you can choose from any of its 4 premium plans, ranging from $12 to $40 per month. All of these are billed annually. The two highest plans include e-commerce features.
3) Weebly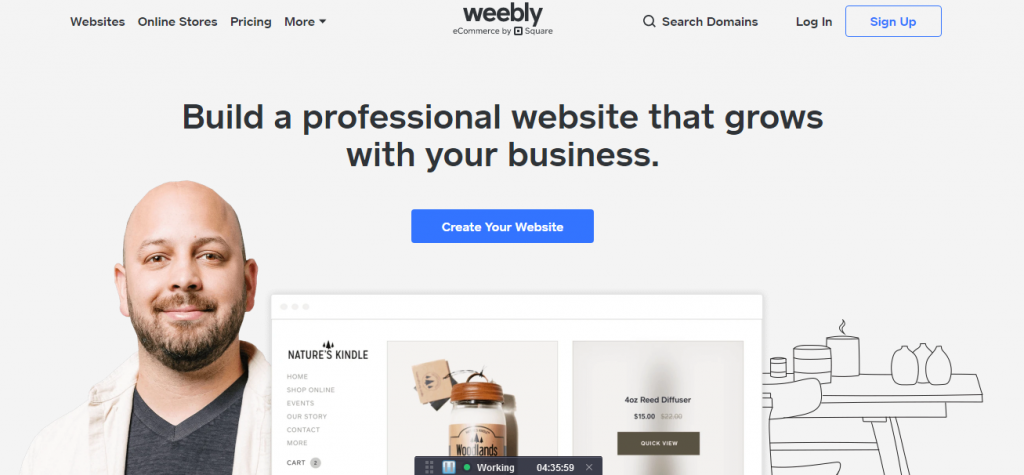 Weebly is among the easiest to use website builders, a quality that has made it many users' favourite. Not surprising that over 40 million websites have been created using the platform.
Pros:
Range of Designs: Weebly has hundreds of great designs that you can use as a starting point to build your website. The design can be changed even after you have published your site.
Fully Hosted: Since it is a completely hosted platform, no need to spend extra bucks to buy a web hosting service. Your hosting needs are taken care of.
Built-in Features: Weebly comes with several built-in features for online store, contact form, sliders, photo-galleries, and so on. As a result, you can add functionalities to your site without hassle.
Cons:
Less Creative Freedom: While Weebly offers a decent range of templates, the latter are quite structured. This simply means you may feel constrained if you are looking for creative freedom.
Pricing:
Weebly does come with a free plan, but it's very basic. Its paid plan starts from $5/month paid annually. The Pro plan meant for groups and organisations costs $12/month, while the Business plan for small businesses and stores costs $25/month, both billed annually.
4) Shopify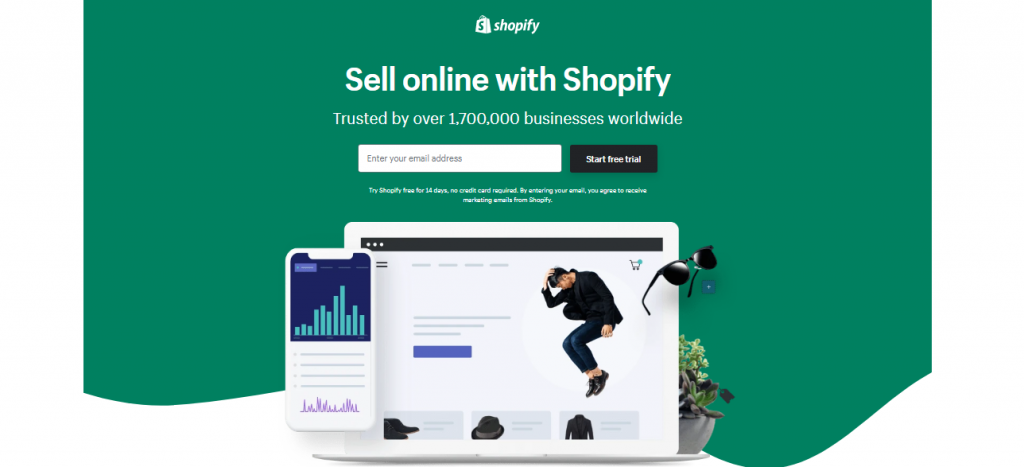 Shopify is a great e-commerce website builder specifically meant for creating online stores. It caters to over half a million businesses around the planet. Over $40 billion worth of products have already been sold on the platform.
Pros:
Fully Hosted: Like many of its competitors, Shopify is fully hosted. This means you don't have to worry about maintaining backups or installing updates.
Intuitive Interface: Shopify comes with a clean and intuitive interface, especially when compared to most of its competitors.
Innovative Features: Shopify offers the whole range of solutions needed to create an impressive online store, including inventory management, unlimited products, video and 3D support, SEO product tags, Social media integration, Google analytics, and many more. As a result, creating a full-fledged e-commerce store becomes super-easy.
Integrated Payment: The platform boasts of an integrated payment solution that allows you to accept credit cards. Third-party payment gateways can also be added to accept payments.
Cons:
Learning Curve: Although a powerful platform, Shopify has a longer learning curve. It may take you some time to get accustomed to it.
Cost: For those who are starting out, Shopify may appear slightly pricier than other website builders.
Pricing:
Shopify comes with a 'Basic Shopify' plan that costs around $29/month. You have the option to upgrade to 'Shopify' for $79/month or 'Advanced Shopify' for $299/month and access their advanced features.
5) GoDaddy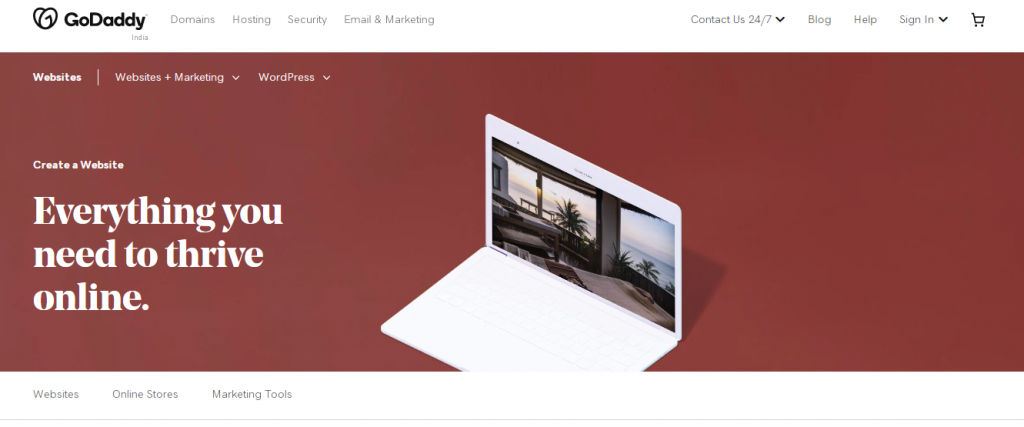 GoDaddy is amongst the largest domain name and hosting service providers that offers a simple, user-friendly platform to create a website quickly.
Pros:
User-friendly: The website builder from GoDaddy is a simple, beginner-friendly tool that comes with many preloaded, ready-to-use blocks that you can use to create various layouts.
Time-Saving: GoDaddy's website builder uses Artificial Design Intelligence to create a personalised template that you can make changes to. This saves time as most of the work is already done for you.
Photo-library: The platform offers an integrated photo library with professional images that you can use on your site. Plus, you can add your own images also, if you want.
Cons:
Not as Feature-Rich: While GoDaddy offers speed and simplicity, it isn't the best choice for creating a highly personalised site. So, if you are looking to build a complex website with a wide range of features, GoDaddy isn't the option to go for. You are better off with other feature-rich builders like Wix or WordPress.
Pricing:
GoDaddy's personal plan will cost you $5.99/month, business plan $9.99/month and business plus plan for $14.99/month. All these plans are billed annually.
6) Site123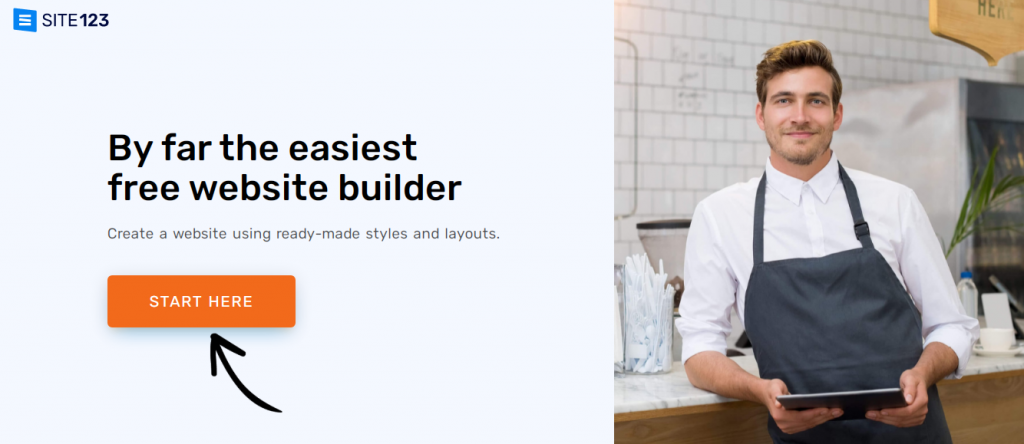 This is yet another simple and beginner-friendly website builder, great for those with no website-building experience. So, if you just want a basic website without a great deal of customisation, this is the option to go for.
Pros:
Suitable for Simple Websites: Site123 is suitable for those who want to build a simple website with a straightforward design quickly.
Brilliant Customer Support: Site123 has a great customer support feature that includes a live chat. The latter helps you whenever you get stuck somewhere while building or editing your website.
Good for Multi-lingual sites: Great option for building a multi-lingual website. The editor is available in over 20 languages.
Cons:
Limited Customisation: The platform gives you limited options in terms of customization. Not for ambitious site owners.
Pricing:
The platform comes with a free basic plan. Its paid plans range between $12.8/month to $41/month.
7) WordPress.com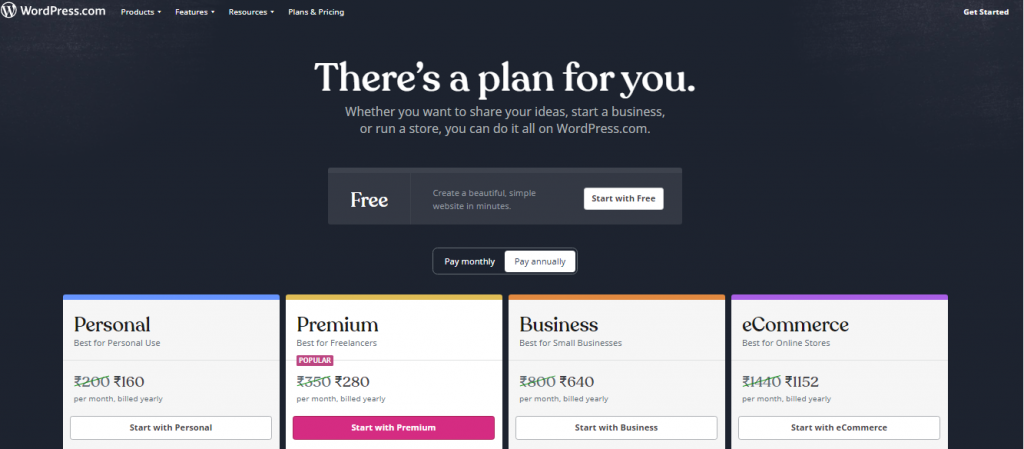 WordPress.com is the basic website building platform from WordPress. For those who don't know, WordPress.com is different from self-hosted WordPress.org that offers more features but demands higher technical expertise.
Pros:
Fully Hosted: WordPress.com is a fully hosted platform, so you don't need to take care of aspects such as software and backups.
Plenty of Themes: All the plans allow users to choose from hundreds of free and paid themes. You can then customise the theme and add navigation menus, widgets, etc. The customisation part becomes simpler if you know a bit of coding.
Blogging Tools: WordPress.com provides you with a wide array of blogging tools that include social bookmarking, RSS feeds, archives, comments, and so on. All in all, a great platform for bloggers with some coding knowledge.
Cons:
Not for absolute beginners: Though WordPress is user-friendly on the whole, absolute beginners may struggle with the editing layout. It is not as straightforward as that of many other competing platforms.
Best for Blogging: If you try to create something using WordPress.com that's not a blog, you will have to struggle a bit. It is not as easy as on other builders.
Pricing:
WordPress.com comes with a free plan that's very limited in terms of features. The personal plans costing $4/month is billed annually and includes a custom domain. The premium plan at $8.25/month lets you monetise your website and implement advanced level customisation. Their business plan costs $24.92/month and offers advanced SEO tools and access to its vast plugin library.
Best Website Builder: A Recapitulation
Now that we have reviewed some of the most popular website builders, let's have a quick recap of these:
Wix: Best all-round Website Builder
Squarespace: Best for creating visually appealing sites
Weebly: Best for Small websites
Shopify: Best for Building Online Stores
GoDaddy: Best for Building a Simple Website Quickly
Site123: Best for Novices requiring support while creating a site
com: Best for Bloggers with Coding Skills
If you are still unsure of which platform to choose, connect with our agile software development experts today. As a leading web development company, we will analyse your business needs carefully and suggest the best solution for you.
Thanks for reading!